I found these due to a post on the Erasable Facebook group. Casemates is Walmart's private label office goods brand.I found a wide assortment of Casemate (CM) goods- from legal pads to pencils to journals in their office aisle. You name it, they have a Casemate logo slapped onto it. The majority of the goods, well, it is easy to see that they are simply rebranded things from other manufacturers. Such is the case with all private label goods*. With careful purchasing you can buy a product that is ALMOST the same as the regular product for a fraction of the price**.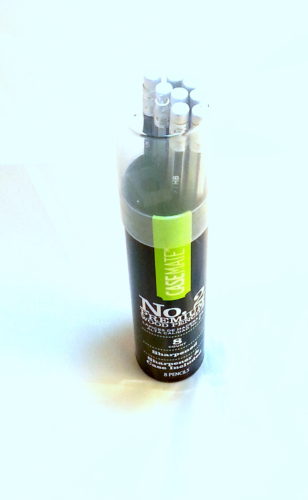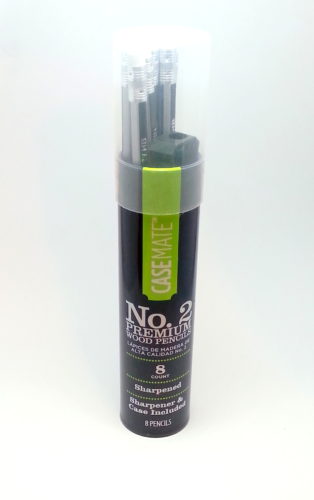 The CM Premium Pencils (CMPP) are sold in an 8-pack for 97 cents. The 8-pack comes in a tin and plastic tube that doubles as a sturdy pencil case or stand. It does dent easily, but it is not crushed with ease. Inside the case are 8 pencils and a sharpener. The sharpener is pretty meh, but it does the job. It sharpens to a standard short point. The sharpener is labeled "Nataraj." Which leads me to believe that the pencils are made by the Hindustan company which manufactures the Nataraj pencil brand***.
The pencils are quite nice. They have a thickly applied glossy lacquer in silver and black. The color scheme appeals to my inner angsty teen. The imprint is in silver foil and simply says, "No.2/HB." the imprint is done well on some and not so well on others. On  a few of mine only part of the imprint was there the rest it was fine.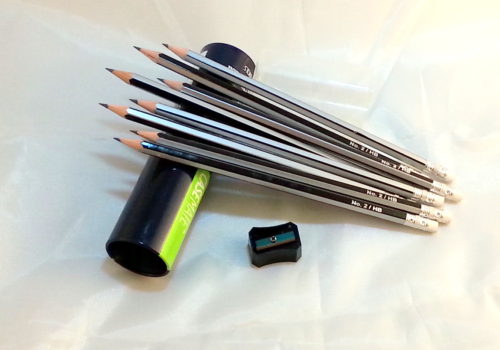 The wood appears to be linden/basswood. It's light in color and sharpens well. When sharpened it has the smell of bay leaves. The ferrule is affixed to all of mine well. It holds a useless nubbin of an eraser that must've been added as a joke. It's a white rubbery blob that is too small to fit properly into the ferrule and does an absolutely shit job of erasing graphite from anything I've tried- from Field Note to Story Supply Company to 3×5 card to Reporter notebook to my Mt Tom. It was a useless turd of an eraser. It sort of dust gathers, but mostly the pristine white eraser turns a shade of gray and feels mushy. This thing sucks sooooo bad.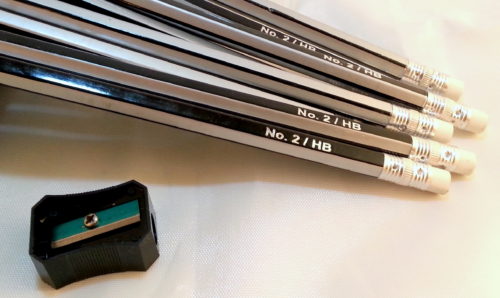 The core itself is dark, smooth, sharpens easily, and holds a point remarkably well for a pencil this dark. I didn't have to sharpen the pencil for page after page of writing. Holy smokes awesome. I was able to keep on going and going. Amazing point retention. However I would not call this an HB pencil, no, it is easily a B if not a 2B. Cores are mostly well centered, with one or two of the 24 I purchased off centered enough to notice a problem during sharpening.
Now the reason these pencils are kind of a big deal? Well first off the whole package- case, sharpener, and pencils are only 97 cents. That a pencil this dark and smooth is available for 97 cents is pretty amazing. The other part of the awesome is that these look and feel just like the Nataraj Platinum Extra Dark 2b pencil. Which is an awesome pencil with all the same flaws I've listed above. More importantly is availability. Previously, you have to order from CWPE (not a bad option) or find them via Amazon or eBay. None of these are deal breakers, but if you go the Amazon/ebay route you could wait weeks to a month to get your pencils, and pay more than 12 cents a pencil, plus you don't get a sweet hackable metal case. The sharpener is okay, but nothing special. It's the case that makes this a sweet deal. The case holds 13 pencils packed full, and is so much fun to decorate. I really really enjoy this tin.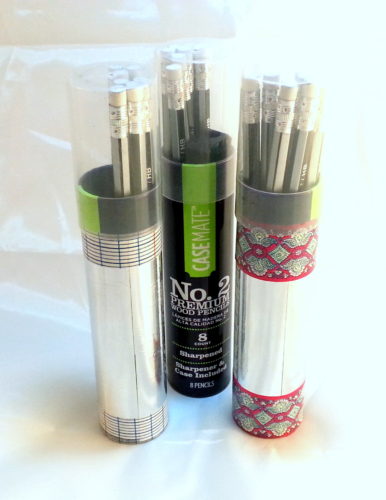 *Whole Foods 365 sparkling water in the green bottles is made by San Pellegrino. The WFM 365 ice cream sold in pints is manufactured by Ben & Jerry's. Etc…
**Again using WFM as an example, the WFM 365 ice cream can only have certain flavors, and will have a lower amount of inclusions than Ben & Jerry's.
**Thanks to Derek for reminding me to update this post with the correct info about the manufacturer.