Calepino notebooks are the french equivalent of Field Notes. Their limited editions pair with a designer to create their covers, pencils, and matching pens. They have 4 ruling options- lines, grid, dot grid, and plain. Their regular editions feature a color that denotes the kind of grid inside, red, green blue and silver. The typical cover features bands of color with the name of the company and notebook's info.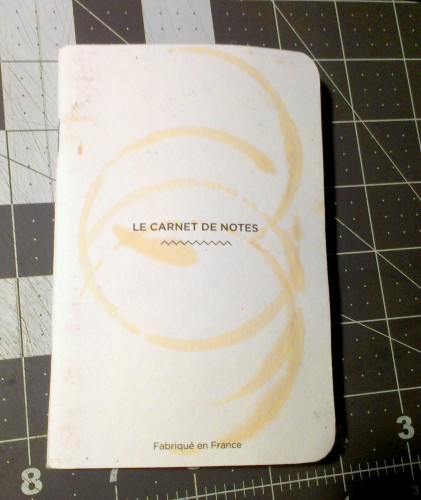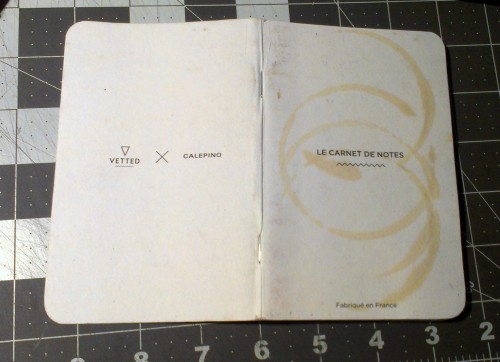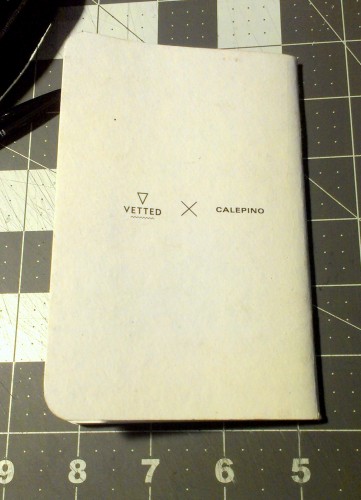 I lucked out and snagged a Vetted X Calepino notebook via a swap a few weeks ago. This featured a white cover with some printing on it in black. Inside it was loaded up with white dot grid paper.  The inside of the cover was printed with the usual "fill in your important info" style lines and such. Of course it was in French but my rudimentary High School French tells me that it is pretty much like Word or Field Notes style info. the inside back cover relays info about Calepino and the history of the company as well as a ruler.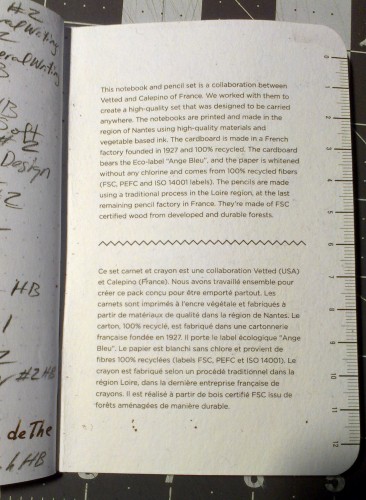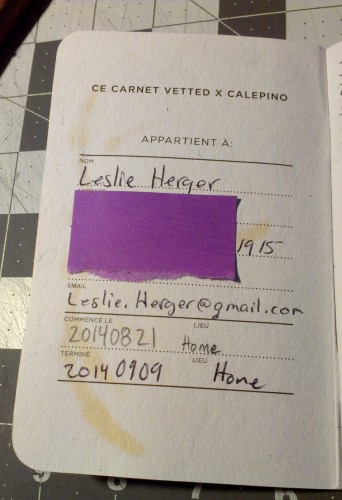 The cover is tough cardstock and survive my uses, which you can see via the picture means that it's used as a coaster for my coffee cup in the AM. I found the cover to be very absorbent. the area for info took pencil and BIC clic roller ball well. It also survived, though the white looked very dirty at the end of my week's of use. This is the danger with white notebooks. Filth.
The dot grid was done with a nice gray ink. It was good to know where I was writing but sinks into the background after words are added. Perfect in my book. the paper itself is thick and crinkly, it feels nice, smooth but not glassy enough texture you can see it but isn't overwhelming. The paper took fountain pens reasonably well with some show through but nothing bad.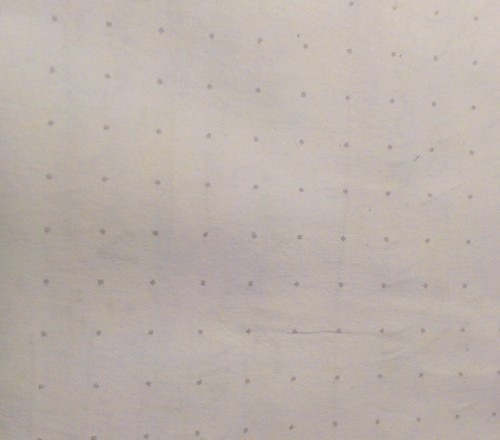 This paper worked wonders with pencils, but not good soft dark pencils like my Palmino Pearl. Oh no using a Pearl on this paper was like writing with soft cheese on a cheese grater. Rather this paper was a dream with harder pencils like my General's Semi-Hex which I generally refer to as the "general's Semi-Yuck" due to it's gritty scratchy performance*. Writing with a Neon Ticonderoga was heavenly. Lumgraph HB? Let us not go there. The Caran d'Ache Grafwood B performed like a B should instead of an H. This paper took all the good points of writing with a B or Palomino and threw them out the window, allowing  me, NO BEGGING me to use my less expensive pencils to fill it's pages. This notebook was cheap pencil HEAVEN. I'm sad it's gone, where will I use my crappy General's Semi-Hex?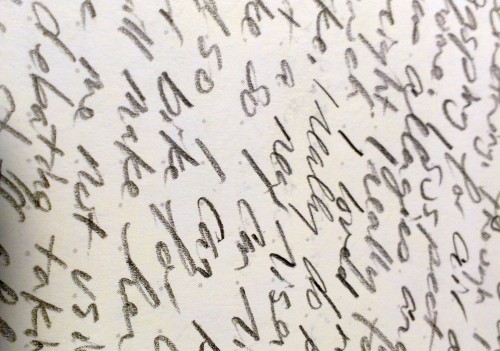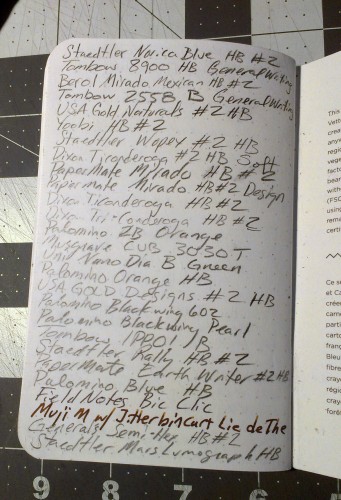 From what I understand of the website and what is printed in the book, this paper is exactly the same as their regular dot grid paper, so you can get the regular edition, with more printing on the cover, to fill in with your not-so-nice pencils. **
The price of these is the same as Field Notes, Calepino offers a exchange rate (or thereabouts) discount for non- EU buyers. Which is pretty awesome. These little notebooks are definitely on my radar for yet another notebook to buy and keep in my rotation.
As a total side note, it appears that General's may have changed the formula of the core of the Semi-Hex. I'd heard nothing but good things about this pencil so was surprised when it arrived and it was akin to writing with a Dixon HB#2, except that it sharpened better. Lot's of grit and very scratchy, even for a #2 pencil. truly dissapointing.
**This paper with Wopexen was a delight. It took the normally light line of a Wopex and made it look like REGULAR HB pencil lines.