Back in the mid-80s Mead's Trapper Keeper went insane with school kids. I was no exception. I had one of the "fashion" versions with a geometric pattern that reminded me of a prism. I think I had an earlier version with kittens, but I'm not sure. I know that the velcro soon failed on me and the plastic sliding "trapper" 3-ring binder soon gave up on me and I switched to a heavy duty canvas 3-inch 3-ring binder with a clipboard in the front. At some point in high school I switched over to a zippered 5-star binder to hold all my junk. Why? It was black.
Anyway, here I am twenty some odd years later in graduate school after a 15 year hiatus from school and needing something to keep my printed articles, notebooks, syllabi, and class handouts in one place. Up until today I've been using a half inch 3-ring binder to corral the syllabi into one place, a poly envelope to keep the print outs together, and pockets in my notebooks to keep class hand outs in the notebooks. It was less a system and more of a stop gap measure to keep my stuff somewhat together, or not lost. The binder wouldn't fit into the poly pocket and the button that help the pocket closed soon popped off as I slid it in and out of my back pack. Honestly, at one point I was looking for something a little better than my plastic 3-ring binder and more like my old canvas binder but a little like a Trapper Keeper. Decently sized 3-ring binders are crazy expensive at Staples and generally fall apart after some hard use.
I read this review that Trapper Keeper was back. Mead was introducing the TK after a hiatus. Currently they seem to only have the standard colors with a dotted fade printed on them and the stitched version available in 5 colors.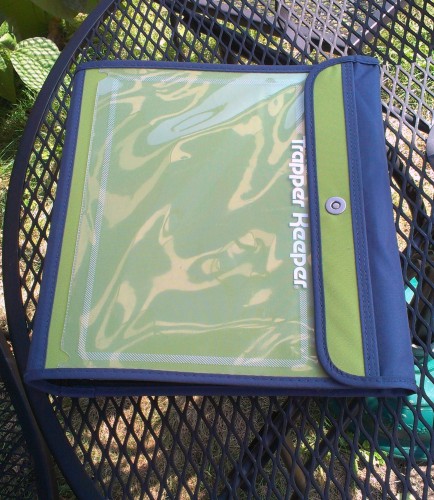 The stitched version is a plastic covered with fabric, the edges are covered the whole thing is stitched up. The TK is held closed with a sturdy snap. The front features a clear pocket that you can slip paper into and customize the cover with your own art. The pocket will only hold a few sheets of paper, so it really is made to only hold a decorative sheet. It does not arrive with anything in the pocket but a label.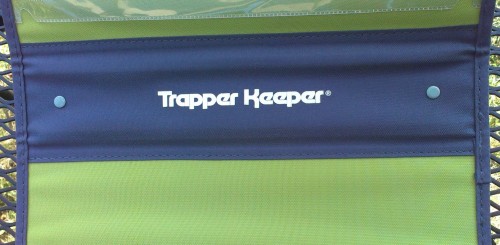 The interior 3-ring binder is shiny chrome plated steel and very sturdy. The regular "fade" version arrives empty, while the stitched version arrives with 5 plastic dividers. Each a different color. These dividers are regular 3-hole punched and do not feature the slotting of the "Trapper Snapper" system.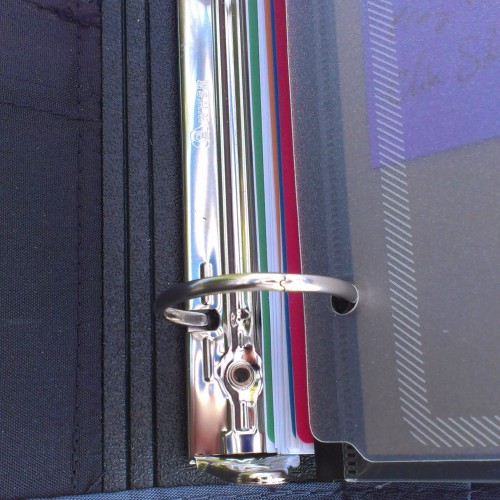 Inside the binder are 2 stretchy fabric pockets that will accommodate a composition notebook or a stack of paper.  The corners of the pockets are not reinforced, so this is where the TK will fail. It's likely I won't keep anything in these pockets but a few odd handouts from my classes that will eventually be punched and put into the binder.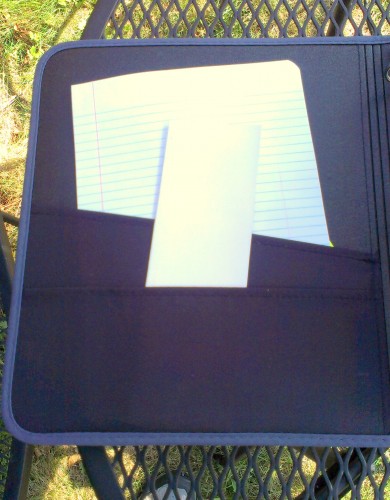 The back cover no longer sports the clip that turned the back of your Trapper into a clip board. I'm seriously missing this as it was something I used ALL THE TIME in my original Trapper until I graduated to a real clip board. IF I can give Mead any feedback  it's to bring back the clip in the back. I'm not sure this particular TK is stiff enough to use as a clipboard, but it would do in a pinch. Though there is no clip they have kept the pen loop, though in this version it is made of elastic instead of plastic. it's too loose for a pencil, but would hold a bullet pencil nicely.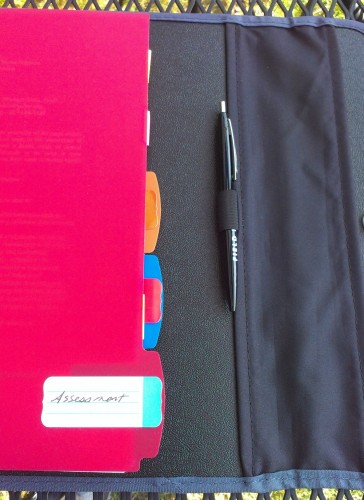 I picked out the green Trapper and mine is a nice shade of olive. the contrasting gray is really nice. I assumed it was black from the photos on Amazon but it's not. The interior of the Trapper is black.  The logo and other accents are all white.
The stitched Customizable Trapper Keeper is not a light weight item, I was surprised once it was loaded up how heavy it is. But the majority of weight comes from all the paper I loaded into it. It's much more compact than my previous pocket, mini binder, and assorted hodge podge of junk.
The velcro closures are gone. Good riddance, mine always tore off the flap leaving me with a trapper, but not keeper. In the velcro's place is  a sturdy steel snap.  Unlike the adjustable nature of the velcro the snap has but one position. It can't be tightened around your goods. This makes the TK kind of loose and sloppy. Understandably adding additional snaps or buttons would add a lot of cost and still not make the cover tighter on all loads, I just wish there was a way to adjust it.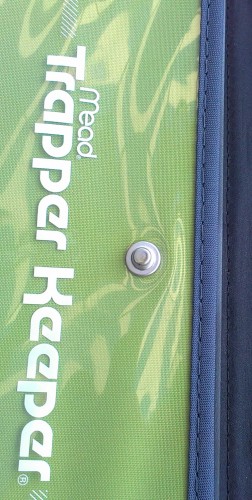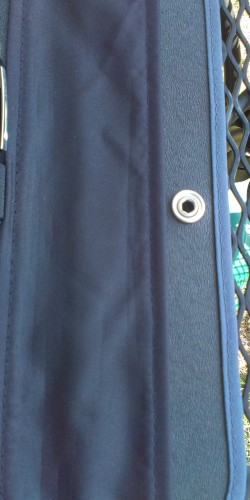 Along with my Trapper Keeper I also ordered a Trapper Folder with customizable cover. Basically it's a plastic (poly) folder with 2 interior pockets and a clear pocket on the front cover.  These hold a surprising number of printed off articles with ease. Right now I've got about 100 pages of articles shoved in there and the thing looks great. Ultimately I'd like to order one of these poly folders for each  of my 3 classes so that the load is spread out. These folders do not feature the Trapper Snapper easy removal tool. To get these babies out you have to open the 3-ring binder.
The plastic dividers are plain with no printed graphics. There are tabs spaced out along the edges. There are 5 colors, coordinating with the available TK colors. Most of the colors are semi translucent.  The plastic is pretty flexible but stiff enough that you can use the dividers to move through the binder easily.
Pros:
Old skool appeal
fabric! So sturdy
steel 3-ring
plastic dividers
pen loop
Lot's of room to expand
lot's of accessories that match
cons:
no clip board clip in the back
snap closure is not adjustable
customizable cover is cheezy
pockets on inside cover aren't reinforced
plain covers only
Overall, I really like the new Trapper Keeper. I wish it had a few of the old amenities (clip, bring it back) but overall it's a very nice binder that will hold all of my stuff and help to keep me organized.