I purchased a few Sharpie brush tip markers to play around with after trying the prismacolor brush markers a few weeks back at the Sketchbook Project. For $1.50 each they were a great way to get my Jetpens order over the $25 mark for free shipping. YAY!
Out of the envelope they look a lot like any other Sharpie, a little chunkier and with some grooves on the cap. The end is hollowed out and there is a ring around the end of the marker. This lets the cap click onto the marker when you post it. Smart. Without posting the marker I found it a tad short to use. Posted it was just right. The markers are light weight.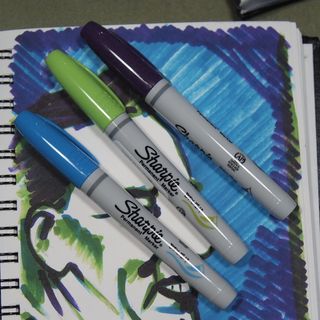 The marker tip is short, relatively stiff, yet pretty responsive at the tip. It's not as springy as a Prismacolor or Copic brush tip but it does the job. I did a few quick sketches with the markers in my Stillman and Birn Beta sketchbook. The paper is a slight cold press finish. The Copic and Prismacolor handle this paper without complaint, the Sharpie is already looking fuzzy. I will admit to being less gentle with my brush tip markers, but in my opinion that's exactly what these cry out for. Instead of drawing with brush tip markers I try to paint with them.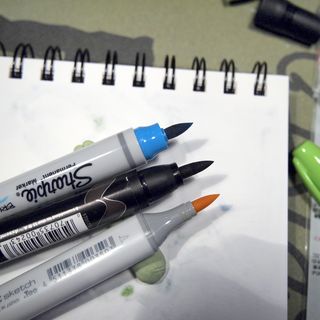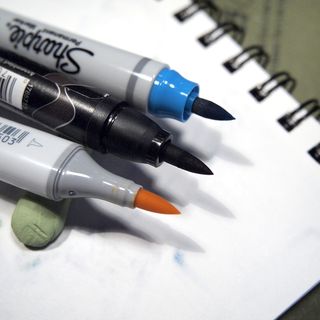 So that brings me to my next round of inspection, layering. Copic and Prismacolor markers are designed to layer over one another to build up color, so it's much like working with watercolors. Sharpies tend to stand on their own. Each layer of color turns the tone darker and darker, without subtle shading. Sharpie brush markers are best for bold expressive shouts of color. Finding a Sharpie brush marker in yellow proved to be an impossible task, unless one buys the set of 12. *sigh* So I bought a Copic sketch in yellow.


These will write on just about anything, just  like a regular Sharpie. They do seem a tad juicier than regular Sharpies, so might be a good choice for acrylic paint. Just be aware that if you write over gesso with these you're pretty much going to scrub that brush tip. I found these really fun for fast observations and sketches. The 2 sketches I've shown here took all of 10 minutes each. These brush tips really allowed me to lay down a lot of color fast. You'll notice there isn't a lot of subtlety though. Sharpies lay down bright bold lines and lots of ink.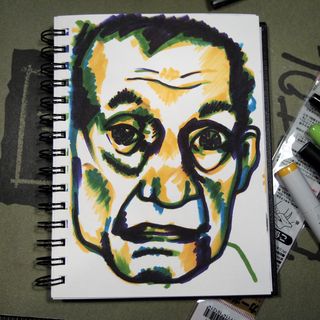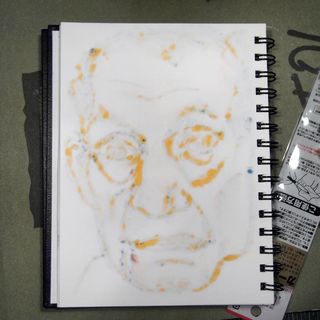 These are a great choice for someone who doesn't want to invest in Copics or Prismacolors but wants that brush tip marker experience, they just need to be away it's not going to be quite as good. Keep in mind they are probably not lightfast and are certainly not archival. Get them online at Jetpens.