So here are the pics that I mentioned in my last post about slow journaling, the style I learned from Daisy Yellow's page.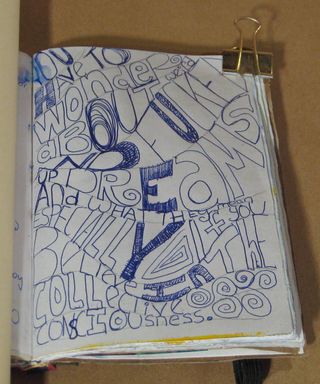 The image above I drew the lines right to the edge of the page. This was done in ball point space pen.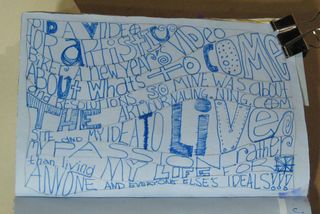 For this one I drew a box about 1/4 inch from the edge and then drew m lines in. I could add a thick black border or fill the edge in with my pen… Or something else. This was done in Sharpie pen, fine point.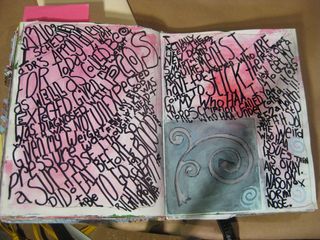 You'll have to excuse the TMI in this one. I had a DR's appointment and documented it here. I stared with a acrylic on gesso background, drew a border in and then the lines. I used a thick Martha Stewart pen for the writing.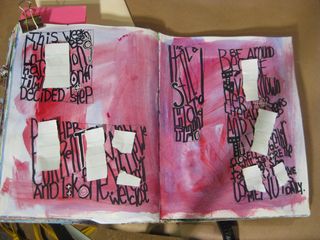 For this one I started with another acrylic back ground. This time I drew random squares and rectangles all over it and filled those in with the lines, which I then wrote on with my Martha Stewart marker. This deals with a work issue so some of it is obscured. After I wrote I went back over it with my white jelly roll pen and added some highlights and stuff.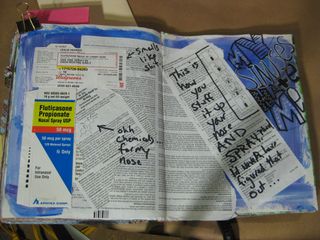 With this page I glued down some elements and wrote on top of those but in the open area to the top right I drew in some lines and wrote on those with white jelly roll and my black martha stewart pen.
Anyway, with these pages you can see how diverse and interesting this technique can be. You can use it for an entire page, parts of a page or as a design element on a page. You can mix it up on a page too. Good stuff.