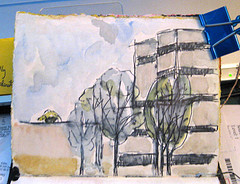 Office Building
Originally uploaded by lessherger
Welcome to Technique Tuesday!
This page started out with Stonehenge 140lb paper. It was very lightly sealed with regular Tit White heavy body acrylic. I used a credit card to spread a VERY thin layer of the paint on the page. I then went back to the page and scraped off MOST of the paint. Leaving an extremely thin layer of paint that allowed the texture of the page to show through. This was completely dry before the next step.
Working in my car I used a Pilot G2 gell pen to sketch in in the rough details. I added more details as I fleshed out the image. When I was happy with the base drawing I used a waterbrush and my Cotman 12 pan set of travel watercolors to add color. I deliberately allowed the gel ink to run into the color. The sky was gray and I used blue and yellow ochre as well as ink the brush picked up to get the proper sky color.
I've begun to have something of a style/ technique when it comes to using hte ink pen combined with the watercolors and I like the effect it give.
You can see the full sized image and get a lot of detail by clicking on
the thumbnail above and clicking the "see all sizes" button above the
image that comes up.