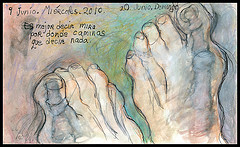 Pasos pesados (Heavy footsteps). 9-20 Junio, 2010.
Originally uploaded by sharonNYC
SharonNYC is another person on flickr I've been looking at for a long time, she's got this particular style of art journaling that is specific to her, muted colors, earth tones, bones and flesh. I love it. I've never seen anything like it anywhere else.