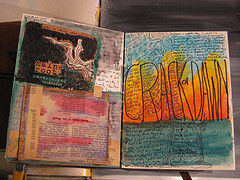 2005
Originally uploaded by lessherger
In this image I'm working on 5x7inch 140lb Strathmore coldpressed watercolor paper. On the left side I peeled a label off a Maine root bottle and glued it in. I then scribbled on it with a permanent marker; probably a sharpie or sharpie clone.
I wrote on the page about how my parents are up at the crack of dawn and how my partner and I are on "city time" meaning we like to stay up until 1 am and sleep until 9, my parents like to say that the day is half over by the time we get out of bed. I used a permanent ink to write the entry. On the left side I used some watercolor. I also glued in a pocket that flips down and holds some more journaling on loose paper.
On the right side I used watercolor crayons to get the intense colors. I put them down very thick and used a waterbrush to blend them.