Sometimes it's good to break  up the usual with something unusual. Some of you may know that I dabble with creating my own messenger bags from recycled materials. A few months back I made my own messenger bag by chopping up an piecing together tyvek mailers from fedex and the USPS. It came out fab, soft and sturdy. It's showing a few signs of wear but over all as a proof of concept it's worked brilliantly.
I learned a lot from that bag, and I'm applying that to another recycled idea- you kn ow those recycled reusable grocery bags? Those are a great sturdy fabric. We had a bunch that were chopped up to make a display and a few more that were returned for recycling (they can go into plastic bottle recycling!) and I realized they would make fantastic fabric. So I brought them home and chopped the bags into 2 inch strips aand then stitched and top stiched those into 14 inch wide by 24 inch panels. I purposefuly went with 2 inch strips rather than 4 or 6 so that all logos and words would be unrecognizable.
I'm still working out in my head how I want this bag to be, I know  I need some internal pockets, because summer is coming fast and I won't wear a jacket, so I need places to stow my phone and keys.
Here's a spectacularly crappy photo of the panels: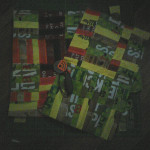 As you can see it's pretty bright, which is drastically different from my Fedex bag, which is mostly white and very understated. I htink I'm going to need to do edging on this, so I might head to Joann's this weekend with my Mom to see what kind of edging they have. I'm also going to need sturdier pins, I've bent a bunch on this stuff! It's much tougher than the tyvek.