At the end of December I was wondering if my inks were lightfast, or not. I was wondering given that I've done a great deal of drawings with these inks, mostly sketches in my art journal and I was considering venturing out toward finished art with inks. I want to be sure that the art that I sell lasts longer than it takes me to create it. Art lives in very different circumstances from sketches, ie in full light and on the wall. My sketches stay in sketchbooks or live on the walls only when I'm contemplating.
Now, the middle of the winter in the Northeast US is a terrible time to test the light fastness of anything. We've had a pretty mild winter with plenty of sunny days.  I took all of my inks with my glass dip pen wrote their name on a sheet of paper twice and scribbled a roughly 1cm high line the width of the page.
Over the weeks I noticed that a few inks immediately changed color and some immediately faded.  Others didn't show any changes until the last week or so of the test.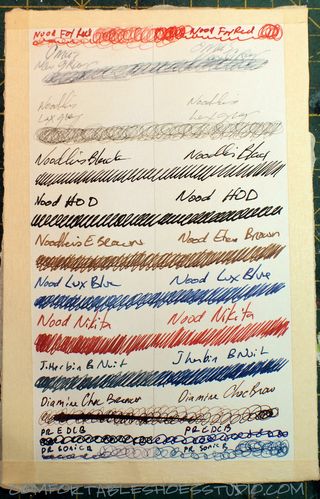 The winners in terms of not changing color at all:
Noodler's Black, Noodler's Heart of Darkness, Noodler's Luxury Blue
The near winners, or those that show little fading:
Noodler's Eternal Brown, Diamine Chocolat Brown
Faded, but not badly:
Noodler's Nikita
Terrible fading, losing a component of the color, color shifting, marked change in color and intensity:
Private Reserve Sonic Blue(withing a week), J.Herbin Bleu Nuit (within a week), Noodler's Fox Red (within a week), Omas New Gray, Noodler's Lexington Gray
Showing a color shift, and is truly darker than before, though not the same color:
Private Reserve Electric DC Blue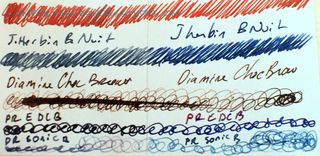 So what does this all mean? Not much in terms of journaling and writing. I've looked at some of my sketches from a year or so ago using J. Herbin's Bleu Nuit, Noodler's Red Fox, and PR Sonic Blue and can't see a difference. It takes time in the sun for much of these changes to take place and most of the issues won't affect anything in a closed journal. I won't stop using these colors for sketching or journaling anytime soon, but I will stop using the fugitive colors in finished art work.