This winter I decided to test the lightfastness of many of my inks and a few pencils. I thought I'd lost the test sheet but it turns out I had stuck it to a different window when I had checked it. The results are interesting.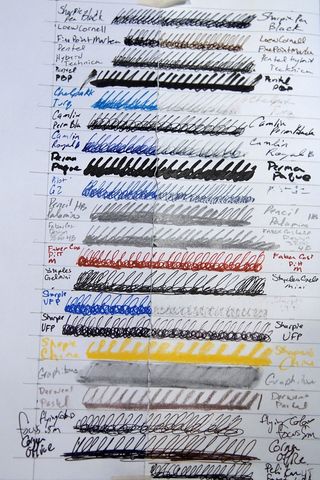 Not lightfast, showing large color shifting or significant fading:
Chelpark Turquoise
Camlin Royal blue
Pilot G2 blue
Sharpie Ultra Fine Point Blue
Color shifting but line seems the same:
Loew Cornell Fine Point Marker
Sharpie Ultra Fine Point Black
Flying Colors Focus 0.5mm
Corner Office Black
No change:
Pentel Hybrid Technica
Pentel Pocket Brush Pen (pentel ink)
Permapague black fine point
Faber Castell Pitt Pen Sepia
Staples Gel mini- black
Sharpie China Marker
Derwent Graphitone
Derwent Pastel Pencil
Pelikan Fount India
The handbook paper which is acid free and a bright white color is now slightly  yellowed.