I picked up a bottle of Platinum Carbon Black ink from a new vendor, Gumwater, more on them at the end of the review. When the ink arrived on my doorstep I immediately cleaned out my fine nibbed TWSBI 540 fountain pen and loaded it up. I found the ink to be black, very very black. It's relatively well behaved on all my sketchbook papers with some minor soak and show through on my Field Notes, but that is to be expected with Field Notes. I didn't notice feathering on any of paper that I've tested it on so far.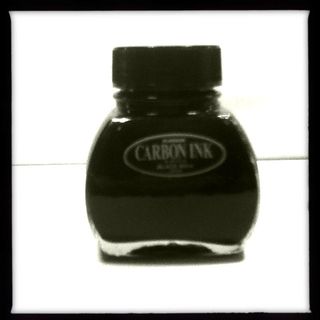 I did notice some lift when I was putting a watercolor wash over the top of it. I suspect this is because it hadn't dried fully. What little did lift was a neutral gray color and thus didn't turn the color of the watercolor off.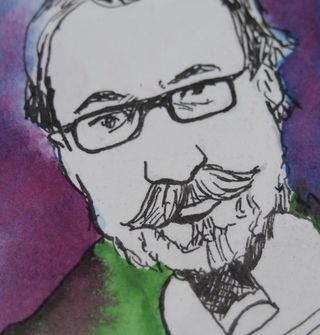 The ink lubricated the pen well. I never felt like I was writing on sandpaper but I didn't feel like I was writing on glass either. That might change if I was loading it into a different pen.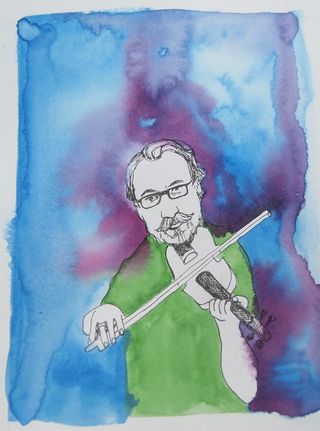 If I were to rate the darkness of the black inks I have in my possession I'd rate them as follows:
Platinum Carbon Black
Noodler's Black
Noodler's Heart of Darkness
Pelikan Fount India
Chelpark Permanent Black
Pelikan Black in International Long Cartridges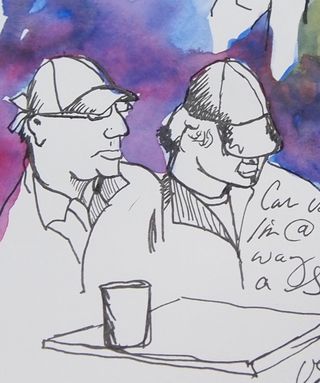 Platinum Carbon Black is a carbon basesd ink, which means it's pigmented with microscopic particle of carbon, which gives it the deep black color. Pigmented inks are a little more high maintenance in fountain pens. If you put a pigmented ink in your pen you'll need to clean the pen a little more often and watch to be sure it's not getting mucked up. Honestly though, I've been using Pelikan's Fount India regularly for 6 months now and I can say I've noticed no long term ill effects from using a pigmented ink in my pens, and I don't clean my pens regularly, nor do I use them everyday. I take all dire fountain pen warnings with a grain of salt.
The price of Platinum Carbon is, well, not cheap. I pulled the trigger on it because Gumwater was having a sale on it in their "Daily Drop." Their daily drop puts one item in their inventory on deep discount for a day. The ink itself was $16.50 for 60ml, minus my Fountain Pen Network discount of 5% for a total of $15.68. Which if you look at a few places on the 'net you'll find that is anywhere from 1/2 to 2/3 the regular price of Carbon Black. Shipping was reasonable as well $4.41 for priority mail shipping. So I got a very expensive ink for $20. If you order over $50 Gumwater does shipping for free. If I'd known I was going to like the ink as much as I do I'd have ordered 3 bottles to get it over the $50 mark.
The ink was packaged very well. The small ink bottle was nestled in it's own box and swaddled in bubble wrap then put inside a small sturdy box. The box arrived in good shape and quickly. I ordered on June 6th and received it on June 11th.* It was fast shipping. Overall I was pretty happy with Gumwater's service. Their prices are reasonable, they packaged the items well and they arrived to me fast. One thing that I didn't like was that every interaction with them was peppered with bible quotes. I'm not against religion but I'm against it being shoved in my face at every turn. I find religion to be a very personal thing so to have it on an invoice and packing slip feels a little strange to me. I mean why risk offending a customer with a differing religion?


*Other people have mentioned receiving their packages even faster. I submit to you my yelp review of my local post office.