I
like Kuretake waterbrushes so I thought these might be neat. I order 4
colors: yellow, green, blue and black from Jetpens. Pricing was $3.30
per pen. I do not know if these are available anywhere else. They come
in single colors from Jetpens as well as a larger package that has an
attractive hard translucent case.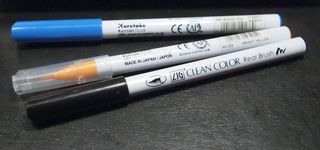 I
got a mix of styles of these pens, some new and some old style. The new
style has a clear cap and a matching color section on the pen itself.
While the old style has a grey section and a color cap to match the
color of the pen. I have to say I like the clear caps better, they
simply look sharper. Not all of my pens came shrink wrapped. I think
this is a just a matter of new and old stock being mixed in the same bin
and it was no big deal.
The
brushes aren't as springy as say my Pentel Pocket Brush Pen or even my
Kuretake waterbrushes but they provided a nice fine to broadline. The
ink is watersoluble and when adding water to it you can get some really
nice watercolor like effects. My favorite part of these were how well
they responded to water.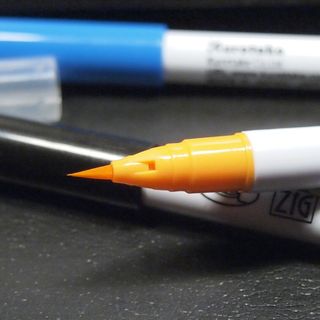 The
colors on their own are deep and bold. They don't layer well, though
they are mostly transparent. They just don't mix well, which is sad, because
they have so much potential to be a really cool sketching tool. If I
could layer the blue and yellow and green to get various shades of color
it would add another layer of depth. I did mix them with water and
found that each color did mix to give a sort of primary school like
color blend. A search found that there are 95 differnt colors available, many shades of the colors of I purchased. With a few more colors I'm pretty sure these would make for an expesive but complete sketching option.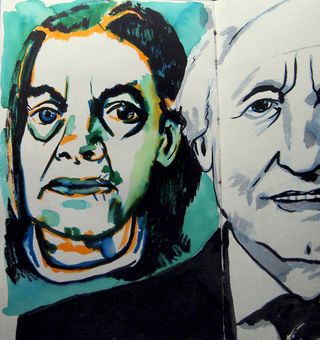 Instead
of using these like watercolors I decided to approach them like alcohol
markers, layering them in bright bold colors, much like I did with the
sharpie brush markers. The effect is much like with any brush marker,
bright and bold, lots of great line weight and essentially looking
pretty good. In another instance I worked them like watercolors and was pleased with the results. The ink really moves around on the page well.


These
had a lot of variation in the amount of ink applied, when moving really
fast I was able to get some nice texture from the paper.
I
do not know if these are lightfast or not. I've got a card up in a
window so I'll know in a month or 2. I expect major color shifting
across the week. In a month I expect major color loss as well. I do not
expect these to be lightfast, though I know that other ZIG markers are
lightfast. These are not made for the American market so it could be
that they simply do not label them as such.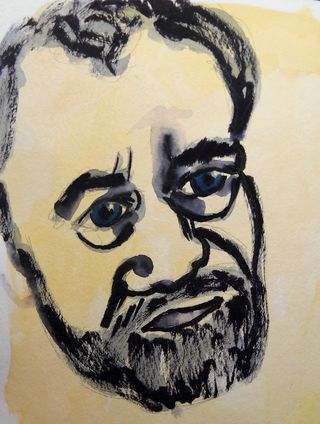 I
like these, but like any brush marker they are for sketching only, at
least until I know they are lightfast. I do really enjoy sketching with
them. You get clean consistent color without fading like when you mix
your own watercolors. If you get it on your hands it washes right off.
The way the ink applies is great for landscapes and figure drawing. The
pen is not refillable.
All
that being said I find I'm being pulled in by these big bold colors.
I've been working black and white or with lots of crazy color lately,
these pens will add fuel to the crazy color fire  I've been burning.


Remember
that review I did of the Sharpie Brush pens? I've destroyed those tips
already. Use those on cold press or textured paper at your peril.