I attend a once a month artist meeting where a group of local artists get together and chat. Basically we shoot the breeze for a few hours in a low key setting. The gathering could take place in a bar but we get the use of a room at a local college. It's a very interesting gathering and I've met a lot of really neat local artists.
During one of the last meetings some of us talked about drawing and sketching together. I had been wanting to expand upon the bi-weekly get togethers that Jane and I were doing and get more artists involved. I hastily threw together the first (of hopefully many) Beverly Sketch Up.
Yesterday some people had to cancel so it ended up being myself and Scott of ArtfulChairs.com we spent a good piece of time shooting the breeze, as I think happens anytime you get 2 artists together. We finally got the the business of making art.
We parked infront of Maria's Pizza- there were chairs and a nice clear spot for us to view the street.
I set up my tripod drawing board, which worked totally sweet, and set to work drawing one of my favorite buildings in Beverly, the Brown's of Beverly bike shop building. (It also happens to be my favorite bike shop.) This location afforded us a view of Brown's, Casa de Moda, Cityside Dinner, Atomic, and a great view down Cabot St. It was also the frist spot we stopped at AND I have to admit I scoped it out as I walked to the meeting spot.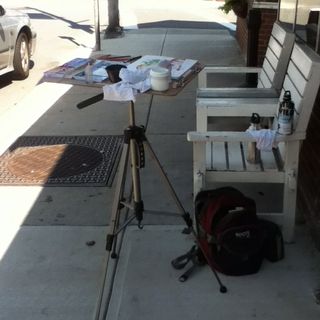 Scott took the tact of doing a lot of smaller drawings where I decided to work larger than usual. (I didn't get pics of Scott's work, he's shy.) I worked in pencil and then did a layer of fine ink pen. After that I layered in a lot of juicy water onto the paper. I was trying out the Fluid watercolor block with cold press paper. I'll write more about that later.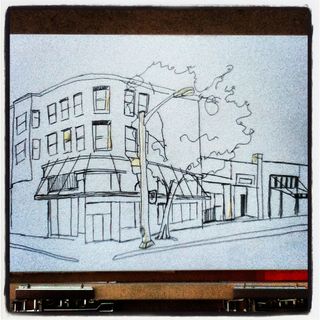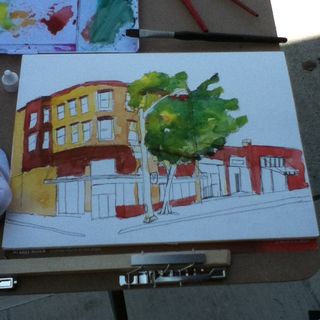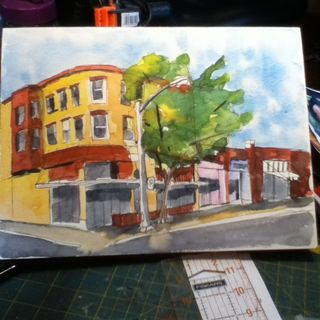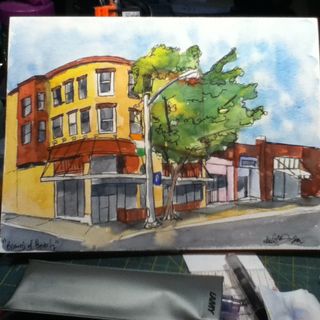 The final step after the image was finished and dry was to add some thicker line work and the brigh pops of clean color- the parking sign and the Irish flag hanging in the window.
It was a real challenge for me to draw with an offical set up in public. Normally I work small and pretty secretive. I try hard to not be noticed. This time I was totally exposed. We had a few people stop to look at what we were doing and kids looked at the art. Being so close to an art school I expected to be pretty much ignored, and for the most part, we were. People who did stop and look were very pleasant and very positive.
I enjoyed the company and the experience and I can't wait until next month! Anyone is welcome to join in on the fun, all experience levels, and any media. Stay for 1 hour stay for 4, it's all good.