This
is a compact brightly colored jelly bean shaped sharpener with a
shaving receptacle. There are 2 holes- one for oversized pencils and one
for regular sized pencils. The point delivered by the smaller of the 2
holes is relatively long, while the large hole delivers a short stubby
point. the receptacle for shavings doesn't hold a lot, but saves you
from having to visit the trash every time you sharpen a pencil. Instead
you'll empty it every 3 or 4 times.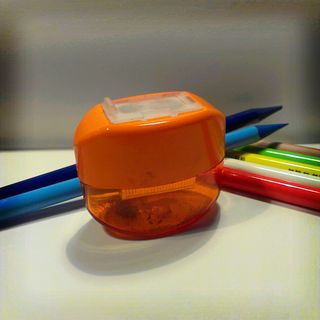 I
enjoy it's cheerful bright color and the fact that I can find it's
bright orange jelly bean shape on my messy art desk, or in the pocket of
my bag. The holes have a convenient little cover that slides in and
out. The cover prevents dust and spills from occurring in transport. A
nifty idea and one that works remarkably well.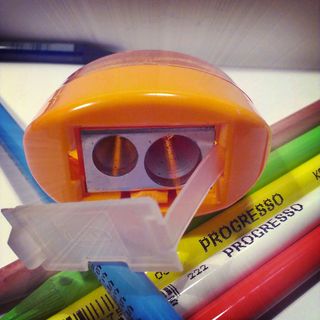 Should
the blades on the sharpener get dull you can buy new blades, pull the
sharpener out and replace them. The 2 hole oval sharpener body will
accept a replacement sharpener.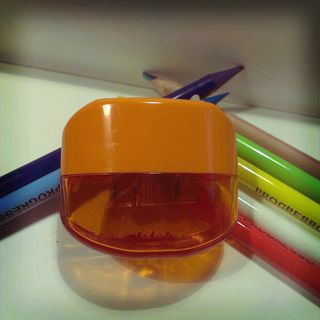 I'm
pretty happy with this little sharpener. I purchased it specifically
for sharpening my colored pencils but I like the point it leaves on
other pencils. The cost for this sharpener was $3.58. HIgh when compared
to other less well made sharpeners. I'm a firm believer that you get
what you pay for in sharpeners. The blades on my KUM sharpeners last for
hundreds of pencils where I've had cheap sharpeners die after one or 2
pencils. I also like the fact that I can replace the blades as they
dull.
I expect this sharpener to last a good long time.