I've
been feeding my watercolor addiction with DR PH Martin's Hydrus
watercolors. They are liquid colors made from watercolor pigments. They
come in a range of 36 colors that correspond to artist's color names.
The colors are concentrated, vibrant, and blendable. Each glass bottle features a plastic eyedropper for precise measurement. They are all
between $7 and $10 depending on where you purchase them. So far I've
purchased 4 bottles a yellow, red, blue and turquoise. The colors I can
get from mixing these 4 shades is nice and they layer well.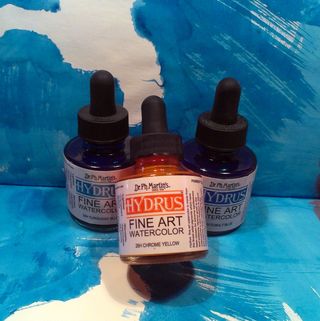 To
use the watercolors they seems to need to be diluted with some water to
get them to spread on the page well. This holds true for any paper,
high end watercolor to cheapo sketchbook. You can adjust the intensity
of the color by adding more or less water. A few drops is enough to
cover my entire 8.5×11 inch sketchbook spread in glorious vibrant
colors. The colors also seem to pop off the page.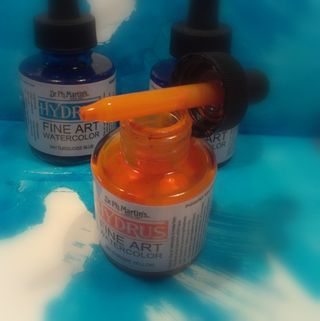 I've
used these painted extensively and haven't yet made a dent in any of
the bottles. So while they are expensive at about $8 each where I buy
them, they are a good value. The color is so concentrated that a 30ml
bottle will last a long long time. These are definitely becoming a
mainstay in my art journal kit.