I'm
always looking for a printer paper that works well in my printer and
with fountain pens. The standard photocopy paper I can get feathers and
bleeds with fountain pens or liquid ink pens and is now about $6 a ream.
When did paper get so expensive? I decided to branch out and try out a
new paper. I'd heard great things about HP's laserjet papers on the
fountain pen network, but the often recommended 32lb is simply too thick
for me to bind into journals with ease and runs about $19.99 for 500
sheets. Also my printer has trouble with the thicker paper. I took a
chance and picked up the HP LaserJet Paper that is 24lb and bright
white. It was $11.99 for 500 sheets at my local Staples. Regular printer
paper is about 1 cent a sheet. This is 2 cents a sheet. The HP 32lb
paper is 4 cents a sheet.
It
feels very smooth when I run my fingers over it's surface. The paper is
a crisp bright white color. At $12 a package it's about double the cost
of the lowest priced paper we usually use in our laser printer. The
printer prints really nicely on this paper. The lowest priced paper from
Staples tends to occasionally jam the machine when I print longer
documents. Occasionally an entire ream won't run through the printer
well.
Testing out a few different pens I had no feathering or bleed through. I tested the following pen and ink combinations:
Pilot Prera M Iroshizuku Asa Gao
TSBI 530 M Iroshizuku Asa Gao
Rotring Esprit (non Retracting) EF Private Reserve Sonic Blue
Kaweco Sport M Noodler's Eternal Brown
Zebra Sarasa 0.7 M Black
Noodler's Ahab Flex Camlin Turquoise with a touch of my black junk ink blend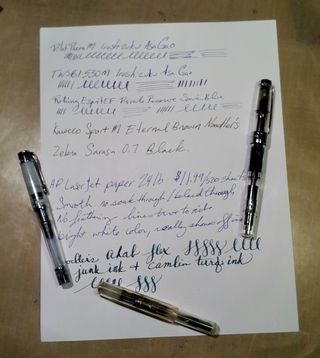 Not
one of these inks had any bleed through or feathering on this paper.
The pens didn't quite skate across the paper. In my mind this paper has
just the right amount of tooth for writing. It wasn't as smooth as a
Rhodia Webbie but it also wasn't like writing on newsprint. It reminded
me of Staples sugarcane paper. Smooth but not too smooth. The paper was
dense enough that there was no show through, which means that both sides
of the page can be used and you can read both sides. This makes me
really happy. I plan on making some books with this as the filler.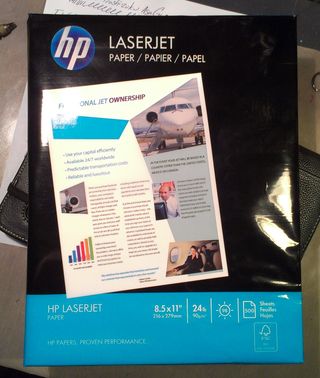 Overall
this paper is a great choice for people looking for budget fountain pen
friendly paper that is not as heavy as the HP LaserJet 32lb paper. It
fold well so it's great for bookbinding.This paper will save the
frustration of writing on paper that feathers and bleeds like crazy. To
me that's worth the additional penny a sheet.
You can get this paper through amazon here: HP LaserJet Paper

I am an Amazon affiliate, so be aware that if you purchase the paper through this link I will be paid a small fee based off the purchase price. Given that the price at Staples is $11.99 and the cheapest price on amazon including shipping is around $13 you are better off getting this at your local staples or other office store and saving a few $. If Amazon ever starts to carry this as part of their prime series of items I'd buy it through them…
I found that this is also available through Walmart for $9 a ream with 97 cent shipping per item. Which isn't bad considering each ream weighs around 5lb.