Recently I bought a sample of Pilot's Iroshizuku Asa Gao ink. I'd read great
reviews of it online and figured I should try it. I've tried one of
their gray inks previously and loved it. This one well, read on…
All
of the Iroshizuku inks boast a smooth writing experience. They have
good flow coming out of the pen and lubricate the nib as it glides
across paper. Asa Gao performed well in this respect, it's a very
enjoyable ink.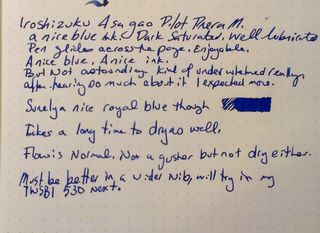 I've
got it in my Pilot Prera medium nib and my TWSBI 530 medium nib. Both
pens write flawlessly with this ink, on any paper I throw at it. From my
absorbent Canson XL pocket sketchbook to my Leuchtturm1917 dot grid to
my new found HP LaserJet 24lb paper it worked well, even impressively on
all papers. It resisted feathering on most papers but showed some bleed
through on some. Dry time was slower than average, but not by much.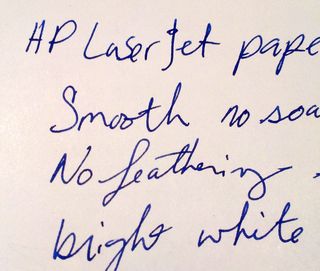 All in all writing was a joy with this ink.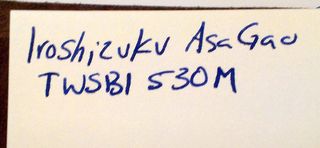 My
problem with it is the color. It's boring. It's straight up blue. There
is nothing that makes this blue stand out from the crowd when compared
to other blue inks. It's simply a nice blue ink.This is not the ink that will sell you on the Iroshizuku line.
To
me I can get other nice blue inks for a lot less then $28 a bottle. Do I
dare suggest that Parker Quink blue is also a nice blue ink but is a
mere $10 a bottle? It is also a nice blue color that has decent
lubrication, flows well and is kinda boring. Or what about Noodler's Blue? Less expensive, good lubrication, but it's Noodler's.
I
feel like a blasphemer for suggesting this but, if you are going to go
Iroshizuku check out one of their other colors for the wow factor Asa
Gao might have you falling asleep.