I've
been debating whether or not I should make my own notebooks for school
or if I should just buy them. I decided to pick up a few composition
notebooks to see how the various brands fared with fountain pens. I've
been a fan and have used the Staples Sustainable Earth composition
notebooks for around the garage and workbench thinking notebooks for
hacking out designs on my bike builds and other things. I've been a big
fan of them for awhile. While out picking up some supplies I grabbed a
new one figuring it was a safe bet for school. It seems that Staples has
changed the composition of the paper just a tad. It's now 80% bagasse,
or sugarcane. I'm not sure what it was before but this paper has some
major differences. I compared it to a page from an old Sustainable Earth
legal pad.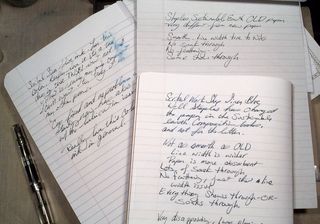 The
old paper wasn't super smooth but it was nice and performance with a
fountain pen was awesome. Line width was true to the nib, no feathering,
no soak through but there was show through. It was a great inexpensive
paper that was easy to find anywhere. 100 sheets was $2.49 anywhere in
the US. It was available in legal pads too, which were a favorite of
mine for taking notes while on the phone at work, and now for working on
ideas for classes and my writing. This paper was awesome.
The
new paper is not as smooth as the old paper. I tested both sides of the
page and while one side is slightly smoother than the other, it's not
as smooth as the old. Line width is not true to the nib size. My medium
pen looks like a bold and my EF a medium. Feathering was rampant with
many inks. Noodler's Eternal Brown feathered badly. Diamine Chocolate
feathered so much as to be unusable. Private reserve Sonic Blue was a
mess. Soak through was awful, many inks, normally well behaved inks,
soaked through to the page behind, leaving spots on the unused page.
Soak through was as bad as if I had used Sharpies to write. Given my
enjoyment of ink variety this is a deal killer for me.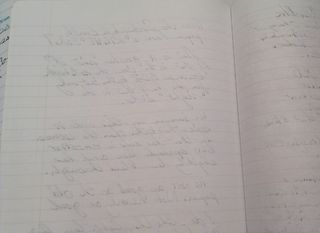 I
decided to test the paper would with a variety of pencils and pens.
Pencil was great on the paper, it was rough enough to take a nice dark
line with mechanical pencils as well as regular wooden pencils. I tested
out a Zebra Sarasa 0.7 in black ink. It soaked through. Yes, gel ink
soaked through in some spots.
I
deem the new Staples Sustainable Earth Composition Notebook to be the
most useless notebook of the year, unless you use only pencil. Well, I might see if I can cut pages out to use as thin blotter paper, it might be useful like that, but I doubt it would do a good job at that either.