After getting the weird bendy extruded pencils*** (by empire? eagle?) several years in a row I vowed that when I had control over my pencil purchasing power to buy better pencils. I was also older and used pens as much as I possibly could. That is a whole other story*. Anyway, I think it was 8th grade when I discovered the various colored Eberhard Faber Americans. They came in red, blue, and green. After years of messing around with crappy bendy nasty writing pencils I suddenly had pencils that sharpened and wrote well. It was a miracle to not struggle with my pencil.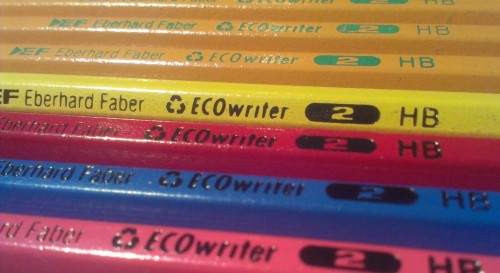 As I entered my second year of high school I had been reading about ecology and recycling and though of myself as a budding tree hugger. That school year I purchased my first batch of Eberhard Faber ECOwriters and  the pulpy gray recycled paper that went along with them. The paper was a dull gray had green ruling and a little recycle logo in the bottom right corner. It was terrible paper for pencils, but was great for ballpoint pen. The ECOwriters were briefly available at my local drug store (I think back then it had changed from Welby's to Rite-Aide) and I could pick up another 12-pack anytime I wanted them. When it wasn't back to school time they were ridiculously expensive but I always splurged. **
I used the ECOwriters for a couple of years with much happiness. I bought one of my last packages in college and thought nothing more of them, until I ran out. I had squirreled away a few packages of them, but for the majority of college I used art pencils and roller ball pens or various art pens. It wasn't until I was teaching that I had a need to get another pack of ECOwriters. I went to my local drug store, and found nothing. On a weekend I took a trip to the far away box office store, and found nothing. I went to box stores, nada. I looked for them on and off for a few months before I happened onto another package I can't even remember where I found them, but I remember being confused, the pencils said "ECOwriter" but it was accompanied by the brand PaperMate.***
I got them home, tore into the package for instant sadness and disappointment. The core was gritty and not smooth. Sharpening them was a painful experience. Back then I sharpened with a knife 99% of the time and that was just an awful mess. My art sharpeners, even new sharpeners left a terrible mess on the pencils. It was as if the pencil that I had loved was crumbling before my eyes. I think I left these in my classroom for kids to steal rather than use them.
Enter eBay, the flea market for champions of 90s nostalgia. A seller on eBay has lots of these beauties, true vintage Eberhard Faber ECOwriters from the 90s! I was surprised to get a package from a friend containing a baker's dozen true EF ECOwriters, in not only  the traditional yellow but also the color version. Best early birthday gift ever! I immediately sharpened one up and used it all day. It was rad. I'll do a full review, remember it's colored with nostalgia.
*Another essay could be about when I discovered great and bad pens.
**My brothers used to splurge on the YIKES! pencils, which I felt I was far too mature to use. Plus I had a pencil that I knew worked and worked well.
***Eberard Faber was purchase by Papermate in 1994. After which point Papermate ruined all the good pencils EF ever made.