I've been using the Handbook Trav-e-logue (HBT) series of notebooks for a few years and it is time I do a review. I'm in my 3rd of the 5.5×8.25″ 128 page sketchbooks. I've used both the landscape and portrait versions, with 128 pages each. The paper inside is buff or creamy colored and has a nice texture that is fantastic with pens, ink, graphite, markers, and light watercolor washes. The paper has a nice tooth and it is decently thick. The covers are a rough linen and hard. They are available in blue, red, green, and black. The colors are warm and invite you to fill the pages. The sturdy elastic is gray and charcoal. The journal is stitched and glued. The page marker in all colors is made of nylon and bright orange. Inside the back cover is a clear poly envelope. Overall the HBT is very well designed.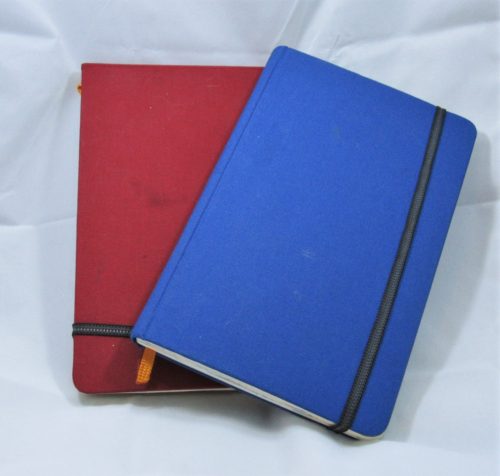 There is a reason that I keep buying these, they perform as well as they are made. First, the feeling of the cover is fantastic. It's smooth and not too rough. It is not sealed so it can collect dirt but you can wipe most dirt off easily. I did have a few instances where I spilled watercolor and it stained. The cover is hard and offers very little flex so you can sketch in hand. The elastic is very strong but stretches to encompass a great deal of stuff added to the sketchbook. The stitching is tight and well done on all the HBT I own*. The orange page marker is heat sealed so it does NOT fray.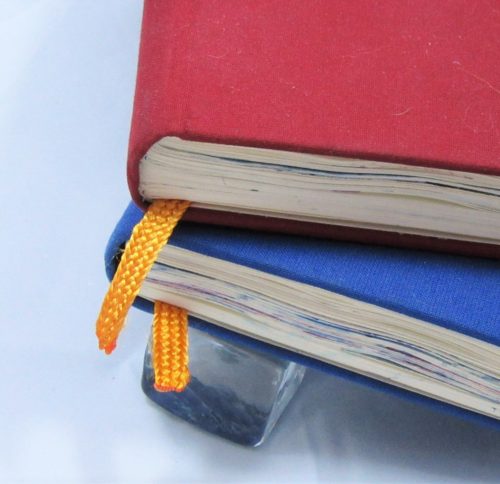 Global Arts, the parent company of Handbook, describes the paper as able to handle a light wash of watercolor. I've gotten really sloppy with my watercolors, layering on wet sloppy washes. While the paper had some cockling none of it was bad and the paper survived quite well. In addition to the wavy pages I found that the paper would pill if I worked the very wet paper with a stiff brush. I did all my politician series in these sketchbooks and I was very happy with how the HBT responded. They handle pencil, colored pencils, layered brush pen, and collage with ease.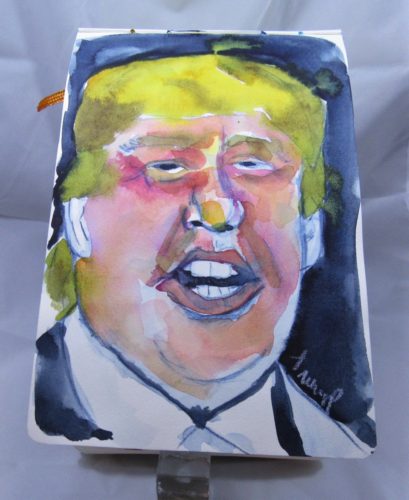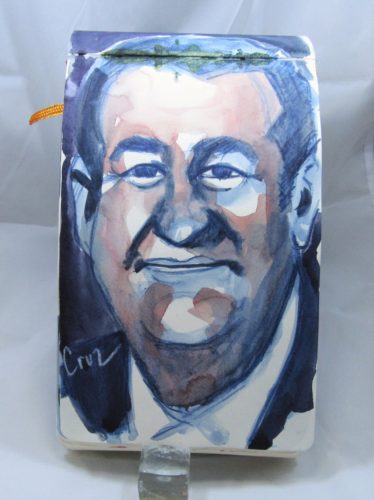 The HBT are $17.99 at Artist & Craftsman. While this is not a cheap sketchbook it is a good sketchbook. Every single one that I have looked at in store and later purchased has responded well. The paper, binding, elastic, and stitching are consistent. The poly pocket is just big enough to be useful. Finally, there are the lovely colors and fabric covers. I just purchased a green version and man, what a nice warm shade of olive green. The red is brick colored. The blue is the brightest of all the covers, but still quite nice. The black is charcoal-ish and rather nice.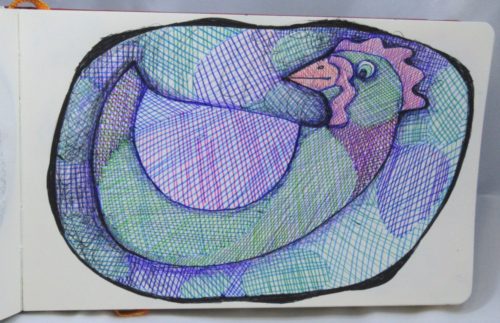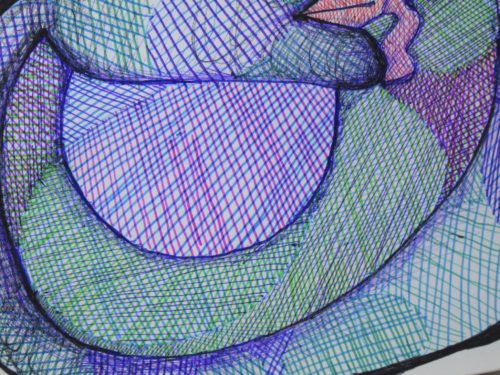 Overall these are simply fantastic sketchbooks. They are not available lined but if you are looking for something in the moleskine size of large or pocket, these are a great replacement. Personally, I look forward to filling my shelves with these.
Nitty gritty detail at a glance:
128pp

Buff/cream colored paper

Stitched, Smythe Sewn binding, opens flat and folds over on self.

Orange page marker

Sturdy, well glued elastic closure

Hard covers covered in linen, available in red, blue, green, black

3 sizes large 5.5×8.25, pocket 3.5×5.5, square 5.5×5.5

Landscape and portrait orientation

Rounded covers, very little overhang

Minimal branding, Hand-Book logo debossed on lower right corner

Large size retails for $17.99
*In addition to the HBT with sketch paper inside I have one with watercolor paper. Also divine.