Writing as a Way of Healing by Louse  DeSalvo, was required reading in my bibliotherapy class, and it's well worth the piddly amount I spent to buy it and the amount of time I spent reading. (Seriously the 'Zon has it for a mere 70 cents right now.) It focuses on writing, and specifically the Pennebaker Paradigm* (PP.) The basic idea with the PP is that you write for a set period of time about something that bothers you. You do the same thing for a day or two, telling a story- with a beginning, middle, and end; and eventually you find some relief from your depression, anxiety, PTSD, etc…  There's a been a great deal of research into the PP, and I won't bore you with the details but the gist of it is that if you can tell a coherent story about the thing that bothers you (that beginning, middle and end are important) you start to feel better. The PP is used to back up a great deal of the support out there for journaling as a healing tool.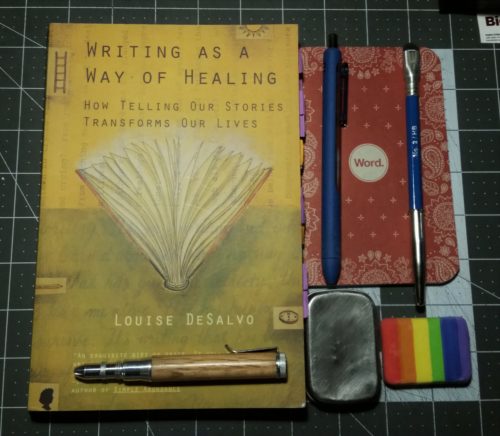 The chapter I chose to look closely at for this SSS was Chapter 3, "Writing as a Therapeutic Process." It's a good one to look at because it delves quite deeply into the desire to write and how damaging it is to not write if you really feel the need to do so. This, also applies to making art. If someone really feels a great drive to make art but they leave behind "childish things" in favor of work and other adult pursuits, they are leaving their creative self unfulfilled. A journal maybe a tiny drop in the bucket of creativity, but it is a necessary outlet, no matter if it is written or art based. One of the most interesting bits in this chapter is the various accounts from writers who used writing as a way to heal themselves.
Sadly, this chapter also flogs the age old untruth that "creativity comes from pain." Yes, many people who have experienced some sort of traumatic event or pain in their life are creative people but also there are many people who are creative who have not experienced trauma. It really does a disservice to the community of creatives to portray us all as "broken" people who create out of desperate need. Perhaps this is an unfair critique of a book where the entire premise is based on "writing as healing" but frankly, it's tiring to read the lame trope that artists are damaged. Yes, pain can bring about wonderful creative works, but pain does not beget creativity. Rather, creativity is a salve for wounds. This, I think, is what DeSalvo is attempting to get at by writing about pain and creativity, but sadly misses the mark with the blanket statements about creativity and pain.
The rest of the book is well worth the effort to read and delve into, though it is about novel writing, much of it's contents also relate to visual journaling. Telling a story is telling a story regardless of how the story is told- through images or words or some combination of the two.
Next week, I'm going to review an old favorite, How to Make a Journal of Your Life, by Dan Price.
*If you do read up on the Pennebaker Paradigm please be sure that if you attempt it you have the support of a therapist or someone there should it bring up old wounds. Get support when you need it.
Yes, all links in this post are Amazon Affiliate links. I get a few pieces of coin should you chose to purchase the book through these links. No it is not a lot of coins. Every penny helps to buy more books, art supplies, and yes to keep this blog up and running.