I've written on here about How to Make a Journal of Your Life (HtMaJoYL) in the past, I'm a fan of the simple stripped down journaling style Price promotes, as well as his anything goes attitude toward journaling. Boiling it all down to one line- if it moves you, put it in your journal.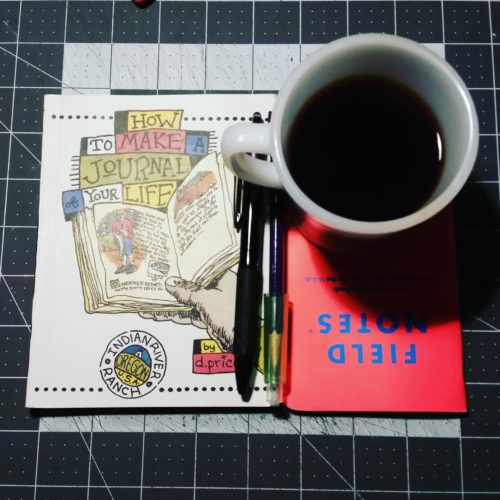 In more depth, Price suggests writing, photography, rubber stamps, drawing, doodles, and taping in flowers and other stuff you find on your travels. Each chapter of the small book details Price's philosophy surrounding these various techniques. His philosophy leans toward simplicity with a focus on observation and recording those observations. He also suggests using pens and markers and not worrying about mistakes as those are part of the process.
An additional part of the HtMaJoYL process of journaling is to use whatever materials work best for you. Price used Sakura Pigma pens, but he also used rubber stamps he found along the way, and clear scotch tape.
You'll notice that even in his writing he follows a simple philosophy of telling a story. Each image or line of writing tells a story about the artist or author recording it. What you chose to record in your journals reflects the story of who you are. This is probably the biggest and best take one can get out of the book- to record whatever reflects you.

The final part of the book includes some of Price's journaling and then finishes off with areas for the reader to begin journaling.

Next week I'm going to explore Art Journals & Creative Healing. No link for it this week, I want to make sure that my thoughts are up so you can make an informed choice before purchasing the book.

Yes, all links in this post are Amazon Affiliate links. I get a few pieces of coin should you chose to purchase the book through these links. No it is not a lot of coins. Every penny helps to buy more books, art supplies, and yes to keep this blog up and running.