Do you love the idea of the traveler's notebook system? Maybe you're vegan or vegetarian and the idea of carting around a thick piece of animal hide grosses you out. Maybe you're crafty and you like the idea of making your own but don't have time. My thoughts on the BEB haven't changed much since my first impression post over here.
Enter the Jane Davenport Butterfly Effect Book (BEB). The BEB is a  $13 Traveler's Notebook knock off made of 2 pieces of nylon canvas stitched around a piece of stiffish card. It's got a pair of eyelets at the top and bottom center as well as one to hold a thick elastic cord around the center of the book. The cords included with the cover are all pale teal colored. They are also thick and quite sturdy. It is important to note that the BEB is eligible for the Michael's store coupons, so that $13 can be cut down to $6 with a 40% off coupon. Which is a steal for this fun little cover.
The white nylon canvas isn't anything spectacular, but it's intended to be a canvas not the final product. I highly recommend that you look at all the stitching and edges to make sure they are secure before decorating. Use a lighter to heat seal any loose or frayed edges. After which you should gesso the living hell out of the cover. I didn't gesso my first and it soaked up so much paint that it was difficult to decorate. Whatever card is in the center of the book- it is very absorbent. That said, once gessoed and dried, it is a great canvas for your decorative self. I did mine with a faux copper finish and loads of texture.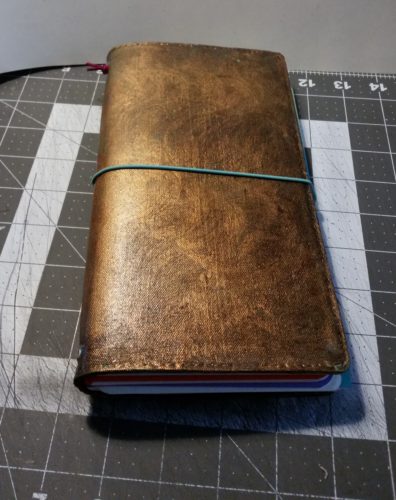 I'd recommend sticking to acrylic paint and flexible media for the cover because the cover does flex especially around the center fold. You wouldn't want your hard work peeling right off.
The insert included with the BEB is garbage. A few sheets of cardstock folded and stapled. You are better off heading down to your local office supply store, buying a pack of card stock and folding up 4 sheets yourself and trimming it down with your paper cutter and rounding the corners with a corner punch.
I really wasn't sure about using the larger sized TN setup, I'm quite dedicated to my pocket notebook sized books, but really found myself falling in love with the slightly too narrow shape and size of the TN inserts. Adding dot grid to the mix was a no brainer. I've been using one insert as a journal, one as a planner for No Brand Notebooks, and another as a reading journal. I've since added an insert for reviews and another for planning my new podcast RSVP*. I cannot emphasis how nice the size is for long running entries, or quick notes about the stuff I'm reading**.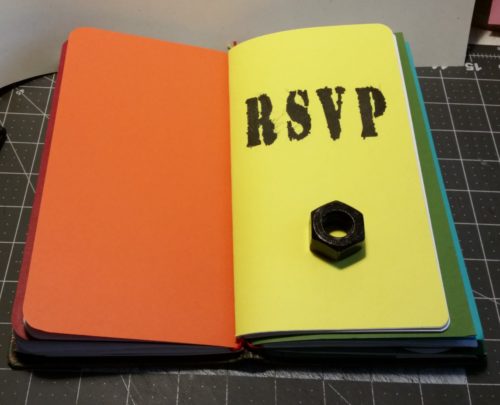 I think that the BEB is a good purchase for anyone who wants to test out the Traveler's size without a huge investment. $6 with a coupon is a no brainer.
*My friends Lenore, Dee and I are going to start up a stationery podcast. If you want a taste of what it will be like head on over to the Erasable podcast page where we filled in for the boys on April 1st. We had a blast and since we'd been talking about doing our own show, we're gonna do it.
*Yes I know I need to get back to the Secular Sunday Studies, but it just feels weird to do them when I'm heavily reading weirdo fantasy novels. Though I must say that Chapelwood by Priest had a great section that lends itself to SSS…
Many links in this post are affiliate links. If you buy something from Amazon through one of my links it helps to keep the page up and running. I don't make a profit on this page, just enough to pay for hosting and domain registration. So click the links and get me some pennies for hosting.