At some point someone somewhere decided that the only colors of ink that are acceptably professional* are blue and black. Red is occasionally acceptable in some contexts- like accounts receivable, editing, and other jobs where a mark must be immediately recognizable. I've read a myriad of reasons why blue and black are the acceptable professional colors from photocopy-ability to price to general opinion. Sadly, the general opinion seems to be that black and blue ink are professional and others are not.
My workplace is one which states somewhere that we can only use black and blue ink on any official document. This translates to using blue or black ink only, as everything I fill out becomes part of the official file and the only thing that can be tossed are occasional notes to myself and scratch paper. Honestly as much as I'd like to whip out a pen loaded with Diamine Chocolat to take notes while I'm on the phone it doesn't make a whole lot of sense to cart around a fountain pen loaded with ink just for scrap notes, not to mention that the Diamine Chocolate would feather and bleed on all the paper in the building, so I"d then have to bring in a notepad just for that pen. It just doesn't make sense.
I set out to find some blue and blue-black inks that are professional and worked on the fibery, rough, absorbent paper in my office.
1 Zebra Sarasa Indigo/Navy
Depending on where you purchase your Sarasa pens this pen will be labeled either indigo or navy. I like Indigo better so I'll use that throughout the review. This pen is a deep dark purple tinged blue black. It's warm and a really nice dark shade of blue. The bonus is that the Sarasa refill flows well, is smooth, and works from the moment you peel off the little waxy ball to the moment the ink is gone. The gel ink also works well on the cheap office paper. I've bought a bunch of these.
2 Zebra Sarasa Cobalt/Blue Gray/ Slate Blue
Zebra really needs to work on their naming conventions and stick to the same name across the brand or even within the same line. The standard Sarasa in this color is officially named Cobalt. Which is hilarious because it doesn't even come close to looking like cobalt in any way shape or form. Their standard blue should be named cobalt. This shade of blue is more of a dusky gray blue, which is what it is called in the "vintage" series of Sarasa Clip pens. I just call it Slate Blue which is what I call all blue gray ink pens. So from here on out this is Slate Blue.
Slate blue is very sedate. You'd think that because it is gray tinged that it would be pale or faded looking, it has a good balance of blue to gray and stands out quite well on the page. In some lights this pen has a hint of green to it, but in most it just looks blue. This pen has occasional issues with the fax or photocopier. It is still legible but all the copies I've made of forms filled out with this ink are faded.
3 Paperhate Inkjoy Slate Blue
This is another deep dark blue. There is a hint of teal or green in some lights but I've not had any complaints about this color. I suspect that because unless you are looking at it next to other shades of blue it just looks like dark blue or an attempt at blue-black. I'm not going to gush about the Inkjoy, go read this if you want to read all about the wonder of the Inkjoy.
4 Zebra Sarasa Blue
This blue is bright, vibrant, and stands out on the page. It leans toward the warm purpley side of blue. Honestly, I'm not a fan of this shade. It reminds me of Noodler's Bay State Blue in intensity and color. Maybe a shade or two darker, but it's got that sort of pop on the page. It would kill or stain your pen though, so bonus?
5 Pentel Energel Blue
A good standard shade of blue. It photocopies well and is visible on all forms I've used it on. Boring but decent blue.
6 Pilot G2 Blue
I list this because the G2 performs really well on all forms of cheap paper. It's a nice standard blue too. Boring, but it's blue.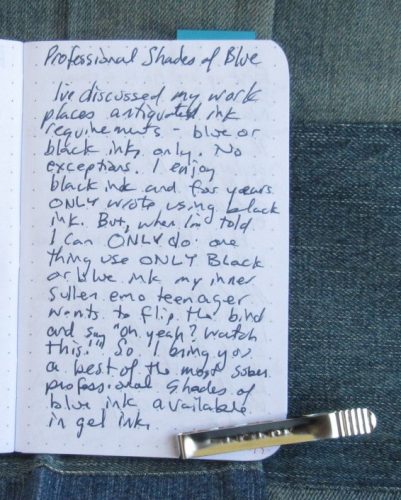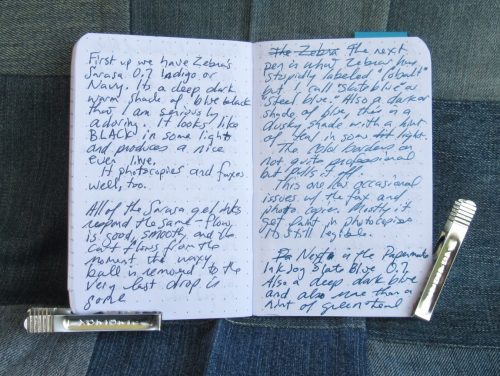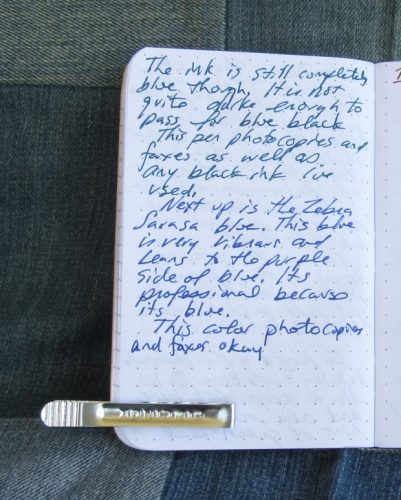 *Yes, I am aware that some professional- judges and generals (or other higher up muckity mucks) use green ink. I'm writing about the average wage worker here.
Most links are affiliate links and I get a small amount of pennies should you chose to make a purchase following my links. It's not a lot but it does help me to fund the hosting for the blog and buy new things to test and review. I bought the goods in this review with my own cash money and no one influenced my review.