This pen took 21 days to arrive on my doorstep after ordering via a seller in China on eBay. The 51A cost $3.98 with free shipping. Packaging was a simple plastic sleeve over the pen and a thin lightweight bubble wrap envelope. I was surprised it arrived in one piece.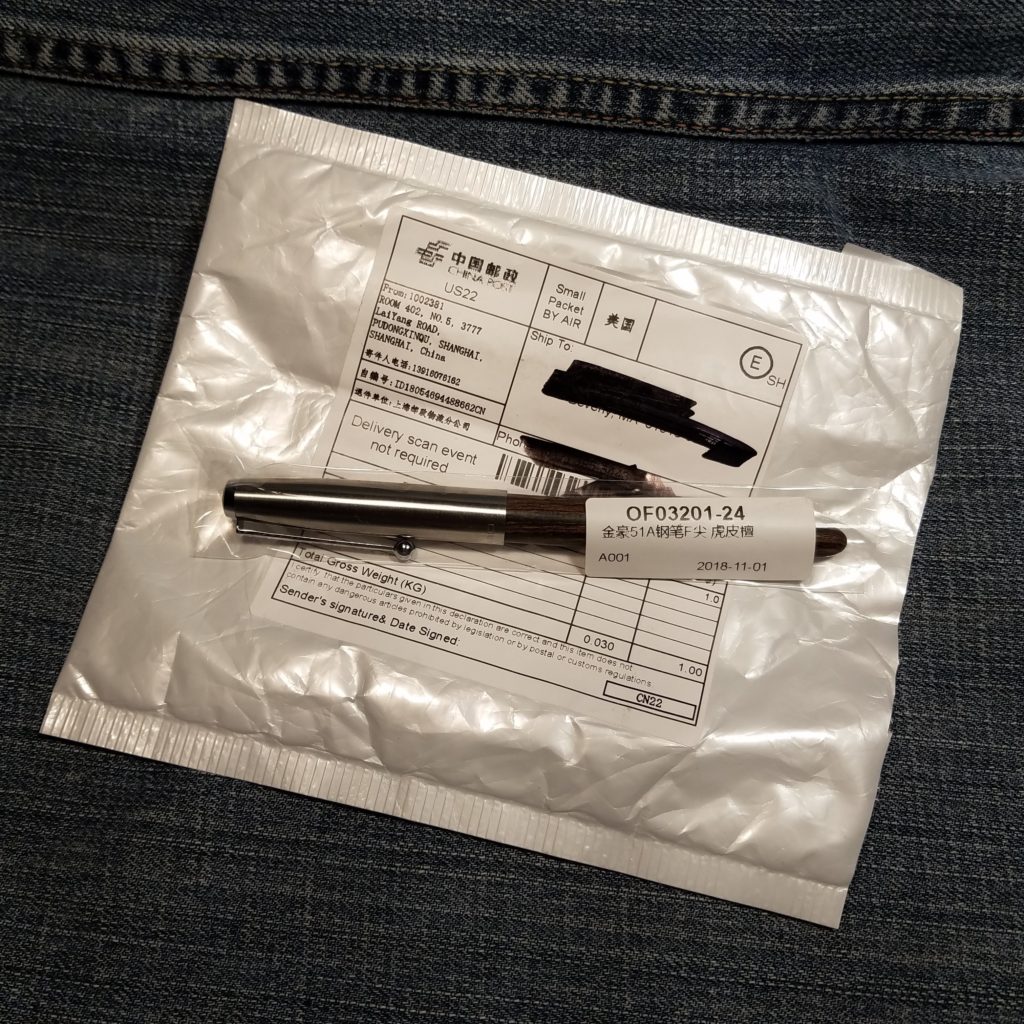 Inside the envelope and sleeve is the pen. I ordered one of the wooden versions, there are several. I particularly liked the visible graining on the "Tiger Sandalwood." I have no idea if this is really sandalwood or not, but it looks great. The wood arrives dull but smooth. Nothing a little work can't fix.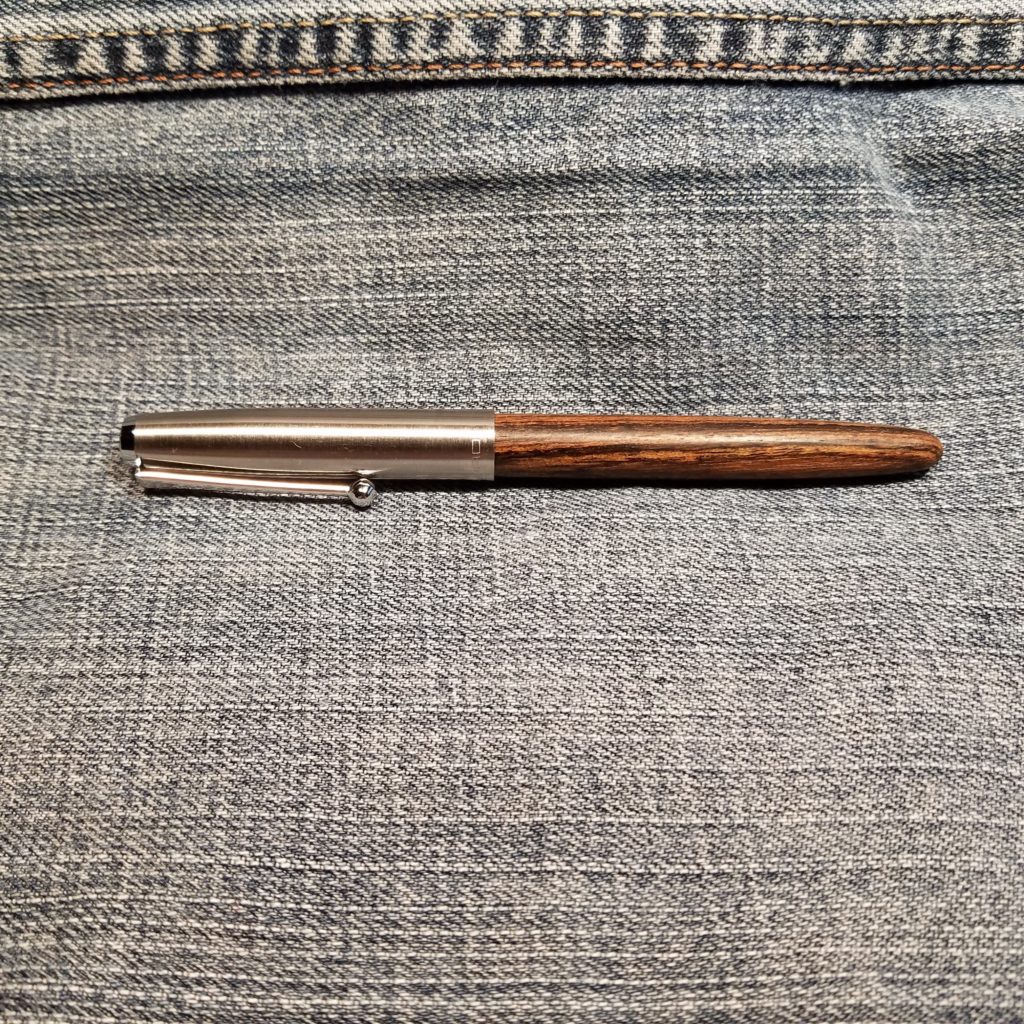 The nib is a standard Jinhao fine number 5 nib. Mine have all been smooth from the first inking to the last and this was no different from the other Jinhao pens I've ordered. I've watched and read a few other reviews that report this having a metal section, mine is plastic. Though there are brass threads inset into the wooden body of the pen.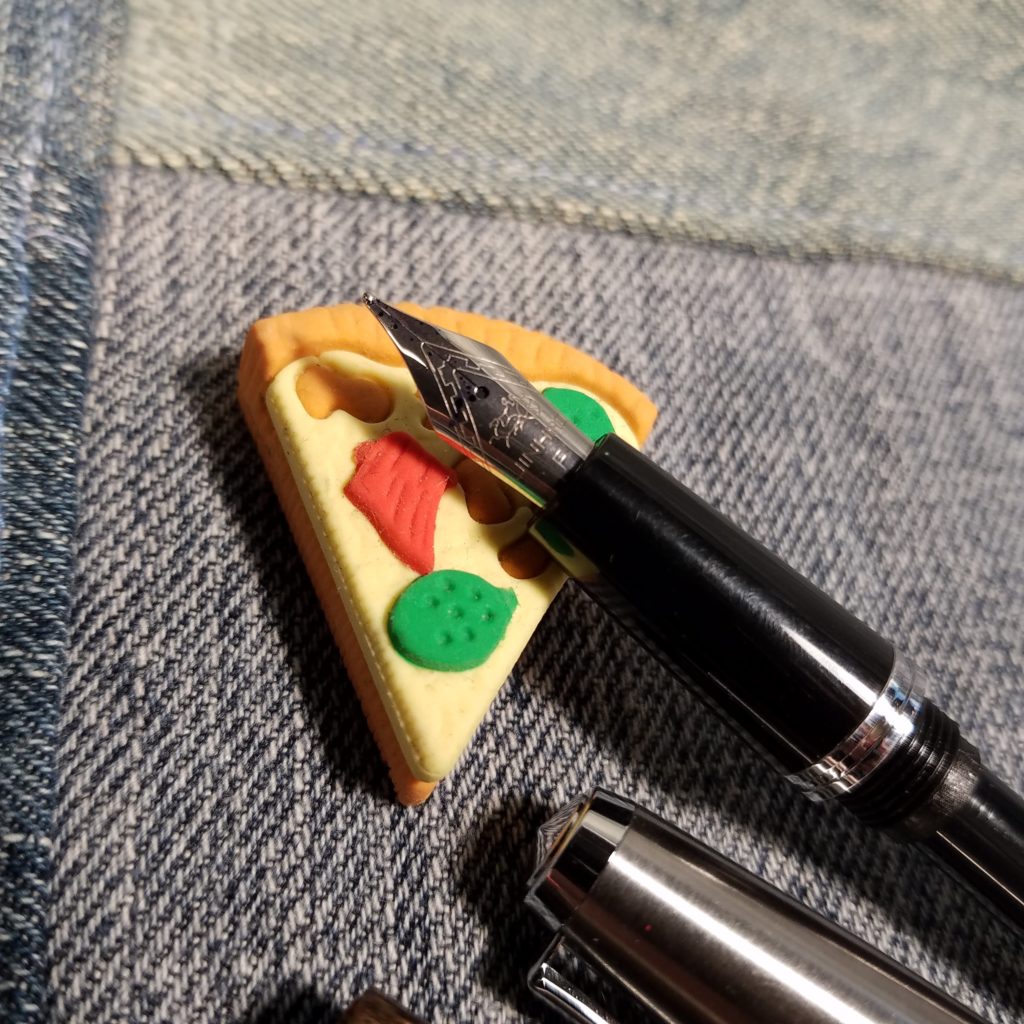 The cap is brushed stainless steel with a sturdy clip. The clip features a large ball at the end, which I think looks great. It also clips securely to notebooks and shirts alike. Despite being a friction fit, when capped the pen is secure. The cap also posts securely and deeply. I find that the pen is balanced when posted and feels good. It also feels good when unposted.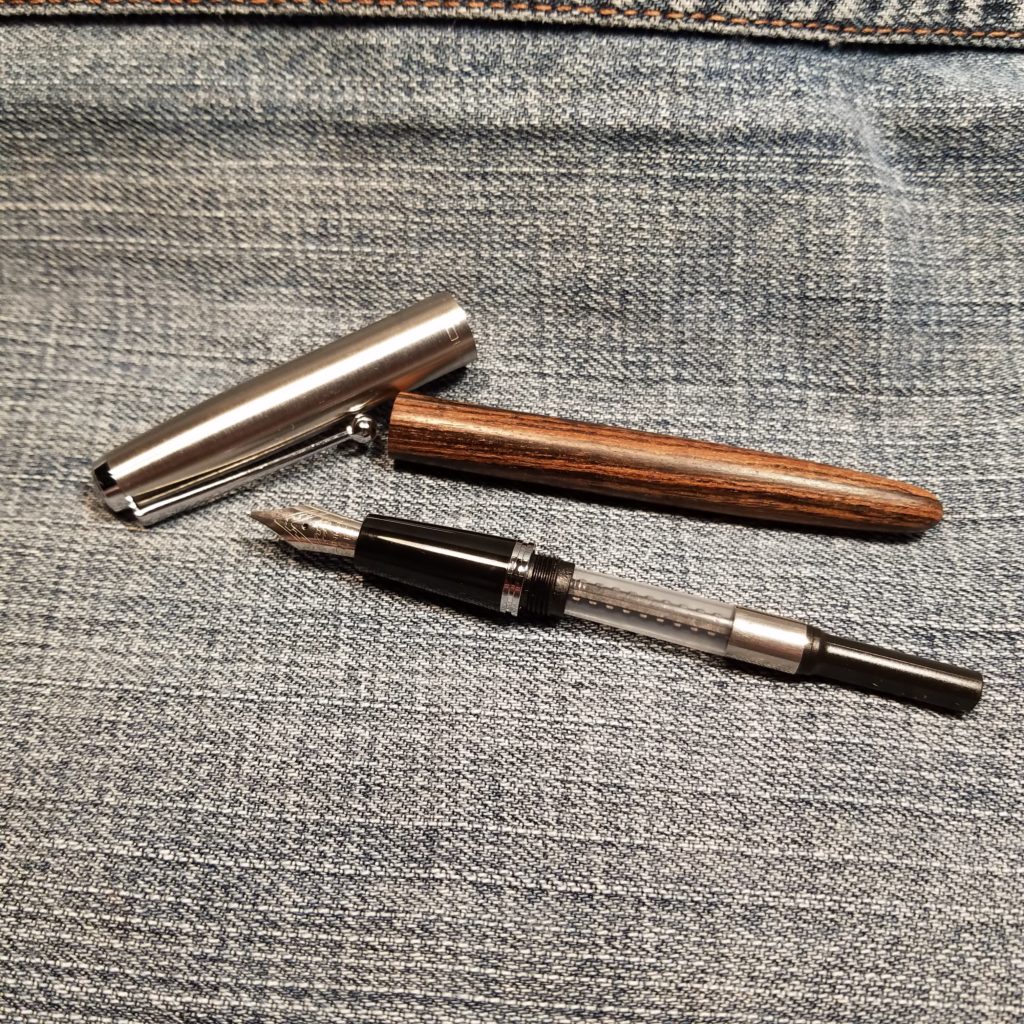 This is a cartridge or converter pen, and mine arrived with a Jinhao converter already installed. After washing the pen, I filled it with Akkerman Van Vermeer Ceruleum Blauw. Flow is acceptable and it lays down a decently wet and smooth line. The pen doesn't dry out when left for a few days.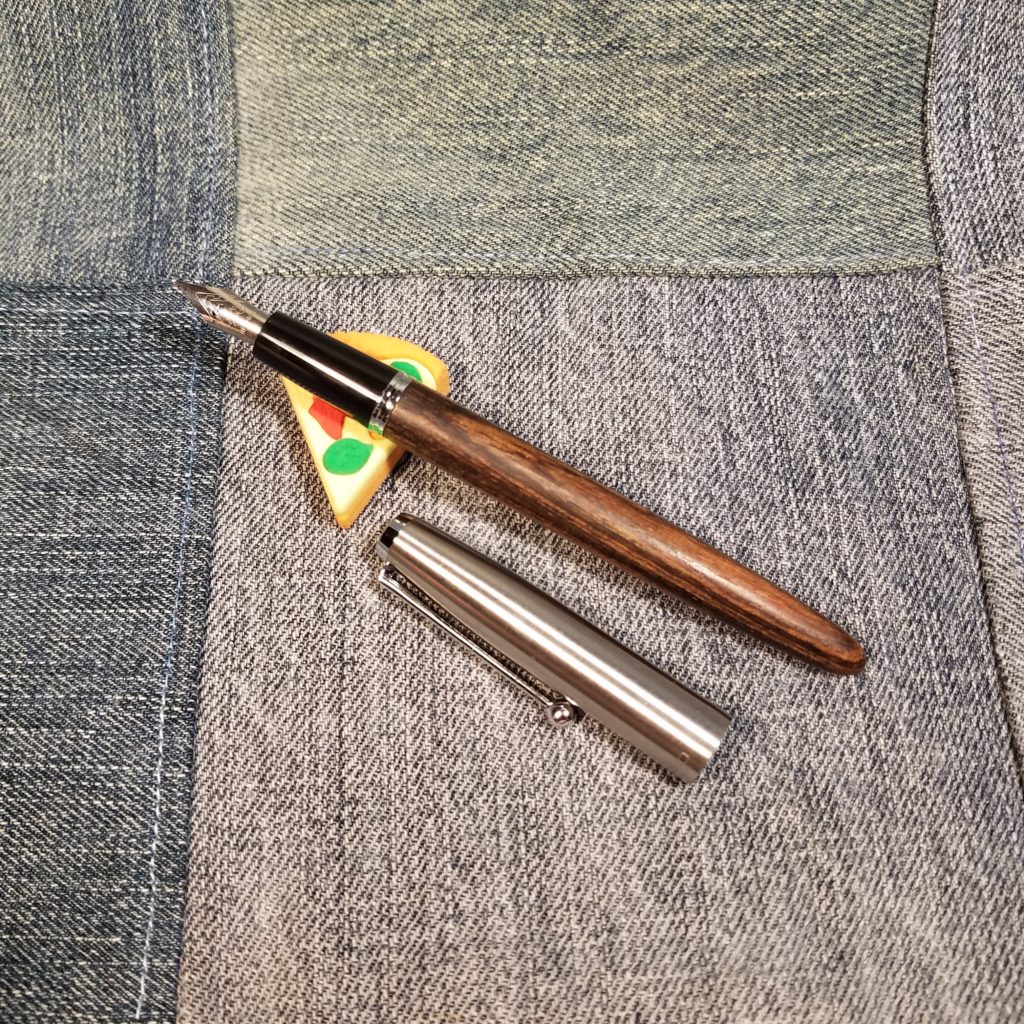 I wanted to bring up the shine and visibility of the grain but keep the feel of the wood. I rubbed silicone grease into the pen, let it absorb and then buffed off the excess. I'm not sure you can tell the difference in the photos but in person the difference is amazing. The wood is satin, the grain pops, and it still feels like wood. The silicone grease isn't slippery or tacky, the wood has absorbed most of it, it has left a nice tactile shine on the pen. A hard wax would give a similar shine for the same amount of work.
This pen is also available with a hooded nib.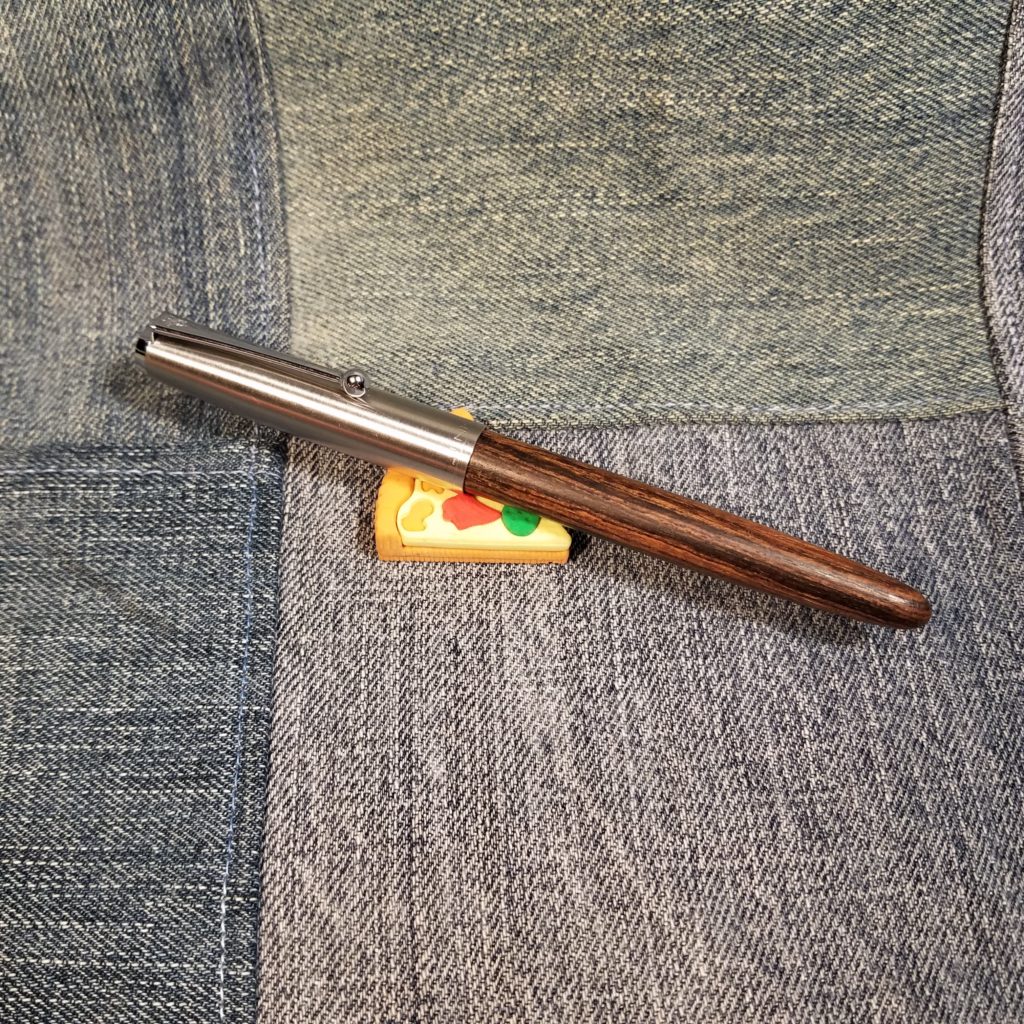 Like the Kaco Retro I reach for the pen again and again. It's the right size for my hand, clips securely to my shirt, and feels amazing. The balance and weight is great. The wood is a perfect fidget. The updated clip and cap really brings a nice feel to the classic Parker 51 or 21 riff. At less than $4 each you can afford to buy a hooded nib and classic nibbed version, just for giggles.