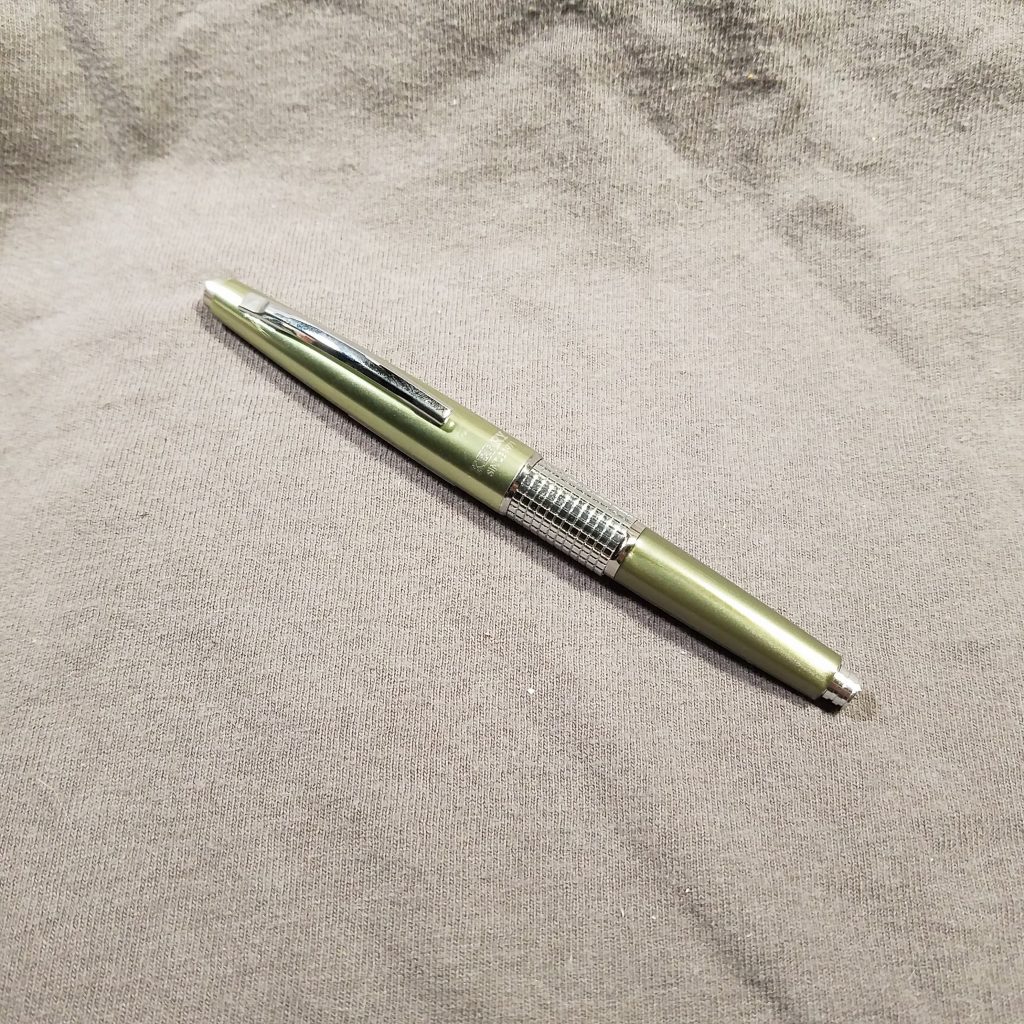 I love a good mechanical pencil. Really I do. I tend to take care of them and have quite a few around and about, but I REALLY love the idea of one with a cap. You see I keep my Rotring and Koh-i-noor tips in shape with Bic Crystal caps, no really, they slide on and grip to that knurling and act as a point protector. The blue colored cap looks great with my silver Rotring 600. Thus the idea of a mechanical pencil that has a cap with it? AWESOME. I ordered the olive green pencil from Jetpens, at $15 this isn't cheap but it is far from the most expensive mechanical I own, no both my TWSBI Precision and Rotring 600 were roughly $25 (maybe $30?). Granted the Kerry is not the same quality as either, but let's get to the review.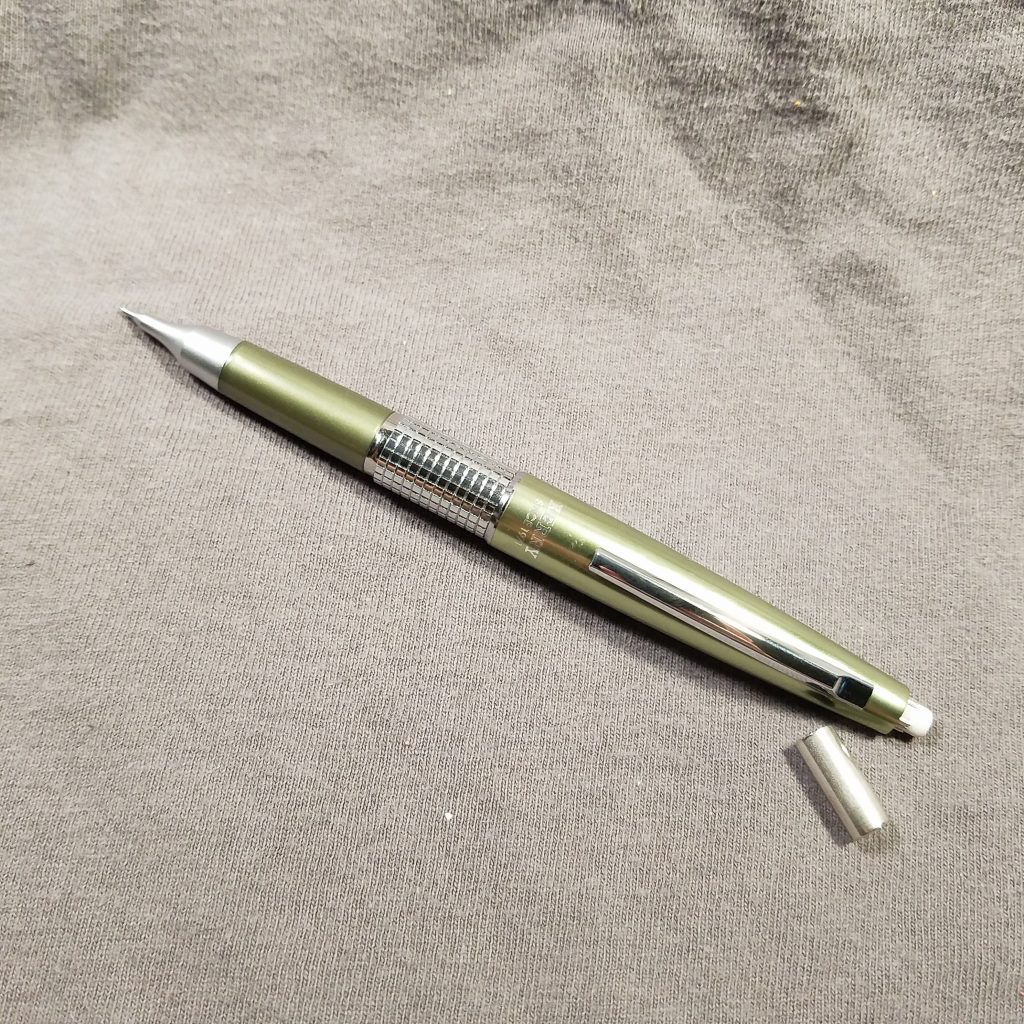 The Kerry feels like an adult pencil. When I was a teenager I'd have gazed longingly at the Kerry and decided that $15 was TOO much money to spend. I'd probably have looked for a silver or black version instead of the olive drab color. The capped pencil has a knurled area that is silver and looks flashy. The logo and all hardware are silver. When uncapped the grip is the green body color and the tip is brushed matte silver. The cap posts deeply and securely, and looks great when posted. The plastic has some swirl to it and I have to wonder what this would look like in some of those fancy acrylics that the fountain pen makers use, Primary Manipulation anyone? YUM!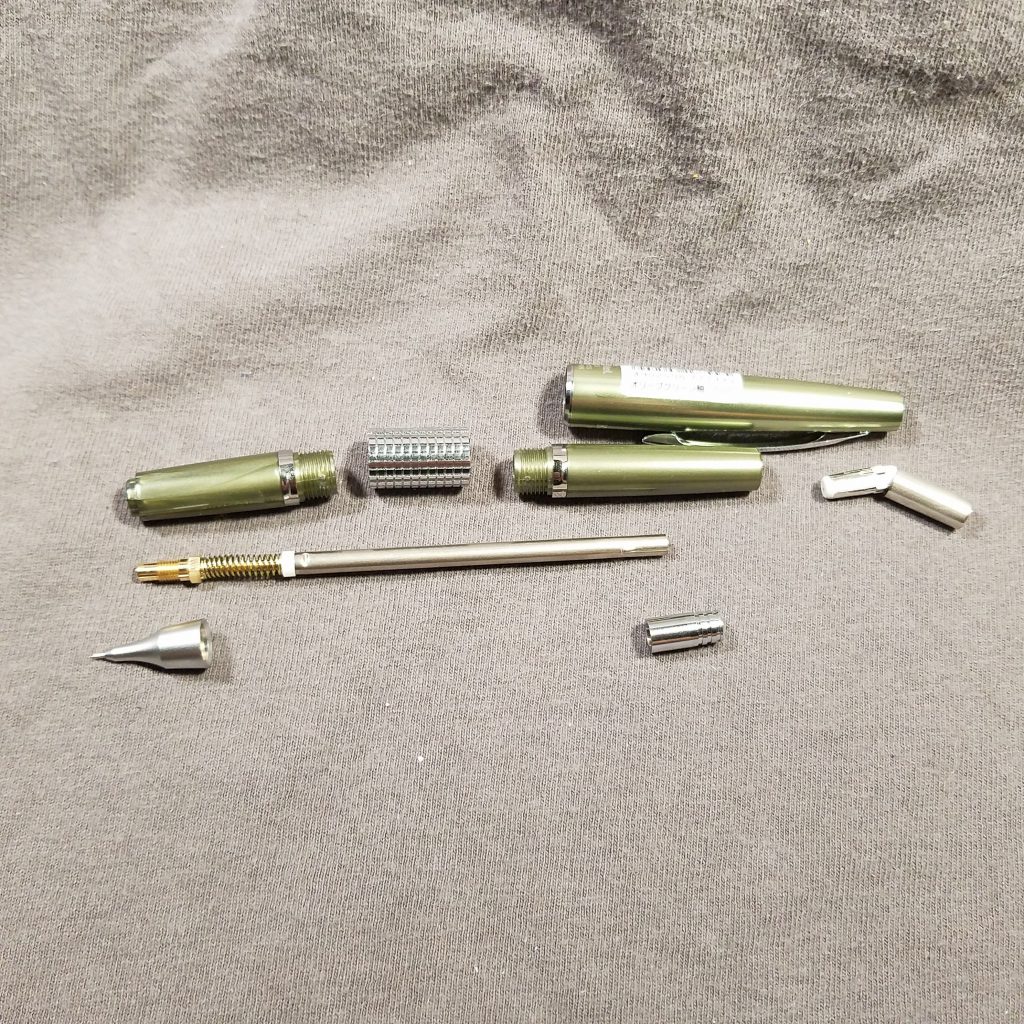 The cap is metal, the body is mostly plastic, the tip is metal and I believe that the faceted bling is metal. Inside is an all metal mechanism. The nock is solid and seems to eject a minute amount of lead with each click. The provided Pentel HB lead is nice, but I swapped it out for Nano Dia because I love Nano Dia lead.
In hand the Kerry feels, well, perfect. I wasn't expecting it to be perfect for my hand. There's no grip knurling. The grip is plastic not metal. I have all these expectations but also the thought that so many people report it as a great pencil. Now I'm one of them. I have used it now to fill a composition notebook. I didn't even think to reach for another pencil the WHOLE time. I grabbed my Kerry and notebooks and WROTE. It just worked and felt good to use. An added bonus is that it is small enough to toss in a pocket or clipped to a lapel and this pencil a just perfect in every way. Imagine tossing a Rotring 600 in a pocket, you'd have a stabbed thigh.
I picked this up from Jetpens. You can get it for less, but only in black from the 'Zon.