I like Pentel EnerGel pens. We've got a box of the needle tip 0.5 at work and quite a few of them find their way into my desk after a trip to the supply cabinet.* I should do a full review of those too, since I've never done it
This is a good bold pen. That is my one quibble with this pen. Where UniBall and Zebra 0.7 tips lean a bit fine, Pentel has determined that their 0.7 tip shall actually be a 0.7 tip. Had I noticed the pack I picked up was 0.7 I'd have swapped it out for a 0.5. The line is fat and rich. The black is DEEPLY black and on the warm side. 
The ink is great.
The body of the pen is okay. It is all plastic with a shaped rubber grip and a chromed plastic tip and knock. The clip is metal. All logos are in silver printing. The pen feels okay. It feels about as substantial as a Pilot G2 or Zebra Sarasa but not quite as put together as the UniBall 207/307. I'm sure that doesn't make a whole lot of sense to anyone who puts the 207/307 above all other gel pens, but it does to me.
This is a doodler and sketcher's dream pen. The ink bonds to the page and doesn't lift or move once dry. That is the kicker, it takes between 10 to 15 seconds to dry on good paper (less on absorbent pages) and a good swipe of the heel of your palm over it and it makes a mess. I tested it with a few drops of coffee on an index card and even the hot coffee didn't lift the ink. I've yet to test it with water colors but if coffee won't lift it, I doubt most watercolors would. I will say if you use any pencil lines on smooth glossy paper that you'll need to clean up after a drawing is rendered, be prepared to reink some lines. I found that EVERY eraser grayed the ink out immensely. You might be able to see that in some of these images. I'm not sure how well my camera picked up on this.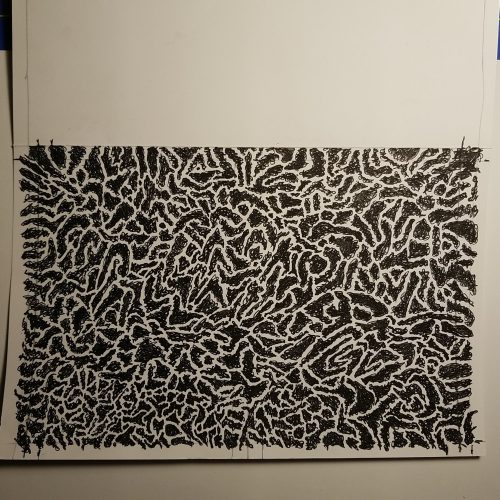 During a couple of meetings I doodled a composition book pattern onto a nice sheet of cardstock. I did notice a few things. First this was Neenah cardstock with a SMOOTH finish the pen felt great on it but on areas where I scribbled a couple of times the ink would lift itself or skip. I also noticed on areas where I'd used my fingers to fold the page, the ink would skip over my fingerprints. That said, areas where I scribbled, allowed the ink to dry, and then scribbled again, accepted more ink without skipping or hollow lines. I didn't notice any blobs as I drained this pen dry.

One of the truly great things about this pen is that you can buy refills. They are listed as LRP7 and are $1.65 on Jetpens as of this writing. You can get 12 Energel Pro refills on the 'Zon for about $13. As far as sketching and doodling pens, these are in my top 5 list for sure. IN terms of smoothness they are up there with the Sharpie SGel and waterproofness with the Unibal Signo. I might've ordered a 12-pack of refills right after writing this.
I purchased this pen with money from Ko-Fi support! 
*Anyone else have a childhood memory of being sent to the school supply cabinet to grab something for a teacher and opening a door to a treasure trove of stationery goodies? I have a distinct memory of being sent to grab a box of pencils for a teacher and seeing all the paper. Amazing.