Musgrave has two versions of the Harvest pencil, the standard and the Professional. The numbering is the same- they are both labeled the 320. The standard is available in numbers 1 and 2, while the Professional is only available in number 2. They both feature a sharp hex, golden yellow paint, and a gold foil imprint. Both have an eraser that works significantly better than the erasers of Musgrave past. So what is the difference?
Let's start with packaging. The Professional arrives in a nice sliding box in brown, yellow and gold, that I love. It has a simplicity of design that hearkens to eras past while also capturing the feeling of a farm harvest. Musgrave has upped their packaging game on some of their pencils, and the Professional wins out. The standard arrives in that plastic bag. Again I really wish Musgrave would use a paper envelope instead of plastic.
The imprint is slightly different between the two pencils, both have gold printing, but the Professional is a little bolder and beefier. The standard is cased in what I think is basswood or linden while the Professional is cased in cedar. Both woods sharpen with ease in a crank or by hand. The standard has a gold ferrule with a burgundy band while the Professional is distinguished with a plain golden ferrule with some texture to the center of the band.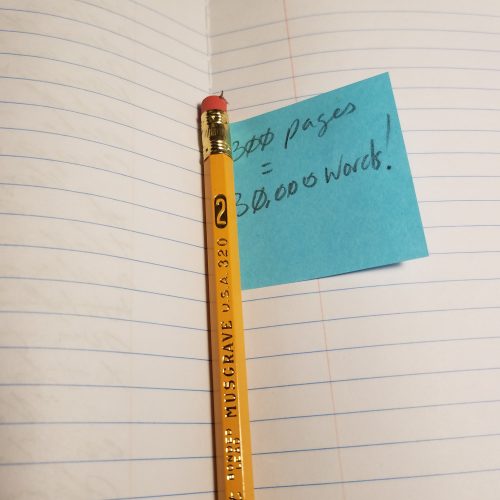 The cores are also drastically different. The standard features what I'd call a very nice but typical HB while the Professional features a darker smoother graphite though it is also labeled HB. Despite the graphite in the Professional being a tad bit softer it's still got point retention to spare. I found myself writing several pages in my composition notebooks before reaching for a fresh pencil. Often I only get a page out of my favorite dark smooth pencils.

While the standard Harvest is an okay pencil, the Harvest Professional has won over my heart and it is a true writer's pencil. The yellow paint is standard yellow but it's a nice shade of yellow and not overly glossy and the gold imprint is done well. While I don't love the sharp hex I find I don't notice it as much as I used to. The creamy smooth graphite combined with terrific point retention is killer in the Professional. At $9 a box for the Professional, it's a bit of a price increase over the standard's $6, but it arrives in better packaging and is overall a significantly better pencil. Get yours here at Musgrave here.
These pencils were purchased with fund from folx smashing that Ko-Fi button on the sidebar of my blog. If you like reviews like t his consider buying me a coffee via Ko-Fi!