Dade and I discussed this pen on the last episode of RSVP. We both questioned why it is made of brass and not copper like Lady Liberty herself. While I think a true tribute to Lady Liberty would be copper, this pen is not just about Lady Liberty but the entire concept of Liberty. We also discussed that some people missed that Baronfig is making a donation to Vote.org to help increase voter awareness in this voting cycle and for future votes. I see that as a positive.
Included is a small booklet highlighting important historical moments related to liberty throughout US history. The color scheme is simply black, white, and gold. It pops. Another insert is the Declaration of Liberty, a little piece of paper with a declaration of liberty for the owner of the pen to sign and date. On the back of the box it notes that this pen is made in the USA.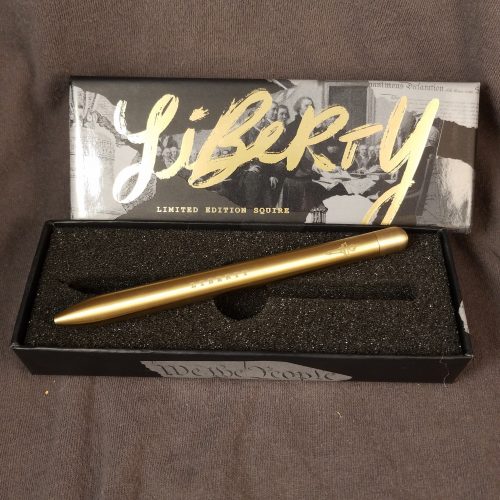 Let me get out of the way, I like Squires y'all know this. I've been killing it with an Adrift for months now, and before that used many LE over the course of years.* I love the twist mechanisms and the way they feel in hand. They are great for fidgeting. They are great for writing. They are simply great.
I am a quietly patriotic person, oftentimes the US has made me feel insignificant and less important, and occasionally less human, than others. My rights haven't been respected. It took years of legal battles for me to get the same rights as others, and still, those rights are threatened. So when I saw a patriotic pen. I waited to say yes to the review. Perhaps this is the least patriotic I've felt, but also this is the most important that I've felt that the use of my tool of patriotism and liberty, my vote, is important.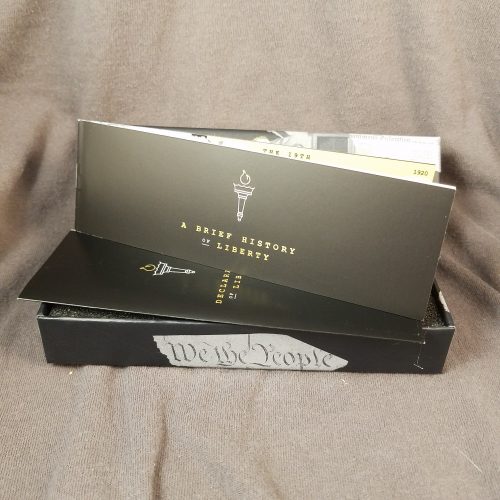 I adore the change in packaging. It looks like this is more than the usual Squire LE. The packaging stands out, it doesn't match the lightness and fun of the previous Squires. No, the Liberty is dead serious. As such opening the package and pulling that pen out of it's box felt weighty, and perhaps that is why a brass version is better than a copper or patina green anodized pen body, because this pen is weighty. It seems a bit dramatic to say that such a weighty issue deserves a weighty pen, but it does. I really like that the lettering and images are on 2 sides of the pen.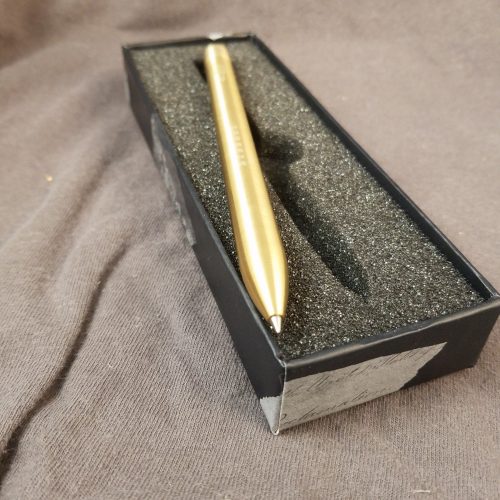 Typically I have dry hands, and generally brass doesn't make them smell, but WOW does my hand smell like brass today. If you have moist hands you may or may not notice that your pen will patina quickly. I'll be using mine for a few weeks at least. (You'll definitely see it in a few more reviews. Hint hint)
This is a terrific pen. You have to like brass and some weight to use this pen. If you like a lightweight pen this might not be the best choice for you. It is well weighted for my hands- I like a pen that is ever so slightly weighted to the front, and this pen seems to fulfill this requirement. This is an investment pen, it clocks in at $80. But again, if you've been a reader of this blog for any period of time, you know how I feel about investing in a reusable, refillable pen, do it. 
*I've recently liquidated my collection and kept only the Adrift, since it is a great shade of teal and has a fun design I adore. 
This pen was provided free of charge by Baronfig for the purposes of this review. I believe I have given it a fair review. I am a fan of the Squire pens (This is well documented) so I suspect a favorable review is of no surprise to anyone reading this.