Material snobbery is an occasional problem for me. I grew up with access to a lot of materials, but not in quantity. I was occasionally gifted art materials, but in gift set size, which ran out quickly. I remember as a kid running out of one color and asking my Mom if we could get another tube. We couldn't, for a number of reasons- we lived a hour away from the closest department store (Ames or Zayre's back then) and a little further from the closest art supply store. The art supply store was very expensive and didn't carry the kid grade materials I had.
Plus they were expensive.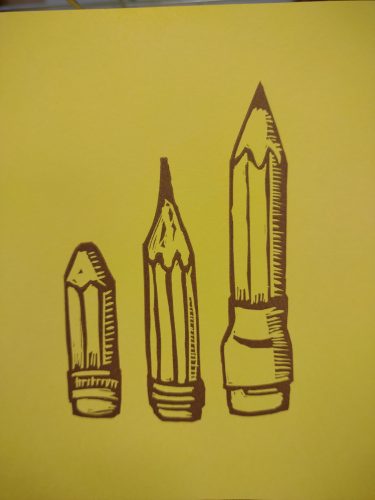 In high school we had access to more materials, and I did at home too, but still the hour or 2 hour drive to the art and craft stores meant that if I ran out, I had to wait to get a replacement.
In high school I learned the difference between kids supplies and "real" artist grade art supplies. I was told, "Real artists use real art supplies, kid supplies are for kids." We still had some student grade supplies- mainly colored pencils and paper, but we had professional inks, pens, pencils, and paint. My art teachers weren't awful about us using other supplies and they even encouraged us to make art outside of school.
In college the professors were… Less forgiving of non-professional supplies. I bought Cotman watercolors for a watercolor class I took. The sneer on the professor's face when I started to use them was visible, and a little shaming. He had lectured us about buying professional colors for the class, as they'd be easier to use and just look better. I remember shrugging and saying, "Well, this is the only way I could afford to buy all the colors for class." He frowned and moved on.
He was right, professional watercolors ARE BETTER. They are easier to work with and you use less of the color than you do with student grade colors. But they were (back then) 3 times the price.
He should have suggested that students should get together and buy tubes of paint as a group and buy large palettes to squeeze out the tubes into. (This is what I do with my classes, a small blob of watercolor will last most students several paintings and I can make 10 high quality palettes out of tubed paints, rather than buy 10 cheap palettes of watercolors.) If 4 or 5 of us had banded together we'd have been able to afford the better paints.
Or even better started us off with 3 color palettes to challenge our mixing abilities. Now that I'm an adult and I've had the ability to buy an embarrassing number of tubed professional watercolors, I often stick to a 3 color palette. Three of even five color palettes are fantastic. They limit choices and speed the transfer of paint to paper. They are also much less expensive and allow even a beginner to afford professional colors.
We had many lectures about using archival materials, "Don't use Sharpies." "Don't use Bic pens." "Don't use (fill in the blank)."
This led to a real sense of material snobbery. I'd gone from drawing with anything I could get my hands on, to worrying about the longevity of what I was putting into my sketchbooks. Which is not at all helpful when I'm trying to noodle out an idea. I really don't want hang ups when I'm working on an idea.
A year after I graduated I was able to have Richard Lee come to my classroom for 2 days. He led a papermaking workshop on day 1 and a bookbinding workshop on day 2. With him, he brought an amazing journal- the cover was made of cast paper pulp in a face shape create from a mold pulled directly from ruins in Mexico. The journal was thick- 2 or 3 inches and roughly 8 inches square. On it's own it was a work of art. In it he scribbled notes with an Ultra Extra Fine Sharpie and added dollops of Cotman watercolors from a little plastic palette.
I watched him as he sullied this priceless sketchbook with Sharpie. I asked him, "You're using a Sharpie? They aren't archival."
He shrugged, "Well, I can get them anywhere. I was able to get them in Japan, China, and even in Mexico when I was traveling. They just work and I use a lot of them." he shrugged again, "It'll give the archivists something to do when I die."
I'm not sure where I heard the phrase, "Buy the best you can afford, and use the shit out of it." I like the concept. Buy the materials you like and use them.
Occasionally I find myself feeling bad about some of the materials I like- like cardstock. I really like printing onto thick cardstock. I mentioned that I was "only going to print on this cardstock" to a printmaking friend, and I think my tone of voice told him I was embarrassed by that, he replied, "What's wrong with cardstock? Cardstock is some of my favorite stuff to print on." It's a funny thing when people unintentionally highlight a hidden thought pattern. It knocked me for a loop, and now when I think about stuff, I try to think about the GOOD aspect first, and why I like it. Rather than feel like I have to defend why I like something, I now point out, "I like this thing, it's nice."
This post is supported by my ko-fi supporters. This lets me focus on art and not hunting down affiliate links to various materials. Though, if I've bothered to hunt down links in this post, they are links to the 'Zon. They pass me a few cents on each purchase. Mostly though, Ko-fi let's me think deeply about art making and pass those thoughts onto you. If you like what you read here, I have supporter only posts, which I post at least once per week. You can see my tiered support level here on Ko-Fi.