Alcohol fades and somewhat whites out any images on a thermal print. I found that this happened on many papers, but not all and not on thermal print sticker papers.
So let's dig into this.
You might think, as I did, that Sharpies and other alcohol inks would be the perfect tool for adding color to your thermal prints. We'd both be sorta right, and a whole lotta wrong. It turns out that alcohol and other solvents in alcohol based pens fade thermal prints. It can also lift the finish and blur the dark areas around. In other cases the solvents can blacken the paper.
This can be used to manipulate the images in a fun way.
But on some papers the alcohol doesn't fade or alter the darks at all, so you can add a flood of lighter color.
I tested Sharpies, one pale LetraSet, one light gray Prismacolor, and a set of artist loft alcohol ink markers. I tested them on a couple of different papers and images. I also tested coloring the paper and then printing. 
The cheapo paper I favor will fade with all of the above but less so with sharpies. With Sharpies it fades and seems to come back a bit.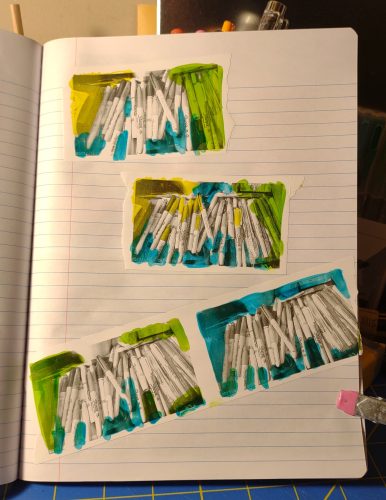 With the slightly heavier and more coated paper that I bought for work it doesn't fade at all.
With sticker paper nothing alters or shifts either.
I also tested some Sharpies that were at least 10 years old, if not significantly older. Shockingly they worked. They also seemed to alter things more so than the newer Sharpies. 
I also sprayed some images with plain old isopropyl alcohol, and it faded things significantly even on the heavier glossier paper.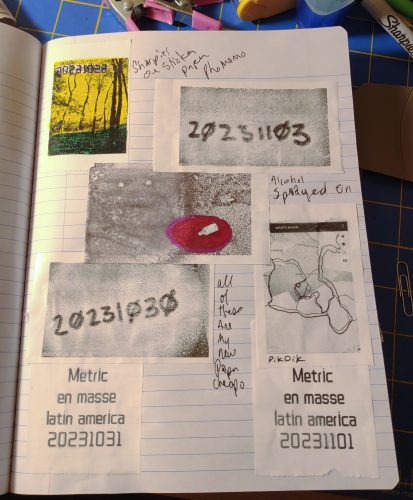 Another test was to color the paper with alcohol markers then print on it. The tests were fantastic and very cool.
Alcohol ink markers aren't archival but neither are these photos. Part of the joy is that they are so disposable and temporary, they are the very definition of ephemera.
Note: I have provided affiliate links to the 'zon items I have ordered in the past. With the 'zon you may not get the exact same item I ordered. I've had this happen on more than one occasion. I order something I reorder it only to get a similar but ever so slightly different item. It is best to test whatever you get with the materials you hope to use to be sure it will react in the way you wish.
List of links:
This is the paper that I use. It's cheap and is nice and glossy and has good contrast when printed on. It's also thicker than some of the other papers I've used and doesn't have a plastic core. ($14)  https://amzn.to/3SdGWA8
This is the paper I bought for work, it's much thicker and very glossy. https://amzn.to/3SzTp14
Colored sticker paper I use. https://amzn.to/47eQHTu
Mystic Gem Sharpie https://amzn.to/3MAsPBl
This has been repubbed from my Ko-Fi page, if you have found this helpful or useful please head over and consider buying me a coffee so I can keep this blog useful. Want to buy art supplies and support me through affiliate links? It's a great way to spend what you are going to spend anyway and have Bezos pay out a few coins. Click any of the links in my posts and buy through there. It doesn't cost you anything and Amazon tosses me a few coins for providing you with a link. 🙂