At the start of lock down I had asked for a thermal printer for Christmas. I used it a bit but really didn't have the same use for it I would have had a year previous. We waited until Black Friday then purchased the Phomemo M02 in a bundle with 9 rolls of paper and sticker paper. It came in a nicely presented gift box, plus had another box with some assorted gift-y items that were, frankly, weird. Recently I started to use it again in connection with my toy instant thermal print cameras. The combo of the cameras and the printer has been a lot of fun for journaling.
Anyway, I was searching for more paper for my thermal cams and the Phomemo when the Amazon algorithm blasted me with options for a LOT of budget friendly versions of a thermal printer. Enter the… PikDik. Honestly, I bought it because it was under $30 and for the name. I'm 12 mentally.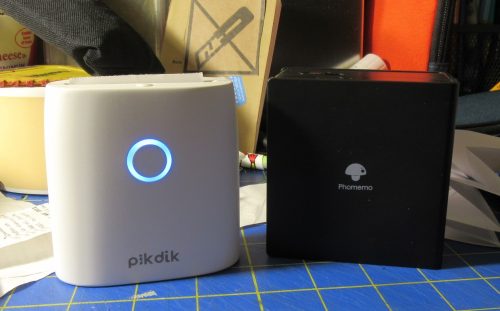 I just, can't.
I immediately downloaded the app and I became aware that the Phomemo app kicks the PikDik right in the Dik. (I had to.) The MetaPrint app is okay but compared to the Phomemo, it's basic.
The printing is great though- it's prints nicely dark, and evenly. Darks are dark and lights are light, exactly what you want and expect. The difficulty is editing the photos for printing. I like to layout a series of photos, switch them to black and white, and play with the contrast and exposure. I can do this in the Phomemo app. I can only do this in the picture section, not graphic edit. I also can only print one picture at a time in the picture section. Which means I can't control the space between the images.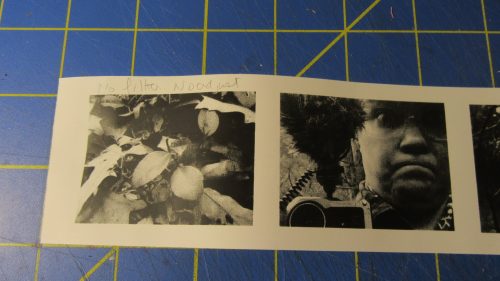 I suppose some of this is a minor quibble. The prints are fantastic, it's just I want more control and you know I like to print a lot of photos all at once. I want to print 10 or 20 in a reel to create my crankies. Having to print one at a time is annoying. I can print more than one at a time in the graphic edit mode, but I cannot adjust the contrast or exposure.
What I did like is that if I have a photo I want to print some words over, I can layer the words over the photo and then print on the light setting and get legible words over the image.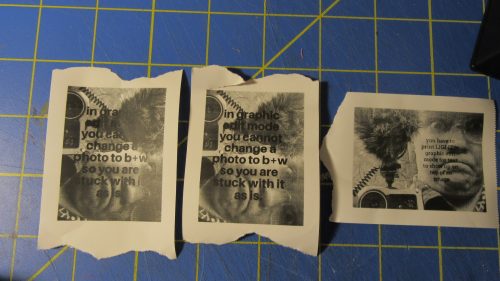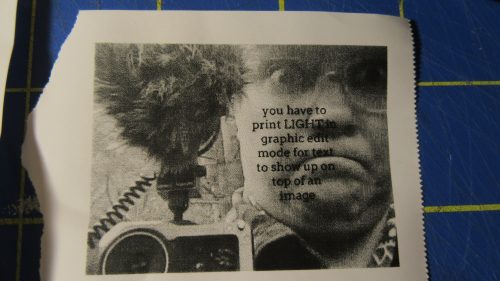 I like this. I didn't test this, but I have printed and then reloaded the image into the printer and printed over it. I've also taken a reel of images from my toy cams and printed words over them. It can be really cool.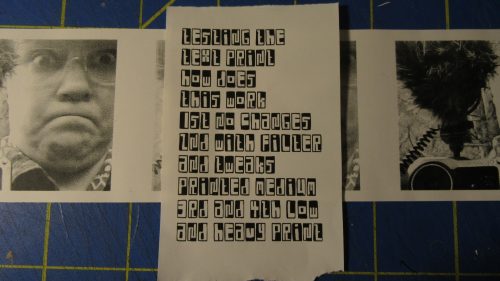 There are 9 different font's to choose from, this one is a little hard to read in person. The text can be printed quite large for labeling things.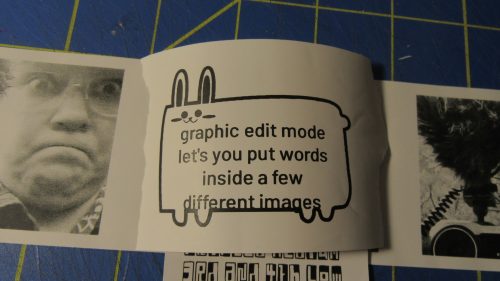 There are a few bubbles you can put words inside of. This is where I found the editing in the app to be a bit finicky. I think if you stick to simple things the app works well.
The split print is very useful and lets you print things much larger and then piece them together. This is not something available with Phomemo.
The PikDik is much smaller than the phomemo, making it much better for traveling. It could easily fit into a pocket. I'd suggest putting it into some sort of storage bag or case. The button requires a long press to activate the printer, but I can see that happening in a bag easily. The PikDik is also only $28 at the time of this post.
The app is the real downside to the PikDik. It really hinders the full capabilities of this printer, which I think prints as well as my much more expensive Phomemo. Typical price for the Phomemo M02 is between $35 to $60, depending on the bundle you can find.
I've got some thoughts on the Phomemo and thermal printing for creativity that I'll share in another post.
Amazon affiliate links:
PikDik (heh) at $ 28. Packaged with 1 roll of good paper and a cord.
Phomemo M02 at a amazingly low price right now of $27-30!!! (as of this writing.) It comes with the basic package- one roll of good paper and one cable. (Deal is limited on Amazon, these usually last a week.)
(repubbed from my ko-fi page. If you appreciate this kind of post, please head over and consider buying me a coffee to help this blog keep on keepin' on.)