For those of you not as obsessed with stationery as I am, Franklin-Christoph (FC from here) is a fountain pen company that prides themselves on making their amazing pens here in the USA. When I saw that they were set to offer pencils, well, I contacted them for a pack for review.
F-C has confirmed that these pencils are manufactured for them by Musgrave, which can be good and bad. Many of the Musgrave produced and private labeled pencils are pretty good. Hell the SSC pencil is among my favorite round pencils for writing. The only Musgrave pencils with mixed grades are their Unigraph pencils, a pencil that I can only say is terrible. In fact they were so terrible I chose not to review them. Comparing the two seems inevitable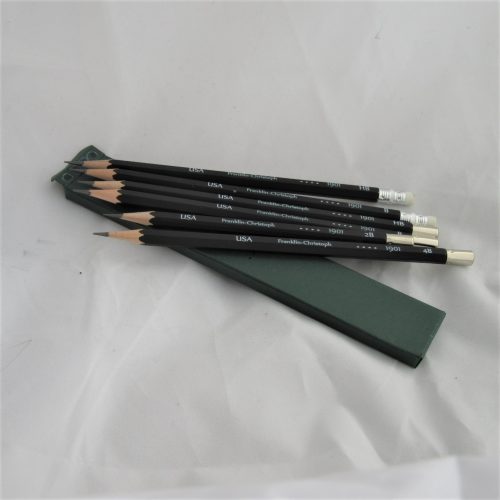 The first reviews that I've read about the FC 1901 were just as I'd feared- pretty terrible. They have all the usual issues we associate with pencils manufactured by Musgrave- thin blotchy paint, uneven imprinting, ferrules or caps set poorly, and like the Unigraph, cores that are barely discernable from one another. They also feature a sharp hex. Some people  like this some hate it. I'm indifferent. The sharp hex doesn't bother me. For more detail on the looks read the linked reviews.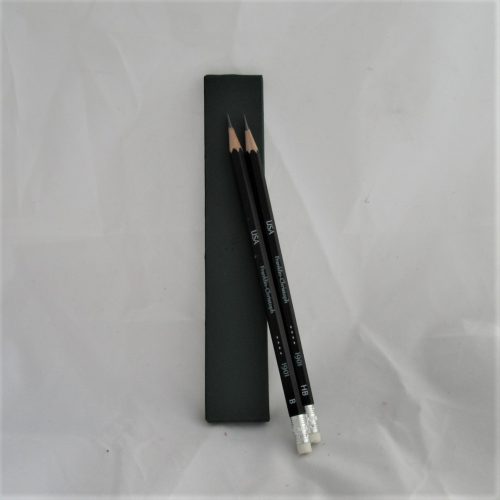 The packaging is gorgeous. The cardstock box is cut and folded well and it has a lovely F-C logo imprinted. It's a gorgeous color too. Could the box be a harbinger of good tidings? Not likely, given the previous reviews.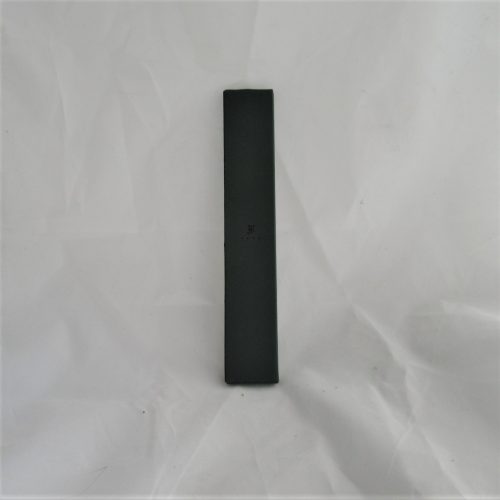 I'm not reviewing these as a pencil for writing but rather from the direction of an art pencil. For writing they are fine, ugly but fine. In art looks matter less than the performance of the pencil. After all I'm pretty happy to use a variety of General's pencils for drawing and they also feature shitty paint and bad imprinting. Their cores are significantly better, or at least the majority of the Kimberley and Draughting pencils I've used aren't gritty.
So how do the F-C pencils perform?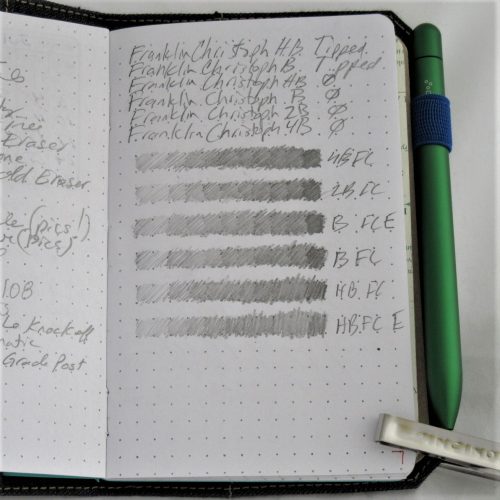 Surprisingly good. The cores are silky smooth and really pleasing  to use. That said the HB and B are nearly identical in tone and feel. While the 2B and 4B are also nearly identical to one another. The step between B and 2B is not steep, though it is enough to be noticeable. In my testing on hand Book travelogue paper and HP laserjet 24LB paper I could barely feel the difference in grades let alone see them. The smoother the paper, the less of a difference I could see and feel. In fact on the smooth HPLJ24lb I couldn't tell the difference between grades in feel or looks. I only noticed the difference on rougher paper. These pencils do a good job on rough paper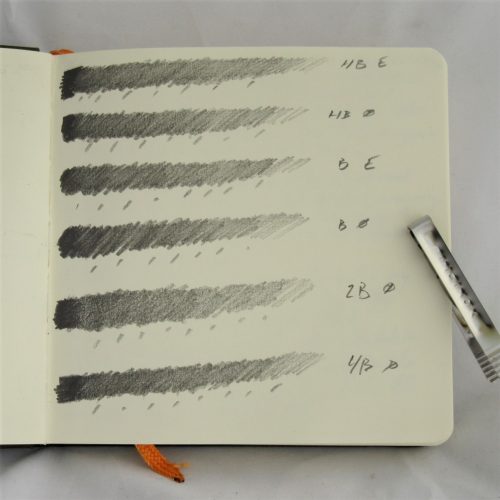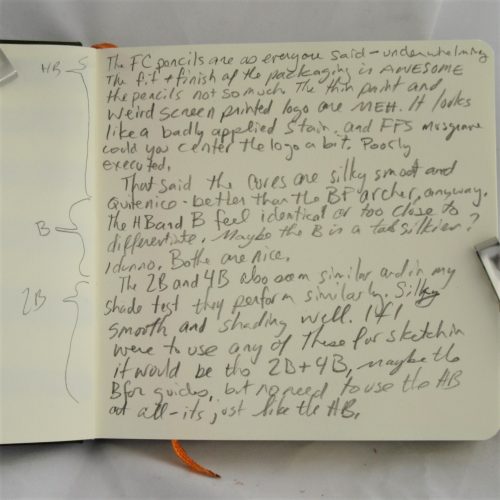 Curious, I tested them on rougher and tougher paper- some kraft sketch paper that is closer to grocery bag than it is to drawing paper. Again, the pencils did a great job, the various grades performed better. Though still the HB and B, 2B and 4B felt too similar to say they were different.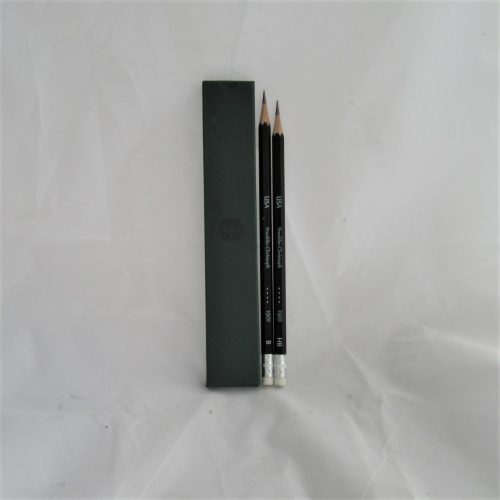 My final verdict on these is that for writing or drawing on rougher paper with loads of tooth, these are pretty decent pencils. Yes, ugly and poorly finished, but the graphite is silky smooth and decently dark. No the grades don't differentiate enough, but if you think of HB and B as the same and 2B and 4B as the same, well, you get 2 grades of dark pencil. For the price, well, they aren't a value. I like them well enough that I'm tossing them into my on the go sketching kit where they'll be used up pretty quickly on the rough sketch paper for which they are best suited.