Often, when I write reviews of notebooks when fountain pens are tested they perform not so well. Fortunately, that is not the case with the oddly named Firma-Flex by Franklin-Christoph. Silly name aside, this is a pretty lovely notebook or journal.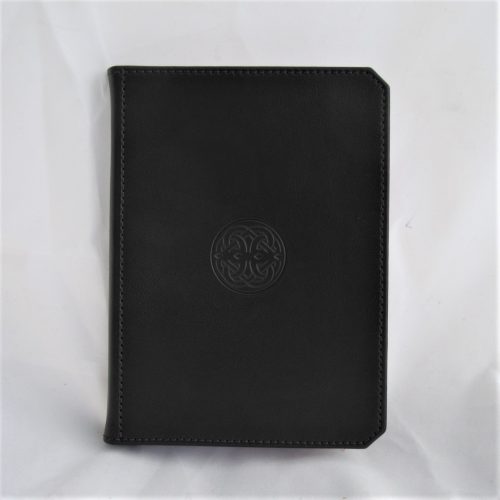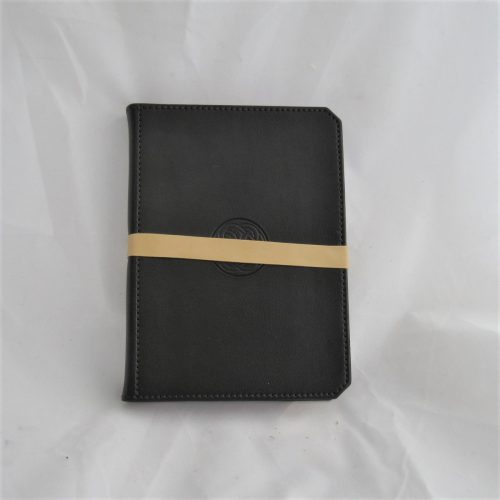 The journal is typical of all of notebook in this style and is Smyth sewn. The book block is well stitched and glued to the cover which is stiff flexible* but sturdy enough for writing notes in hand. The cover is made of "durable cover material," I assume that it is some sort of vinyl or recycled leather impregnated with vinyl. It had a strong odor that reminds me of shoe polish I used on work boots in college. The odor fades quickly but struck me as very strong upon opening the package.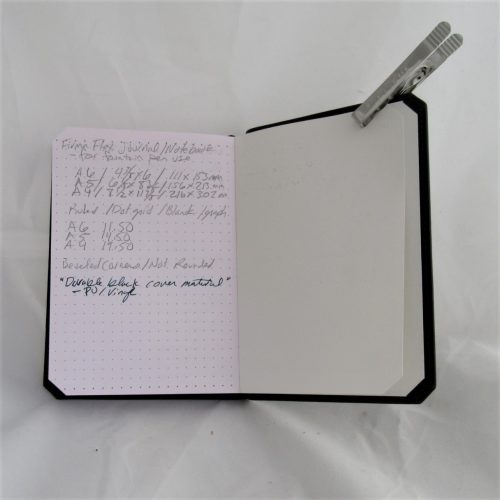 It features 192 pages of smooth 90gsm bagasse or sugarcane based paper. The paper has a pink hue with light grey dot grid. The grid is light enough to fade behind my writing. I really like the 5mm distance. At the top and bottom of each page are slightly larger burgundy colored dots. If you're using lightly colored fountain pen inks on this paper they will not come out true to their color. The pink hue will darken the color.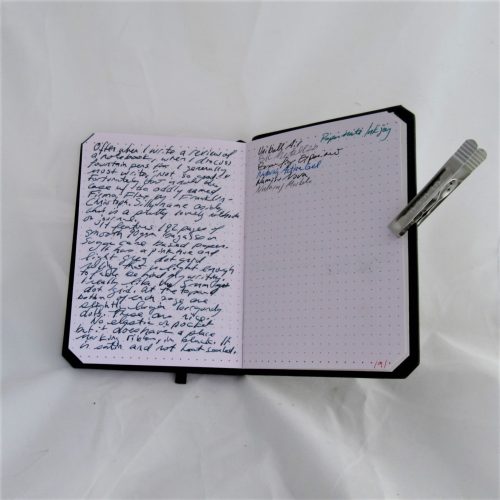 There is no elastic or pocket in this notebook but it does have a place marking ribbon in black satin. The ribbon is not heat-sealed however I was able to do that myself with a lighter in a matter of seconds. There is nothing especially noteworthy or new about this notebook except it has very nice paper. It is very well made and sturdy. The notebook is not quite pocket-sized. It is A6 sized or 4 3/8 by 6 inches or 111 by 153 mm. You can also get them in A5 and A4 size.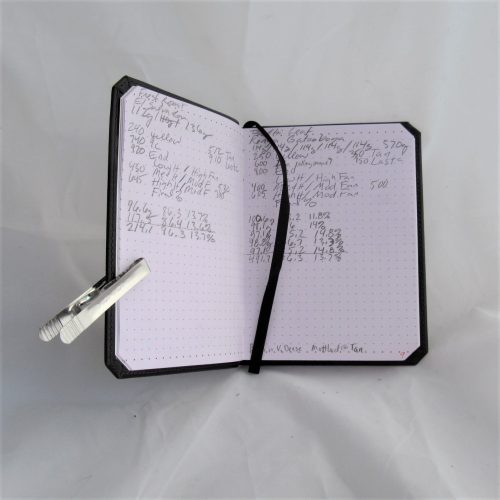 On the front cover the Franklin-Christoph Celtic knot logo sits dead center. On the lower back cover there is another Franklin-Christoph logo. The imprinted logo is tactile and I find myself fidgeting with it. The cover stitching is done in deep eggplant that looks quite lovely with the black cover. According to the Franklin Christoph website the stitching color varies depending on the type of ruling inside the notebook. Eggplant denotes dot grid.
Let's talk about the beveled or mitered corners. They remind me of Battlestar Galactica. Anyway they seem… Odd. Most likely because I'm so accustomed to rounded or sharp corners. As I've used the notebook they don't strike me as weird unless I'm looking and thinking about them. It's simply another design choice, maybe an unusual design choice but it is a choice.
At $11.50 for the small, it's not cheap but this is better quality than a moleskine at roughly the same price. If you're a fountain pen user this notebook might be for you. It does play well with most of my fountain pens and inks it makes it a better value than others that are cheaper. Here and there with wider nibs and wet inks I had some show through, but none that made it hard to read the next page. Overall this is a fine notebook. It's beautiful and well-made and looks and feels great. It performs well with fountain pens and pencils it's got enough to be nice with most but not destroy pencil points.