This week's SSS is the amazingly fun book "Shut Your Monkey" by the entertaining Danny Gregory. If you aren't familiar with Danny Gregory, quickly run over here and check out his blog. He's the guy behind the book Everyday Matters  and The Creative License, and Sketchbook Skool. This 160 page volume is designed in a wonderfully fun way. Much like Gregory's other books it's filled with art, but this includes images of crudely drawn monkeys and a great deal of Gregory's lettering. In short it is a quick and fun read.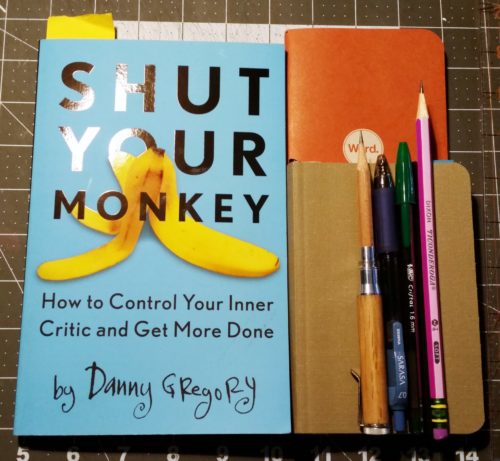 Gregory breaks down the inner critic/monkey in a way which many therapists will recognize as the ubiquitous "negative self talk" he also explores some of the classic methods of combating negative self talk- but with a fresh perspective. His perspective is purely pointed at creatives. Rather than telling people "You are an artist, "or "I give you permission to create," He explores real and creative manners for the artist to scoot past their inner monkey/critic/demon and start making art. He avoids all that paternalistic bull shit so many in the art journaling community* perpetuate onto one another and gives real working tools for creativity and getting work done.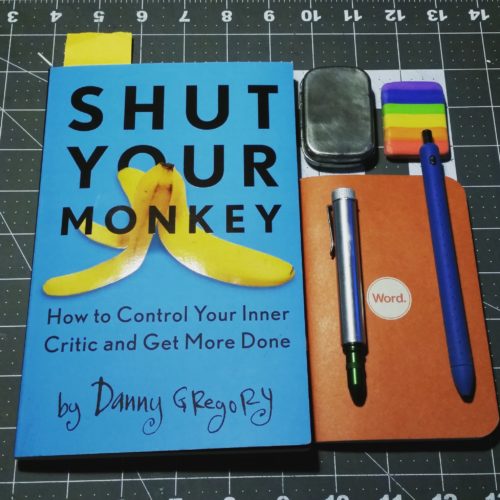 I've long railed against the garbage spewed by so many in the AJ community that rather than empowering others to create, ties their fan base to them in a never ending cycle of enabling rather than empowering. I've struggled to put a name to this phenomenon for years- boiled down it is a mix of enmeshed enabling and a need for encouragement of the fans… I digress on that topic, I could rant forever and this is about Shut Your Monkey not my issues with art journaling teachers who perpetuate enmeshment rather than empowerment.
Next week I'll rant and write about Shaun McNiff's "Art Heals."