I've railed against the Pilot G2 in the past. It blobs. It skips. It smears. It isn't waterproof nor is it lightfast. It is everything I don't like in a pen that I draw or sketch with, in fact it is horrible for either of the 2 purposes in which I usually use a pen. I've never understood the popularity of the Pilot G2, until I began my current DayJob*.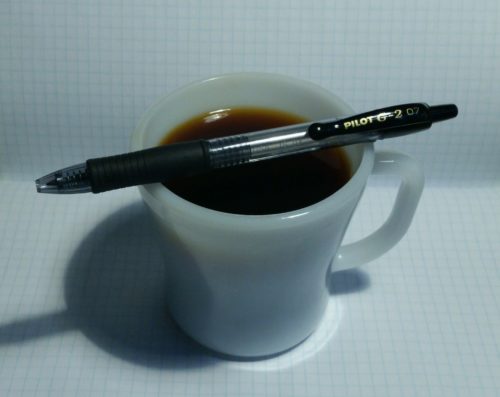 The DayJob require black or blue ink, and black ink on particular documents as some sort of herald to professionalism and for perceived legal reasons. I've blown through an astonishing number of black gel ink pens in the last 6 months in a search for the best of the best. What really blows my mind is how fast some of the gel pens were consumed. One of these days I must log the number of pages I've written/signed/filled out with each pen. I've used Papermate Gel InkJoy, Zebra Sarasa, Uniball Jetstream, Uniball Signo, Staples 0.5 Stick Gel pens, and the Pilot G2. All with black ink.
I loved all of them.
The DayJob uses the finest cheapest of all the available Staples recycled papers. It is as absorbent as a Brawny paper towel. In fact I've used it to mop up spilled coffee in the past. The InkJoy glides over the page like butter on a hot griddle. The Sarasa writes and writes without skipping or blobbing. The Uniball pens performed flawlessly, writing page after page without skipping or blobs- silk smooth on the page.
The Pilot G2 has surprised me and has become my go to gel pen for this cheap absorbent paper. Unlike all the other pens I've used it doesn't absorb into the paper, it sits on the surface of the cheap paper. The pen still glides smoothly, less smoothly than the InkJoy or the Sarasa, but still smooth enough to be enjoyable. What really sold me on the G2 is it's longevity when compared to the other gel ink pens. Most of the other pens lasted roughly a week to two weeks. The G2 in heavy use lasted three plus weeks.** Given the amount that I write in my job, that is a huge amount of time. It's also nearly double the time of most of the other pens used.
I cannot believe that I'm going to write this, the Pilot G2 is the superior gel ink pen if you are writing on super cheap absorbent paper. It's not quite as smooth as the others mentioned here but it writes for much much longer. This is enough for me to purchase a package of my own