I'm going to declare the Grafwood the answer to all the problems people have with the Swisswood, which will be referred to as the Stinkwood.* What is so great about he Grafwood? First it looks great. The lacquer is thick, smooth, and glossy. It's pearlized and each grade has a corresponding shade, so the HB is a light gray while the 9B is black, with every shade of gray in between. The imprint is silver foil, and it's perfectly crisp and sharp. It's not too deep to cause crinkles in the finish. The reverse side is adorned with the now standard bar code, black on the lighter colors and white on the darker.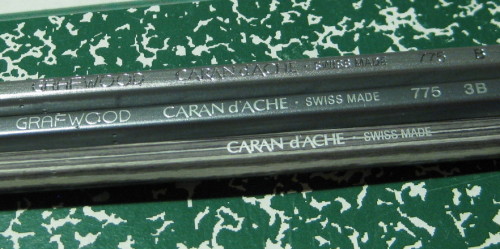 One may be inclined to disparage the bar code as a wart on an otherwise beautiful object, but consider the alternative- the barcode sticker which leaves behind a sticky mess of residue. I'd rather have a barcode that eventually sharpens away than  a sticky mess.
Inside the paint is cedar and a thick lush core. Each of the Grafwood pencils I"ve tried, B, 3B, and 7B have been delightfully smooth. They skate over the page. I find the HB and B to be a touch harder than most brands the 3B is perfectly dark and smooth and right on point for a 3B pencil. The 7B is also dark and smooth and perfect for sketching. The B is perfect for writing and keeping the point pointy for pages.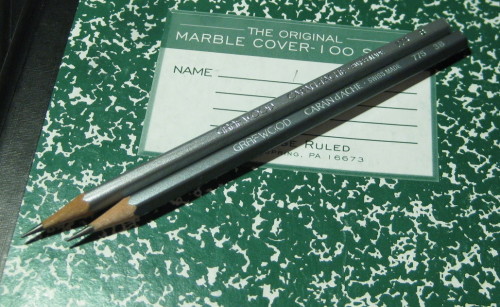 There is a downside. For those of us who are aficionados of the long point our devotion will require something special with these pencils, you see they do not fit into the standard pocket carry sharpeners. Neither the Masterpiece, nor the KUM automatic, or even the KUM stenographer will satisfy the loing point craving No, the only thing that will bring these to a lovely long point while on the go is a knife. Further frustration is that they barely, and i do mean, just barely squeeze their way into the Carl A5. If there is a variation in your Carl A5/Classroom Friendly, well, these beauties won't be fitting in.