I wanted togive you a little look into how I created my large sized town hall image. I was asked to make a poster with a drop box for my coworkers to put questions in for a special meeting at work. My idea was to create an image of a town hall. My other idea was to create an image of a group of people inside an old style town hall. Given the time frame (1 day turn over) for creation, I went with the simple idea instead.
I spent some time looking through google images for "town hall" then remembered I shot a pic of Salem's Old Town Hall a few weeks ago. It turned out THAT was the image I had in my head. (That or the town office from my youth.) I quickly roughed out my idea in light blue ink and then finalized the idea in black ink. I jotted down some ideas for the image in words around the edges of the sketch.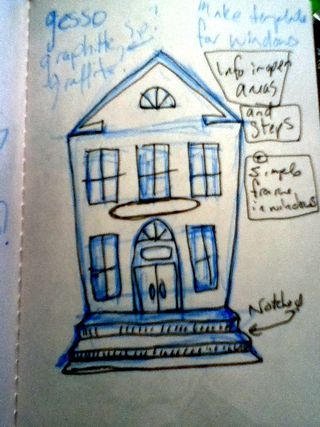 Below you'll see the large sized version transfered from my mind to a large 4 foot high by 2.5 foot wide piece of standard corrugated box cardboard. To rough in the image I used a 0.5mm HB mechanical pencil. Then to fill it out I used my E+M clutch pencil with creatacolor 4B graphite pencil. I finalized the location of all the elements of the image and then started to add areas of shadow. I darkened these areas and gently filled in the rest with a light coat of graphite.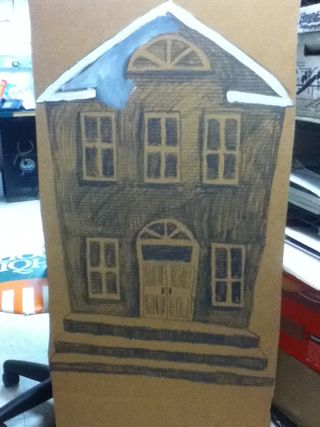 I started to layer in white house paint. Scrubbing it in with my brush gave me the blended and mottled gray effect. Sure the Salem Old Town Hall is brick but no one said I couldn't make it creepier with a black and white effect.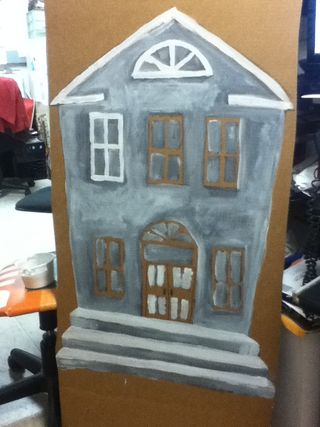 I used a clean brush to add put white to the windows and trim.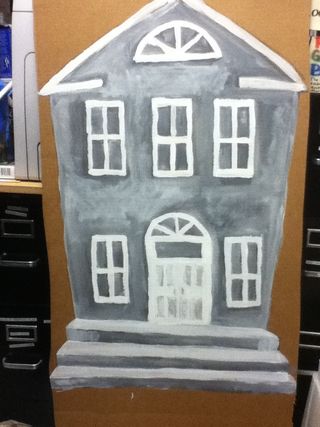 I then cut the image out of the cardboard. I added some definition with creatacolor's version of a conte crayon also in my E+M lead holder. I made a small sign that says town hall that is stuck to the image. The sign is 3d and adds some weirdness to the already wonky lines of the building.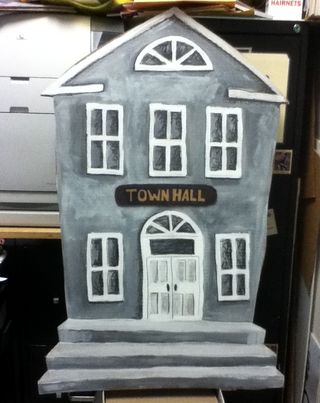 Overall I'm pretty happy with how this came out. I was given the assignment just before I left work on Wednesday, thought about it for about an hour last night and then completed the image over teh course of the morning at work.
Now I want to do a whole haunted village for the front lawn…. Hmm how soon is too soon to get ready for Halloween?