I have written about my indexing method for my pocket notebooks before. I had mentioned that I use a master index, but failed to show an image of the index.
To recap- at the start of every one of my pocket notebooks I create a 2-column index. Basically, I write the numbers 2-48 on the first page, with just enough room next to it to log the topic in a word or two. In my master index book, each book gets a single page. At the top is a brief description and dates of use. Under that the same index is repeated. At the bottom of the page I write down any loose inclusions- such as letters from friends, post it notes, and other odd items. These are always tucked into the back of the book.
Generally, when I copy the index to the master book I will expand upon the topic on an as needed basis. Sometimes I'll have written "novel" and I'll change that to "NOV. Character Name" or "NOV. Scene." This helps me find info quickly in the master book. Then I know to pull the green field notes from January 2015 and turn to page 25. It definitely helps me to find stuff faster.
I recently began using INDXD, a nifty little website where you create an account and log your notebooks. I was quite skeptical at first. I have been holding off on going digital with my index for awhile. Now that I've logged 21 books in my master index it's getting to be confusing as to which book that novel idea or cord wrap design was in, so I find myself paging through the index searching, and searching. I considered creating an index on a spreadsheet where I logged a topic and then logged each page and book, but the idea was cludgy and seemed like a pain in the ass to set up, so I decided against it. And here is where I kind of just stopped thinking about it. I knew I wanted something as simple as my master notebook, but something more searchable. I considered getting a scanner and scanning each book into Evernote, but the idea of scanning 21 48-page notebooks (not counting the notebooks I've drawn and journaled in…) was painful, and who has the time. The idea for me isn't to recreate my books digitally (though I've played with that in my zine, Evidence.) but to make them searchable digitally.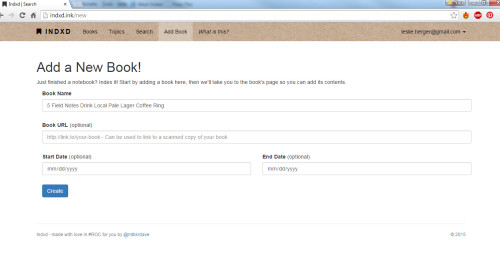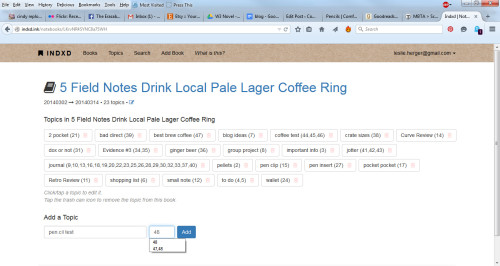 That is where INDXD comes in and works beautifully. The reason it works and works so well, is that it's powerfully simple. You set up a "book" give it a title and dates of use, then log the topics and pages they are on. Also it's ridiculously simple to use. It takes me between 5 and 10 minutes to log a book, depending on number of topics and how bad my handwriting was when I recorded it.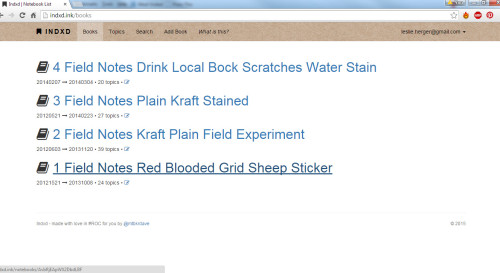 Once logged, you can search. Enter in one term and up pops the pages and BOOKS it lives in. Enter another term and the search is dialed down to those two terms. You can then pull the book and find what you need, fast.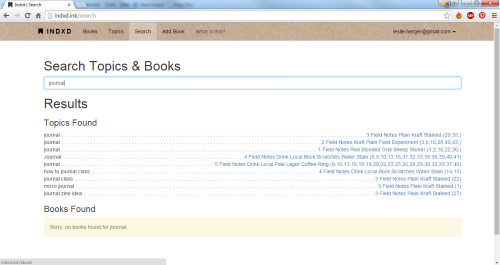 I've tweeted at the creator, David Rea, and he says that both Android and Apple apps are in the future. Having INDXD on my phone or tablet would make this even more flexible and easy to use.
As someone who clings to her analog tools and resisted moving toward a digital system this powerful simple tool makes it easy.
A suggestion. I'd like to see the date entry method offer different layouts or more flexibility for entry. I use 20150325 for my date style; year, month, day with no spaces or interuptions. This isn't an option when entering in chrome. Fortunately the date entry doesn't work quite right in firefox (don't fix this yet) so I'm able to enter in my dates the way I use them. On the topic/tag page it would be easier to read the large amounts of text on the screen a little easier if the lines alternated color- cream-tan-cream etc. This would also help on the search results page.
Honestly, this is a great tool and I'm looking forward to entering in all my books