Recently Brad over at the Pen Addict mentioned that he had both sizes of the Lihit Lab Teffa Bag-in-Bag (BIB) and didn't find the smaller size as useful. Like Brad, I have both sizes but I've found a use for the small size, but I don't use it for stationery. I use it for personal care items that I want to have in my bag but don't want to have duplicates of for every bag.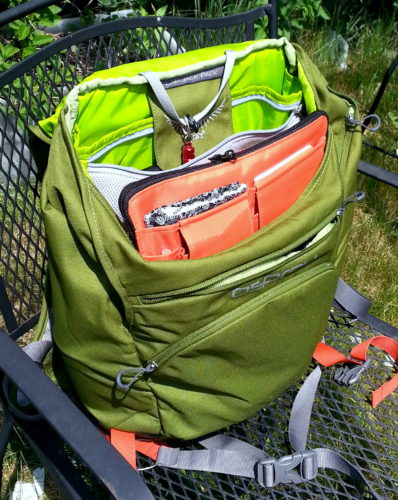 If you've read my previous bag reviews you know that I was basically using my backpack as a mobile office while I was in school.   A good part of making this comfortable was being organized. There is nothing quite as bad as realizing I'm away from home and that I forgot the charger for my phone, and that the cheapest charger at CVS/school bookstore/etc is $20 that I don't have. I was spending entire days away from home without the comfort of a locker or desk to stash the usual stuff I would leave at a desk. My small BIB became that carry all for those desk drawer items you don't always think about. It made it really easy for me to swap bags from day to day. On school or cafe working days I'd put the BIB in the Flapjack, on internship days it went into my professional leather bag. Much easier than moving all the small items from bag to bag.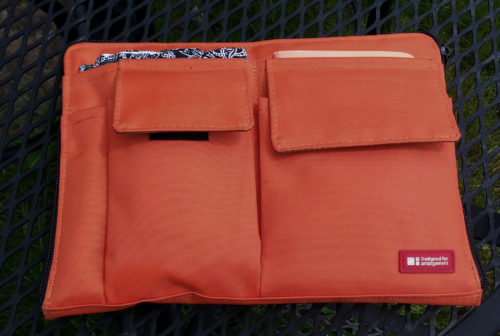 My small BIB contained the following:
In the main compartment:
Epipen

Travel pack of WetOnes wipes 

Travel tube of hand lotion

Snack sized zipper bag with tampons and pads

Snack sized zipper bag with OTC, bandaids, alcohol wipes, toothpicks, and a vial with 1 day of spare prescription medication, and the scripts for them

Travel pack of ibuprofen (not pictured)
Zipper bag with 2 pairs of nitrile gloves*
In the outer pockets:
Hand sanitizer

Packets of tea**

Handmade cotton handkerchief

Spare 10ft charging cable for my tablet+wall jack (not pictured, FN in it's place)

Emergency Bullet pencil
Some of this is obviously female centric- but someone of this works for anyone- the OTC meds and bandaids, you would be surprised at the number of occasions I found people needed a bandaid, or I did. Hangnail or paper cut the alcohol wipes and bandaids were there. Start to feel sick? Got dayquil tablets. Got raging diarrhea? Got some immodium right here. Bike chain jumped off? Got gloves and wipes. Stuck my hand in some gunk on the train? Hand sanitizer to the rescue. Friend needs a charge? Got that covered.
Thirsty and tired of sipping water? Well, shit, let's not be uncivilized and let's sip some chai or chamomile.*** Stung by a bee? Anaphylactic shock setting in? Well there's the epipen, and 2 benedryl  in the pack.
Until recently I used the large size to corral my tablet, keyboard, and a notebook into one package, but I've swapped that out for a Galen Leather case. The large size is great for that purpose, but the small size has it's merits as well, but perhaps those merits aren't stationery related but more EDC related.
My zippers were smooth and work well. However I did notice a few stitching issues here and there- they were easily solved with the use of a lighter to heat set them.
You can get one here.