A brief digression before I begin the actual review. This pen is a prime example of why I am so against what I term the beauty, drive-by, or first impression reviews. While I think there is a certain validity to a first impression, it must be balanced against longer term usage to give the reader a real idea of the true nature of the item being reviewed. That is to say my first impression of an item may be "Wow this is great." Which can change to, "Holy jeebus crisco, this is the worst thing I've ever used." In the course of a month of use. A beauty review can tell us how something looks but nothing about its longer term performance and this pen is a prime example of how initial functionality loses out to performance over time.
This is a pretty good looking pen when compared to other pens in it's price range. Like the J. Herbin cheap-o fountain pen, this has slightly milky clear plastic for the body, but has a crystal clear grip section, in this case, it houses a feed and a rollerball tip. The pen accepts short international standard carts. Sadly it will not accept long carts.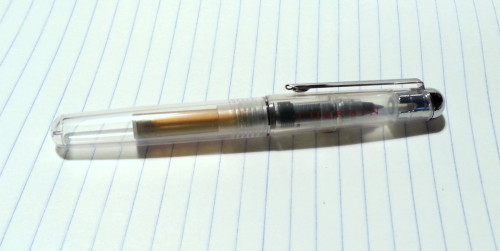 The cap is made of the same milky yet clear plastic, that has just a small amount of give. It snaps on for capping the pen with a satisfying click. It posts easily, but I found initially could work it's way loose as I wrote. However, after some use, the cap posted just fine. You will need to use this pen posted unless you have smaller dainty hands than my lady hands. I found it too short to use unposted. It stayed clipped to pockets, lapels, and notebooks without an issue. The clip is snappy and strong.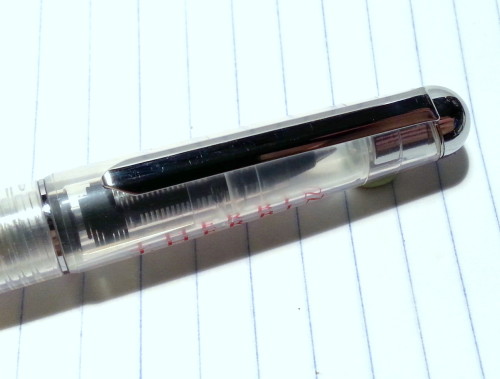 The pen itself is very lightweight. It would be ideal for longer sessions of writing and maybe even note taking sessions.
So here is the issue, sticking point, or rub after a month of on and off use the tip is scratchy as hell. When I first purchased this pen, it was smooth and nice in my Field Notes and other notebooks I tested it in. Now it's not smooth on everything. In my composition notebooks I feel like I'm writing with a sharpened  stick dipped in sand. The ink flow is just right and it keeps up even with the thirsty paper, but ewwwww it feels gross. It is still smooth in my Field Notes, Fabriano, and a few other papers, but I do the majority of my notes and longer form writing in composition notebooks, and this puppy is awful after a month's use.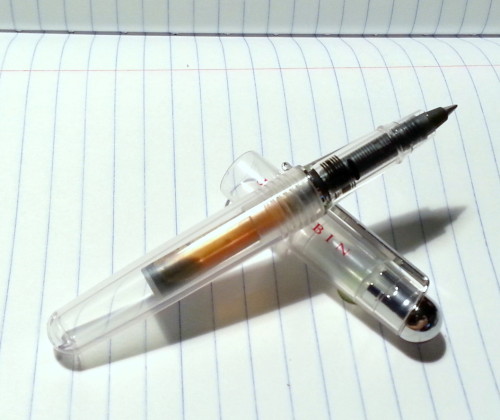 Depending on your paper, and intended use, this pen might not be for you. If you stick to smoother papers- Rhodia, Clairfontaine, etc you will likely enjoy this pen for many months. If you use rougher cheaper paper like Staples comp books, even those that are good with fountain pens, you will likely be highly disappointed with this pen, especially with it's longevity. A month is not a long time for a pen that touts its ability to be refilled and reused to wear out. So, yes, I quite like this pen, but as I stated above, have a few qualms against recommending it.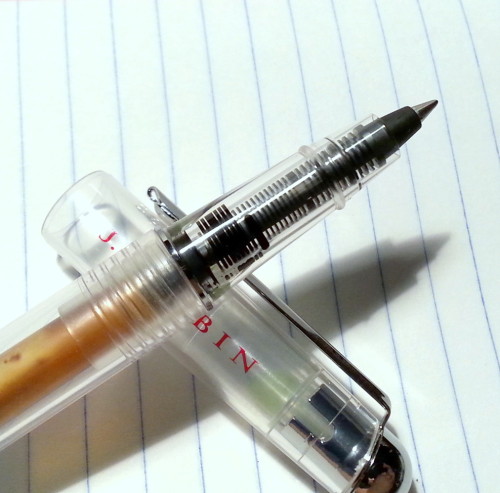 For my readers who hack or kludge, this pen could EASILY be converted to eyedropper with the use of silicone based glue like E6000  and a few dabs of silicone grease. There are 3 tiny holes in the back end which could be filled with ease. The threads are tight and would need just a dab or two of silicone grease to keep this thing ink tight. (I may attempt this hack and get back to you. A more lubricated ink may solve the scratchiness on cheaper paper. I'm thinking Noodler's Heart of Darkness.)