I've been using the large sized Teffa Bag-in-Bag to carry my tablet*, composition notebook, keyboard, pen, pencil, and the sundry other items I need for daily use. I've been looking for a portfolio style case that lets me carry the tablet safely along with the other tools I use for writing in one compact case. Most portfolios integrate in a legal pad instead of a side bound notebook. They also attach the tablet into the portfolio. I wanted to be able to write in the notebook and not have the tablet in the way. Also, I didn't want to be tied to the case if I wanted to use the tablet. It was a conundrum
Enter the Galen Leather XL Cover for Tablet and XL Moleskine, what I will call the XL Portfolio. I'll state here that I was offered the case in exchange for the review. I do believe I'm going to offer an honest review, so please continue. The XL Portfolio arrives via Fedex, signature required so be sure you are home when it's scheduled to appear. The tracking was pretty accurate once it hit US soil, which was in about 48 hours. Shipping was very fast, roughly 4 or 5 days from the shipment notification. The Fedex mailer was stuffed with the box which was securely wrapped in bubble wrap.

The packaging must be noted. It's gorgeous. It's a perfect gift presentation- a nice kraft box with a nice logo printed in black ink. Opening the box I was hit with the scent of fine leather. The XL Portfolio arrive with a belly band, a maker's card, and an Evil Eye charm. The whole package tells the story of the company and makers- Galen Leather. It's very personalized and looks great.
I chose the XL portfolio in blue. The color is awesome. It isn't bright and it's not dark, it's a deep, intense shade of blue. It is perfect. I love this color and the look of the portfolio.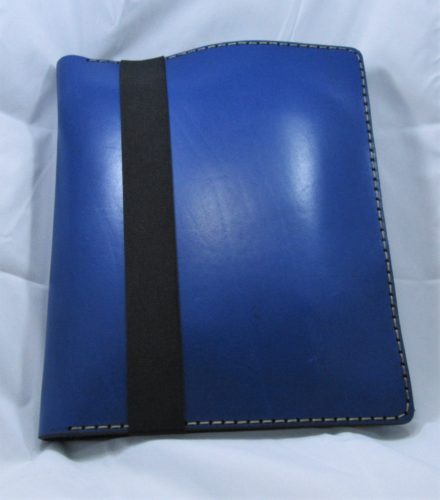 The XL Portfolio fits an XL Moleskine or standard US composition notebook and likely other sized notebooks as well. The notebook's back cover slides under an elastic where it is held pretty snug. I find that my elastic is a tad too loose on the inside and the comp books slides around a bit, but mostly, it stays put. With a thicker covered notebook, this would not be an issue.
Behind the spot for the notebook is a pocket, this is for your tablet. It slides in and stays in place when the covers are closed. I'm using my XL portfolio with a 10 inch Galaxy Tab 3 which is a tad thicker than the iPad Air it is designed for so it is quite snug. Because the case is leather it is slowly forming to the tablet and the tablet is easier to insert and remove. There is a second pocket on the opposite side of the case, this should also fit an iPad air, but it does not fit my Galaxy tab 3. So please be aware that if you are not using the iPad with your case, the individual variations in the handmade product may mean that your tablet does not fit. That being said, the newer 8 and 9 inch tablets should fit. My partner's Kindle Paperwhite fits into the opposite pocket perfectly well.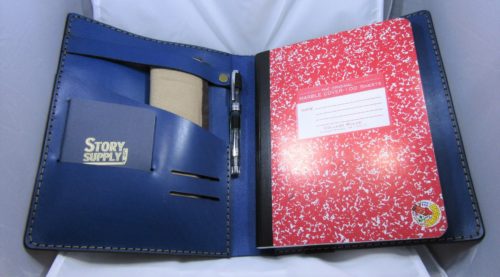 The left hand side of the case has a few card slots, a pocket notebook slot, a larger slash pocket to hold a pencil roll, and there is an elastic pen holder. In the larger pocket designed as the secondary iPad pocket, I stash my tablet stand. The slash pocket houses my pencil case and the pocket notebook pocket has a notebook in it. I don't use the card slots, yet. I have my TWSBI Eco in the elastic pen holder. All of these pockets work well for their intended use. I may adapt them over time as I use the XL Portfolio more. At this point I've been using it for about a month and I can see myself adapting the pockets for other uses.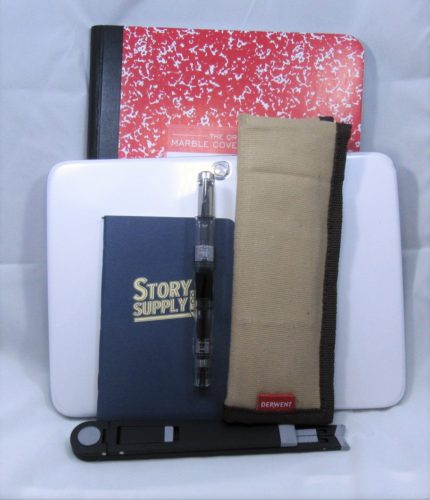 To close  the case you close it like a book but there is a thick elastic you can pull from the back and over the spine to hold the XL Portfolio close. The elastic holds everything secure and tight.
Overall I find the XL Portfolio very usable, and distinct. It's classy and polished looking. I feel sorta, you know, professional and stuff when I pull it from my backpack**… There are a few things I had to give up in comparison to carry my tablet in the Bag in Bag- namely I can't also carry my keyboard in the same case, nor can I have my charger and cable in the XLPortfolio. The XLP might be more contained but that means sacrificing carrying the kitchen sink…
In addition to not being able to carry my charger and cable is that the XLP weighs 1lbs 2.4oz without anything in it. I add an additional 2lb 10 oz, so altogether I'm looking at carrying around 3lb 14 ounces. Fortunately I'm pretty minimalistic in my EDC because this is heavy. Comparing it to the bag in bag, which weighs only 6.4 ounces just shows how heavy this case it. However, the XLP is very protective. The Bag in Bag always left me worried that when I arrived at the cafe my screen would be cracked and that maybe my keyboard would no longer work. I do not have that fear with the XLP. I know that there is no way my screen is getting cracked in the XLP.
It is also worth noting that I use my tablet in conjunction with a keyboard as a replacement for a laptop. Mainly it is used in this manner for word processing. I occasionally check social media. I also use it for reading books, though this is an occasional thing as I prefer other tools for reading, like paper. To solve the problem of protecting my keyboard I bought an inexpensive neoprene case, which seems to keep it safe.
Anyway, I feel pretty safe suggesting to someone who might want a notebook and tablet case that looks quite professional,  to check out the XL Portfolio on Galen Leather's website. It is an amazingly tough product that does its job very well. Continue reading →