Holy crap balls. I love the spray ink.I love the spattered effect you can get when you press the sprayer down partially, I love the fine mist I get when I press hard, and the layered effect and mixing when wet. It's all very very cool. Experimentation is key to learning how to use these. I learned that the ink reacts differently on raw paper versus gesso'ed pages or pages with acrylic on them. The colors are transparent (except the black) so whatever is under them shows through. this can make for some very cool effects.
On thing I learned through trial and error is that alcohol based inks ALWAYs lift through my gesso (Liquitex basic brand) so I always get a ghost. So how to fix that? It would lift through progressive layers of gesso or acrylics too. I have a solution which I'll share at the end of this post. First I'm going to share some recent pages from my journal.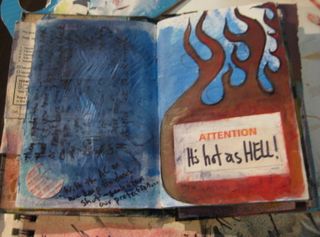 IN this image I had gesso'ed and painted the left page, the written on it in sharpie. The black was really sitting on the surface and less of the image than I wanted. So I sprayed it with purple and blue ink and a squirt of plain alcohol, Then moved the inks around. Here I learned that even fully dried acrylic and gesso will soften a touch when these inks are applied heavily. (the right side is the completion of my gesso over sharpie post)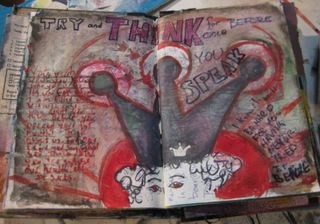 This page doesn't use any spray inks but an over lay of watercolor crayons wet down and wiped off and sand papering. I was going for a  dirty look on this page- dirty to express my rage…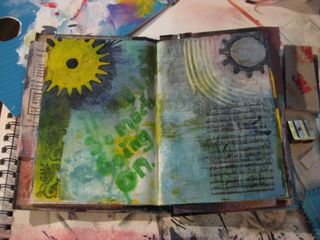 This page started out yellow-green. I used some Tim Holtz masks, I'll write more about these at the end of this post. I sprayed over them with green, blue and a touch of black spray ink. I also used some rubber stamps with embossing powder. On the right I took on of the masked out shapes and used liquid embossing paint and heated it until it bubbled, burst and dried. I then added some spray ink, watercolor crayons  and colored pencil to give the gear shape a distressed rusted up piece of metal look. The blue black background was too dark to write on, so I hit it with a thin fast application of gesso. No blending and applied with a bristle brush. I used a texture tool to make some marks and stamped on lines for writing and wrote on the gesso with bright green sharpie. I sprayed the sharpie with plain ink, a lot to soften the color and blend it with the background. Then I wrote my entry and sprayed that as well. I then overlay some green and blue spray ink and let it completely blend on the top layer.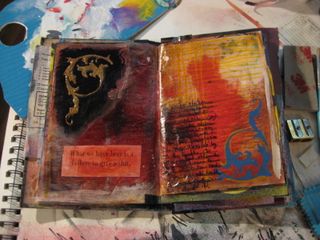 This page started out with a burgundy acrylic base that had been coated with black and brown watercolor crayons and wiped down for a distressed look. I then hit some areas with sand paper to further weather the page. I've used Tim Holtz masks on this page as well. There are several collaged elements and lots of spray ink and gesso. You'll notice it's shiney… I'll get to that in a minute.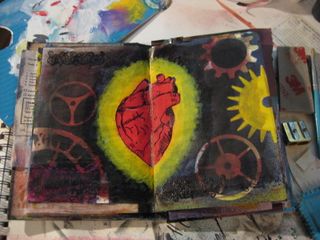 This page started out with a background that was bright red in the center and burgundy around that. I drew on an anatomic heart with sharpie. I used rubber stamps and embossing power around the perimeter. I masked the heart out with post it notes and then put down some Tim Holtz masks. I sprayed the background with purple, blue and black spray inks. I sealed around the heart ( more on this later) and then brushed some gesso and yellow to give it that mandala/ mary look.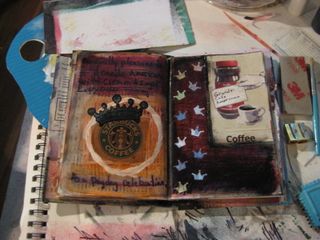 This page started out gessoed and with acrylic. The colors I can't remember but I think burgundy. I glued on my collage elements, added gesso and sealed the elements I didn't want to get colored with the spray. I sprayed  a variety of colors and then manipulated then with water, alcohol and a rag. I wrote with a sharpie. I used some sand paper, added some little punch outs and then sealed the whole thing.
Okay so the sealant I'm using is something I had around the house, is pretty cheap, and is easy to use: Minwax Polycrylic. Yup. I had a can left over from a project I'd done a year ago and thought I"d give it a try. It looks like the acrylic varnish I have in a small squeeze bottle (that was a lot of money $4 for 2 oz), goes on milky but dries clear. I have semi gloss and it adds a nice shine to the page, the alcohol inks don't lift through it and can be scrubbed off of it with a little work and alcohol. Gesso sticks to it well, as to acrylic paints. Sharpie glides over it. The alochol inks if applied heavy lift while the polycrylic is wet but not once dry so you can see the kind of dragging muddy effect you can get in the next series of pictures.
Here's a pic with can, you can get it at Home Depot for about $5 for this half pint can (8oz).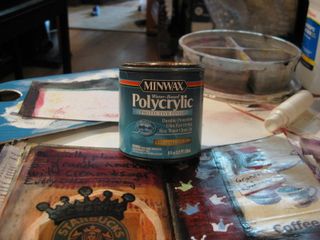 Oh and the best thing about this stuff, is that as of yet, once it's dry, it doesn't seem to stick to itself. SO you CAN get gloss in your art journal without sticking pages!!!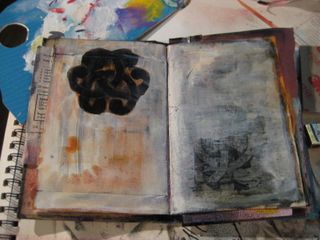 This is the page after using a stencil with black spray ink, orange and yellow. I sealed some of the page and then brushed gesso over the whole thing. After it was dry I used my fine sand paper block to distress it and move through the layers a little. It will also give me a super smooth page to write on. While not glass smooth I could write on this page with a fountain pen with ease.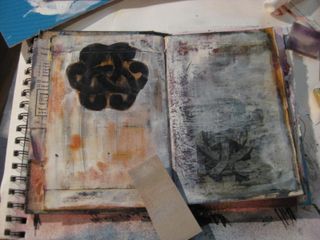 Okay a quick note about Tim Holtz masks. They come in super cool
shapes-cobwebs, music, nice french curves, flourishes and gears, didn't I just tweet about wanting rubber stamps with
gears? These masks will have to be close enough. I really like them.
But the glue holds really well to raw paper but not to paper with
acrylic paint on it or gesso. Also while made to work with alcohol inks
they really don't like to sit in it or swim in it. I ruined the glue on
one by dousing it in a heavy coat of spray ink when it was on a gessoed
page. 🙁 No worries I have spray mount and will fix it. But if you do
get some of these be aware that the glue doesn't like a lot of alcohol
AND doesn't stick well to gesso or acrylic. But the effects you can get are so cool. They aren't too expensive and are infinitely reusable, just pic up a can of spray mount when you buy them and save some heart ache.