The Trikone sports a core of Nataraj's Super Black graphite. I've reviewed other Super Black pencils before, and these are no different. The core is silky smooth, dark, and I love it. The point retention/durability isn't the greatest, but nor is any 2B pencil, and that is exactly where the Super Black cores sit- in the 2B range of graphite. With that aside, all we're looking at is the rest of the pencil.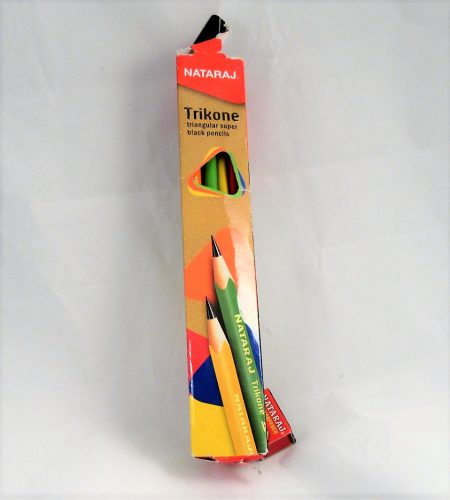 The Trikone is a triangular pencil. It arrives in a nifty triangular box, mine was very battered in shipping, but thus far the pencils seem no worse off. Inside the top of the box is nestled a standard Nataraj 621 sharpener and a nifty triangular eraser. The sharpeners work well enough to be used, while the Trio eraser was good enough to warrant it's own post and a glowing one at that.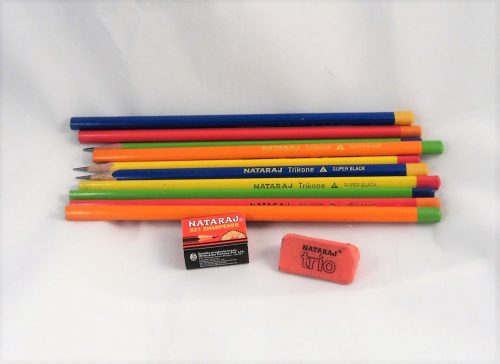 The Trikone is a standardly sized triangular pencil with rounded side and rounded over points on the triangle. It's got the jelutong inside like most Hindustan pencils. It sharpens well with anything I've thrown it into.. The exterior of this pencils is what I see as markedly different from other Hindustan pencils. The lacquer on these is thickly applied and glossy. Though there are some issues here in there in the finish, for the most part these are better finished than most of the Hindustan pencils. I cannot see the grain through the lacquer.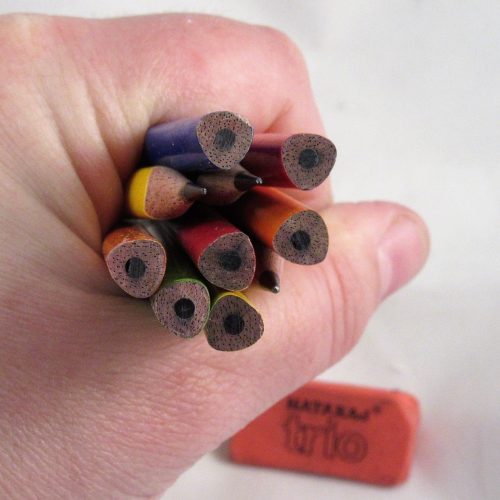 The imprint is gold and deeply set into the paint. The triangular logo is smart looking and I rather adore it. Honestly, I might order more of these just for that logo. The colors of these pencils deserves to be mentioned. I really like the color combinations Hindustan comes up with for it's pencils. In this case we've got yellow and red, blue and yellow, green and blue, red and orange, and finally orange and green. These color combos are just awesome. The shades of each color are bright and vibrant. I love the contrasting end dip. Speaking of the end dip, it's thickly applied as well, and almost looks as if it were individually dipped.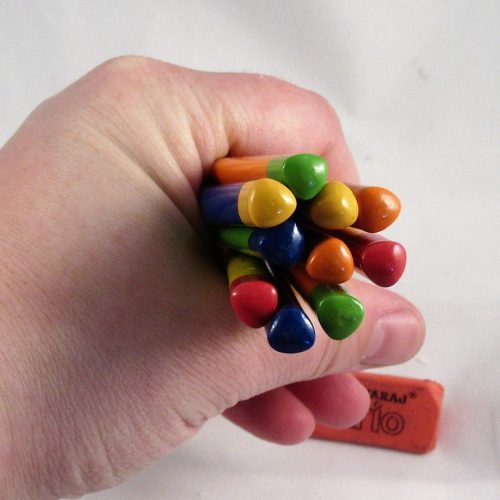 I tend to be pretty meh on the whole triangular pencil front. They seem to be an odd shape to me, but these are pretty comfortable and feel more like around pencil than one with a mere 3 sides. I love the look and the feel. A handful have entered into my regular use pencil cup and like many of the Super Black pencils are in regular rotation. They aren't a bad deal either, at $4.99 shipped they come in at a mere 42 cents if you include the "free" sharpener and eraser as items. Even if you don't that is 49 cents a pencil.

I'm linking to the item I bought from the vendor I bought them from. However, I didn't order the Trikone, I ordered the Trio 621.  So roll the dice?
Continue reading →