I decided to do a competition  among my regular classroom pencils to see which I deem the most perfect note taking pencil.These are the pencils I reached for over and over again as I took notes in class. I have a pencil box with between 8 and 10 pencils, each sharpened in the Carl A5 aka "The Classroom Friendly Sharpener." I try to use each until it is dull and then grab another from the box as I need it. I work my way through the pencils as I wear each down. Now my note taking style is of the capture then reflect method. I capture the basic ideas, and then reflect upon them later. Getting everything down is less important than capturing the interesting bits. Most of my professors load their powerpoints and sometimes notes to a class blackboard site. Anyway, after class, as I ride the train home, I will reflect upon the class and jot some information down on the opposite page or flesh out my notes. Mostly I do this so that I have a good basis for which to write my papers.
The 9 pencils currently in my pencil box are:
General's Kimberly B
General's Test Scoring 580
MitsuBishi Hi Uni HB
Dixon Ticonderoga Target Neon Blue HB Soft
USA GOLD "vintage" Megabrands label, metallics HB
Musgrave Test Scoring 100
Staedtler Noris HB
Staedtler Triplus HB (Regular Size)
Blick Studio 2B
Since I'm looking at this as a competition as to the best pencil for my note taking needs, it is important to note that I'm taking notes in a Staple's College Ruled Composition book. This is the made in Brazil version with slightly smoother paper that is fountain pen friendly.
I do not consider erasers as I have a Sakura Foam in my pocket at all times.
I took a number of things into consideration. The first two considerations were availability and price. This took some of my favorites out of contention. For classroom note taking, I don't want to have my Blackwings*. In availability, I rule out anything vintage, like my beloved ECOwriters. If I can't easily get them in a store they don't make the list. The USA Gold that I have listed, is no longer available. I kept it on the list for the sole reason that it has the same core as a regular USA Gold, so it basically represents the cheapest of the cheap. If I'm ruling out champions due to price, the General's Test Scoring 580 at over $1 a pencil is a loser, as is the Hi Uni HB.
The next consideration was point retention. The leaders in this were the Ticonderoga, USA Gold, Noris, and Musgrave TS 100. The Blick Studio was a miserable failure and was kept in the pencil box only for it's capabilities for drawing.** The Triplus has decent retention but wasn't in the top  5.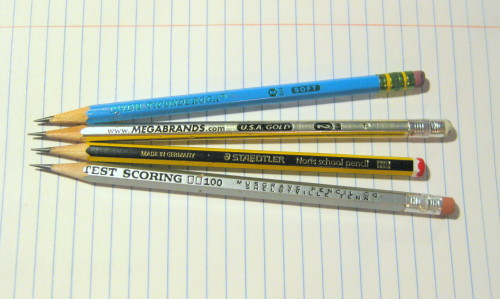 The next to last consideration was darkness. Did I have to jab the pencil to the page to get a decent line? Or was I able to write lightly and get decent line integrity? The Musgrave TS 100, Triplus, Kimberly, and Noris were all fantastic in this regard.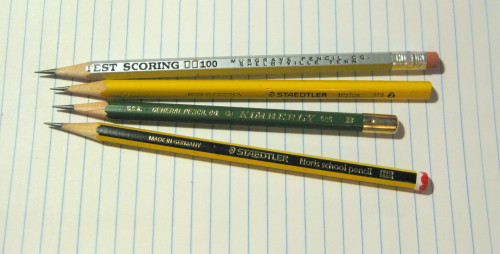 The final consideration was aesthetic. The Noris, Triplus, Kimberly, and Ticonderoga all were winners here.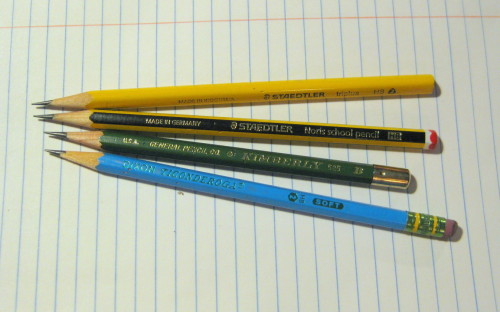 So based on these considerations entirely unscientific results are as follow
#1 Musgrave TS 100
#2 Staedtler Triplus
#3 Staedtler Noris HB
#4 General's Kimberly B
#5 USA Gold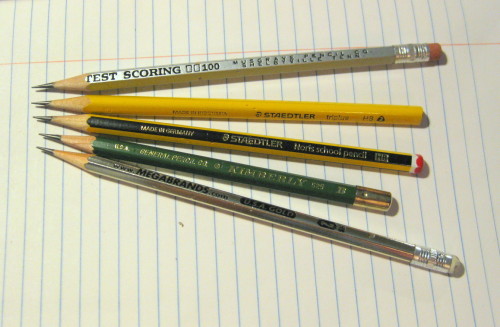 The Musgrave TS 100 will never win a beauty contest, but there is something I really like about its thin silver paint, cheesy printed logo, and craptastic eraser. I finally got a few with flaking paint to, but the dark core with decent tip retention really means I reach for it over and over again. The Staedtler Triplus, has no eraser, but it's school bus yellow paint, and dark core had me reaching for it over and over again for both quick and long term notes. It's rounded triangular body was comfortable and easy to grip. The Noris's black and yellow striped body with smart red cap just looks awesome. The fact that it's dark and holds a point make it even better. The Kimberly in B allowed me to do some sketchnoting as well as regular notes. It's smooth dark core was a winner every time. I even enjoy it's cheap bras cap against the thin green paint. Nothing says American Made like a shitty paint job. Finally the USA gold brings up the tail end. When I had to write for long periods of time and I would not be able to grab something out of the box fast, I grabbed this. It's point retention is great, and I'm able to scribble on my articles and notes for the entire train ride into school (lasting about an hour.) With a cap it's a great pocket pencil.
I took out of consideration the Staedtler Norica Blue (canadian) version because it's not readily available, though lately I ALWAYS have on in my Twist BP. I also removed the Tombow 8900 in HB and B because it's not as readily available as the rest of the pencils. I considered adding the Staedtler Rally, but felt that Staedtler was already well represented. Added to this list should have been General's Cedar Pointe #1, but they decided to cease production right after I bought my first 12-pack. The CP#1 is a great note taking pencil. Dark, good point retention, and the raw wood finish, oh baby…
Of course, I reserve the right to revisit this list with entirely new pencils for my summer classes and then my fall classes, and maybe just because.