Phew. My semester, the first semester of my grad school adventure is over! Grades aren't in yet, but in one of my classes I'm pretty sure I snagged an A. As a sort of congratulations to me gift I snagged a lovely Catalyst tool. I went simple and got the basic wedge.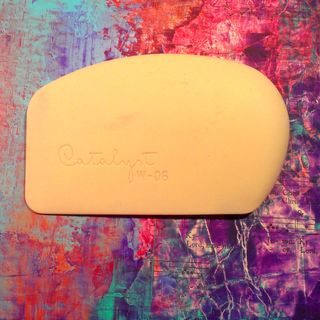 (The color of the tool is more of a cool gray than taupe, can't get the colors right on screen.)
Catalyst tools are hefty silicone tools for spreading paint around a page or canvas. the full size tools are chunky and have a nice heft in the hand. The "handle" side of the tool is comfortable and conforms to the hand. The large size is just right for spreading a great deal of paint around a page. It's about an inch wider than an old gift card on the wide side and half the width on the narrow end.
With that in mind, the tool I purchased (W-06) is easy to manipulate and control. With a short session of use I was able to use it to spread a thin even layer of paint or leave a rough uneven layer. I was able to adhere antique paper to the page with gel medium without damaging the paper and leaving a perfectly even layer of medium.
I've used a variety of other tools- from the procaulking tools (pretty good) to rubber potter's ribs (not so good) and none have come close to being as useful as my beloved old gift and credit cards. The Princeton Catalyst tool is the first to approach the versatility of the old plastic cards. The first that allows for thin and thick layers. The first that gives me a similar look to my spread of paint over a page, and the first that let's me manipulate mediums in useful ways.
The final great thing? With a bit of water acrylic paint and mediums simple slide right off the tool, leaving it's surface as clean as the day I bought it.
The tools are available in a variety of shapes and sizes. they have a series of mini tools as well as on handles. The handle tools look like funky spatulas. Some have edges that aren't smooth but have a series of divots in rounded or triangular shapes so that you can scrape shapes into your paints. While I have less of a use for those, I do think they would be VERY useful in mixed media work.
I've seen the tools in a variety of places, and at a variety of prices. It seems they are between $5 and $8 and the MSRP is $10 for the large wedge tools. I paid about $6 for mine at Artist and Craftman. Which I see as a fair price for the tool. I'm probably going to look into getting the other smooth shape in the future, as well as some of the tools on handles.
(get it on Amazon here.)
Here are a couple of cradled boards I've picked up and have started to paint. I'll be adding something else to the middle, probably a face. But you can see how perfectly the tool worked. The way the paint spread is very similar to my usual tools. Very happy.