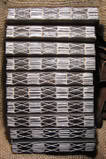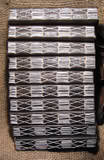 these 10 journals are for a special order. They are 10 journals, all with dark chesnut brown distressed coversbacked with a tan lama li paper, to match what a sueded interior would look like for the back of the leather. There are 200 pages of lined wausau paper, 24lb. It's all sewn together twih a long stitch and deco Xs and false endbands. It's quite an impressive stack, weighing somewhere around 5 pounds. Thank goodness for priority mail flat rate envelopes! Hopefully the gentleman likes them and pays up!
I don't get out until late tomorrow and i don't know what I was thinking that I should work until 3 on a crappy day like teusday.. garh.
Anyhow, take a peak at the pics, and scroll down and visit my ebay auctions, still crazy low prices on a couple of great water color journals.