This week's review is a little different. I'm reviewing, drum roll please, a bookmark. Wait, don't go away. I promise, it's a special book mark, so special in fact that it's simplicity made me over look it when I opened my box of goodies from Exaclair.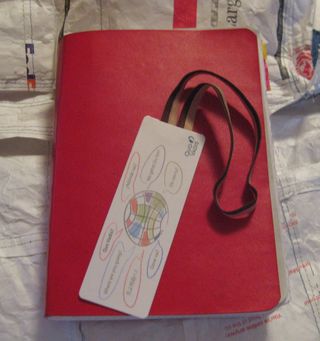 The Quo Vadis bookmark is a 5x 1.75 inch piece of cardstock coated in plastic with a brown and tan elastic loop attached. Non-descript and utilitarian in appearance as some of the best ideas are. The brown and tan is not pretty, a nice black elastic loop should be something they consider on their next run.
Simply you hold your place with the bookmark and loop the elastic around your journal to hold it shut. Ridiculously easy and remarkably efficient.
You know how I said my miquelrius notebook was going to fall apart before I was finished with it? Way back here? Well it is, and I'm not even half finished. This bookmark holds it together, with ease. It also holds all the stuff that I've stuffed it within it. Nothing falls out. The elastic is remarkably secure, adapts to a variety of journal sizes and is cheap. You can get one here on GouletPens.com* for $1.50. I'll be ordering a bunch with my next order. Brian even did a little video on them here.
Seriously, if you are ordering ink or paper, add one of these little wonders to your cart, you'll thank me later.
Read another review of them here.
*I know I recommend Goulet pens all the time, I swear I have no affiliation, but as of right now, they seem to be the only one who sells these.
I was sent a box of stuff from Exaclair for review, one of the items included was this bookmark. I did not receive any compensation for this review, just the freaking awesome bookmark.