The last time I was in AC Moore I noticed that Liquitex had released the Basics line of mediums again. This time in 200ml squeeze tubes. I've gone on record by saying that the Liquitex Basic Gel Medium is my favorite, and I can't wait to take my 50% off coupon in and get another tube. This time around the tubes, all of them retail for $7.99, where the old versions retailed for $5.99. Higher gas prices= higher paint prices.
All of these mediums come in tubes. Which I like. I can squeeze a very tiny amount of paint out onto my palette and not waste a drop. They have  modeling paste, gloss gel medium, iridescent medium,coarse texture gel and one other I can't remember. I've purchased gloss gel, coarse texture gel and the modeling paste.
I've been obsessed with texture lately so I picked up a tube of coarse texture gel. (Next week I'll review the Golden version.) Out of the tube it had a heavy body and held its shape well. I used an old credit card to scrape it around on my board. It was wet enough that it stuck down easily and I felt like once it was down it was staying down. The grittiness of it was about like 100 grit sandpaper. It looks like fine beach sand embedded on the page. It held every shape I introduced to the page with my old credit card. I'd shy away from putting this on with a good brush, I did mention that it looks like sandpaper right? This will wear the tips down on just about any brush, especially a good natural hair brush. Stick to your gesso brush or an older synthetic while using any coarse sand filled texture gel.
Clean up was easy, warm soap and water took the still damp gel off my hands with ease.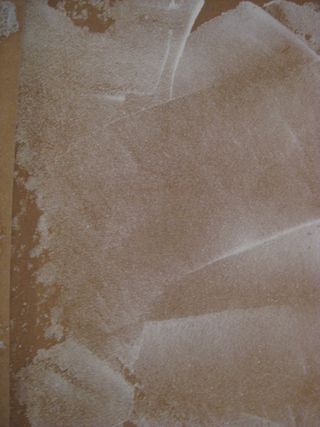 It's been about 8 hours since I scraped a relatively heavy layer of the stuff onto my binder's board and it's still not completely dry. Granted we (the North East) are sitting in the midst of a incredibly high humidity cloud right now, but it has taken an incredibly long time for this to dry. It was dry to the touch with some hair drier action and I was able to gesso over the top of the gel in about an hour. If I wanted to sand or carve into the gel I'll need to wait for it to be completely dry. Gessoing over the top of the gel is not necessary it's ready to go as a base as is, but I wanted to add another layer of texture to the board. Like most gels this one should dry flexible, but I've not tested that yet.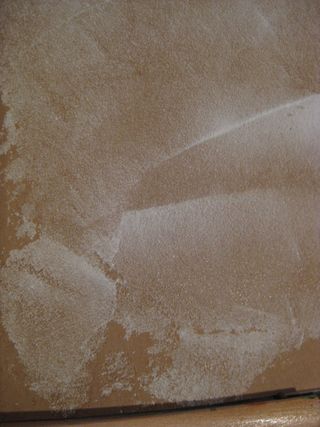 This is a fun additive and I can see it having many applications both for an art journal but also for paintings on canvas and board. It's got a coarse but not overly coarse texture, like fine beach sand. If you want additional texture you could add more sand. If you are looking for something that looks like cement right out of the tube you might want to look at Golden's Coarse Pumice Gel, which I'll be reviewing next week.
FYI: I purchased this product for review and was not compensated by any of the companies mentioned in this review.